Innkeeper Provides Free Meals for Woodbury, CT Firefighters During Storm
By WOODBURY CT FD, Correspondent | August 10, 2020 | CONNECTICUT
Story No. 081020106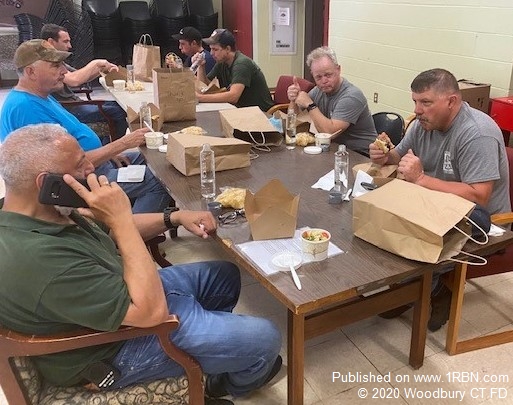 Photo by Woodbury CT FDFirefighters Tuck into 1754 House Inn's Free Hot Food on break during Tuesday's Storm (clockwise from lower left Corey Shaker, Chuck Kiessling, Nick Kiessling, Alexei Warner, Joe Simpson, Steve Cunningham, Bill Garms).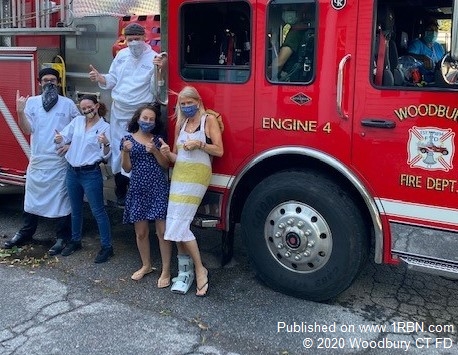 Photo by Woodbury CT FD1754 House Inn owner Michael Bates Walsh (on step) and his four employees after loading free hot food for the town emergency workers during Tuesday's storm.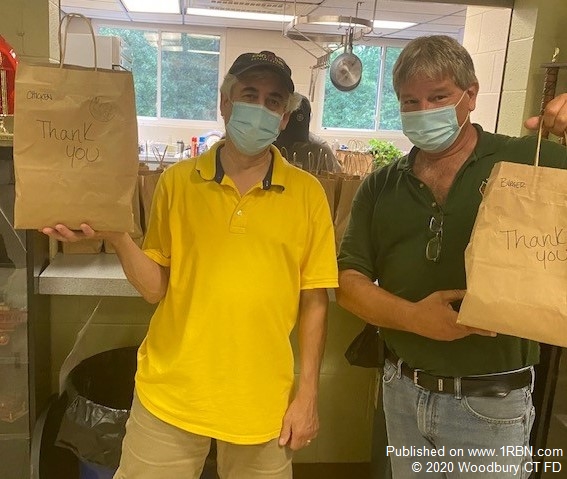 Photo by Woodbury CT FDFF Earl Gillette (left) and Deputy Fire Chief Dave Lampart hold the dinner bags.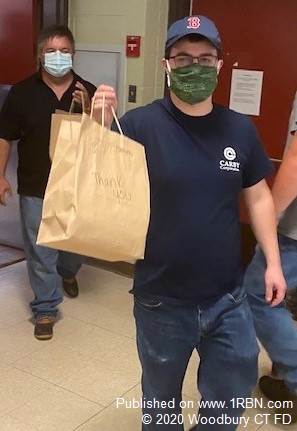 Photo by Woodbury CT FDWoodbury Firefighter Colin Gereg carries dinner. His father fellow firefighter Matt Gereg is behind.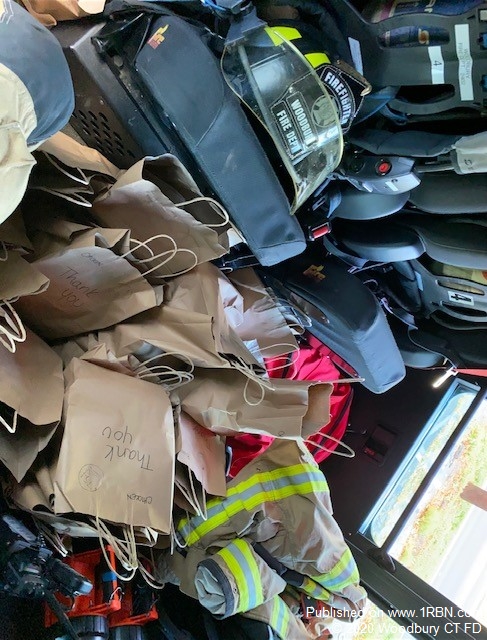 Photo by Woodbury CT FDNo Room for Firemen-- Engine 4 Filled with Bags of Hot Food.
Woodbury, CT – Forty town emergency workers – firefighters, public works employees, and police – ate a free, hot meal at the height of Tropical Storm Isiasis on Tuesday, August 4th, thanks to Michael Bates-Walsh, proprietor of the newly renamed 1754 House Inn on Main Street South.

"It was entirely his initiative, and it was awesome," said Fire Chief Janet B. Morgan of the Woodbury CT Volunteer Fire Dept.

According to Chief Morgan, the initial phone conversation went like this:

"How many people do you have there?," Bates-Walsh said. "We want to send over meals."

"Too many," Chief Morgan remembers saying.

"That's not what I asked," said Bates-Walsh. "Be here at 5:45 P.M."

Bates-Walsh and four employees filled the back of Fire Engine 4 with large hamburgers, hot chicken cutlet sandwiches, french fries, homemade pasta salad, soft drinks, and more – all individually packed in large paper bags. The food was brought back to the firehouse and hungrily devoured by 25 volunteer firemen, nine public works personnel, and six police officers. In all, Woodbury's own emergency personnel responded to 35 emergency calls on the day mostly due to downed power lines with many of them live.

"He's a friendly newcomer in town and he immediately has become part of the community, said Chief Morgan. "All our merchants are great, and this was something special."

As for Bates-Walsh, "It's all about belonging and we appreciate what the emergency services here stand for and what they do."
This article is a direct street report from our correspondent and has not been edited by the 1st Responder newsroom.