"WE ARE HERE SO THAT WE DON'T FORGET."
July 27, 2023 | NEW JERSEY
RON JEFFERS, New Jersey Editor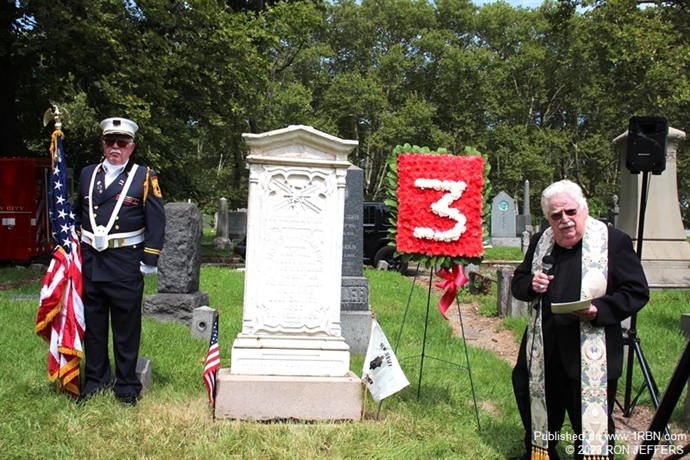 Photo by RON JEFFERSJersey City Fire Department Chaplain, Father James Pagnotta, presided over the department's Annual Day of Remembrance for the total of 154 firefighters that have given their lives in the line-of-duty for the city, at Bayview Cemetery, July 24th.
This article is a direct street report from our correspondent and has not been edited by the 1st Responder newsroom.
JERSEY CITY, NJ - On the morning of July 24th, members of the Jersey City Fire Department and the Gong Club assembled at Bayview Cemetery to remember those firefighters who have performed the ultimate sacrifice for their city.  
It was 151-years ago, on this date, that Engineer James Mc Carthy, of Steamer Co.3, was killed in the line-of-duty when a burning warehouse collapse on Steamer 3 and Engineer Mc Carthy. He was the first career member line-of-duty death for the Jersey City Fire Department. 
This ceremony began several years ago when Engineer Mc Carthy's grave site was discovered by Fire Dispatcher, and FDJC historian, Ira Rubin. Ira was also a Life Member of the Gong Club. Fire Department Chaplain, Father James Pagnotta, said of the late Ira Rubin, "He was full of zeal for the Fire Department, but had a weak heart."
The Gong Club has continued Rubin's tradition assembling at the cemetery with a number 3 wreath. A few ceremonies ago, now retired Chief of Department Steve McGill declared July 24th the department's Annual Day of Remembrance. Father Pagnotta said 51 career members and three volunteer members, before the paid department was organized, have given their lives in the line-of-duty. 
As he spoke, it was evident that Father Pagnotta was upset. In April, the city unveiled its new 11-story public safety headquarters in the Bergen-Lafayette section. Fire Headquarters offices were moved here from the Marin Boulevard firehouse, downtown. Father Pagnotta spoke of the bronze memorial, possessing the names of the LODD members, that was made through the cooperation of the firefighter's and fire officer's unions, that was located in the downtown headquarters hallway. In addition, he said that through a donation of one of his friends, an eternal flame was also mounted near the bronze memorial. 
"Unfortunately, that shrine has been taken down," Pagnotta said. "It was moved to a closet. A closet is no place to put memorials for those who made the sacrifice for this city." He added that some people in power don't seem to care about that memorial.
Father Pagnotta recommends that there be a "joint cause" to obtain an appropriate location for that memorial. He added that we have 54 firefighters to pay honor to, and possibly more that are 9-1-1 related. 
"People do forget," the chaplain said. "We are here so that we don't forget."