Fire at Farm on Westfield-Holyoke Line Frazzles Fowl
By NATE ARNOLD, Correspondent | July 20, 2021 | MASSACHUSETTS
Story No. 072621100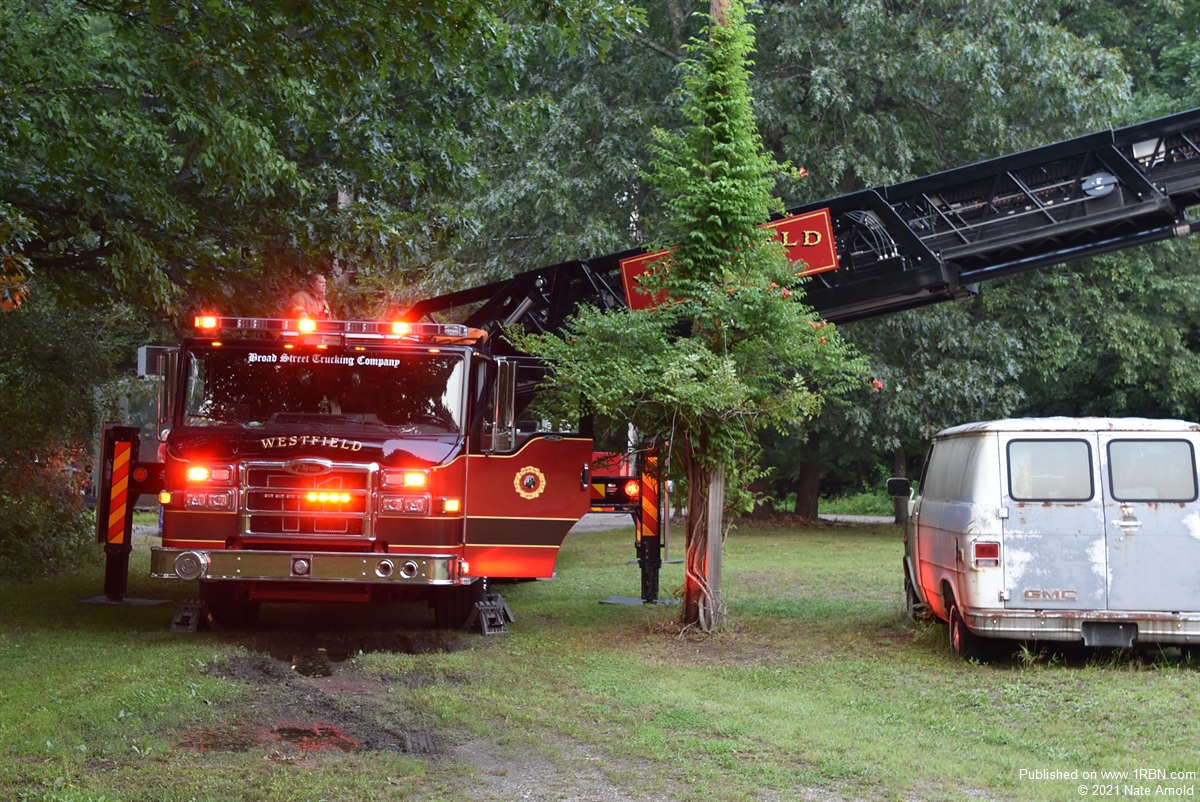 Photo by Nate Arnold Tower 1 was left with few options due to the location of the fire building.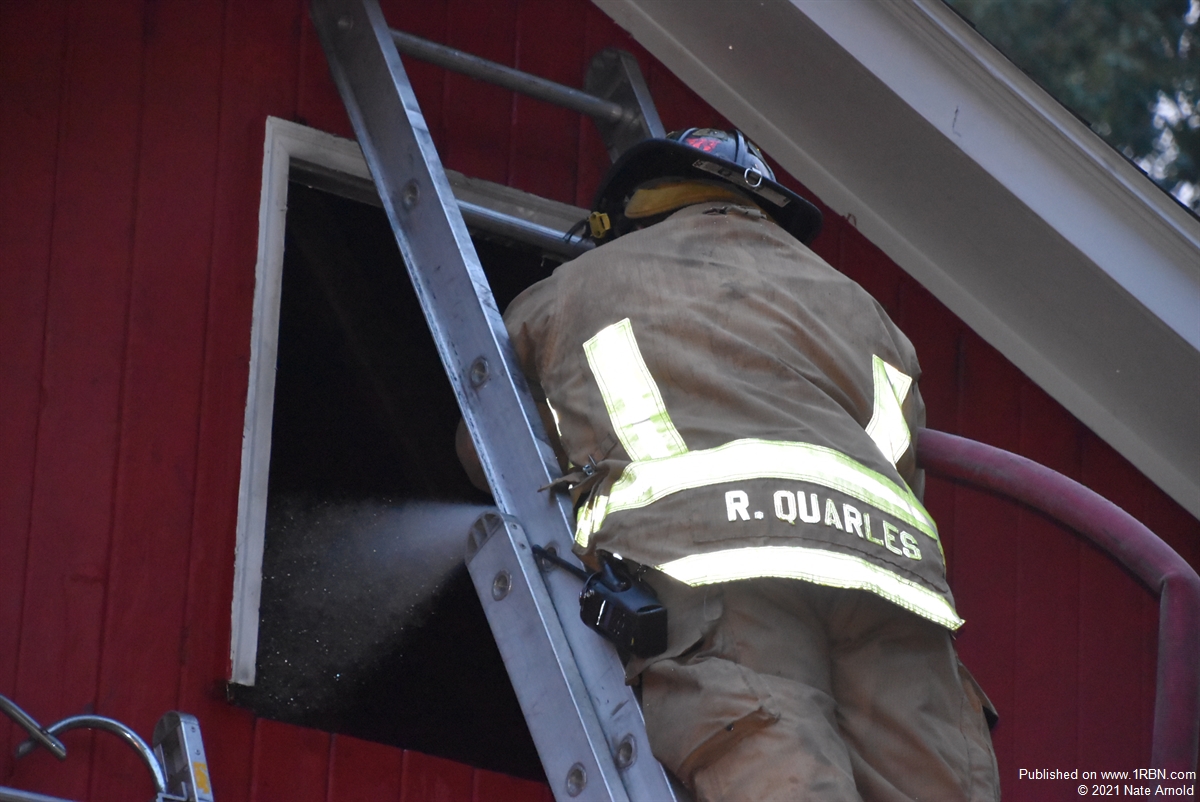 Photo by Nate Arnold Firefighter Randy Quarles soaks down the attic one more time while doing overhaul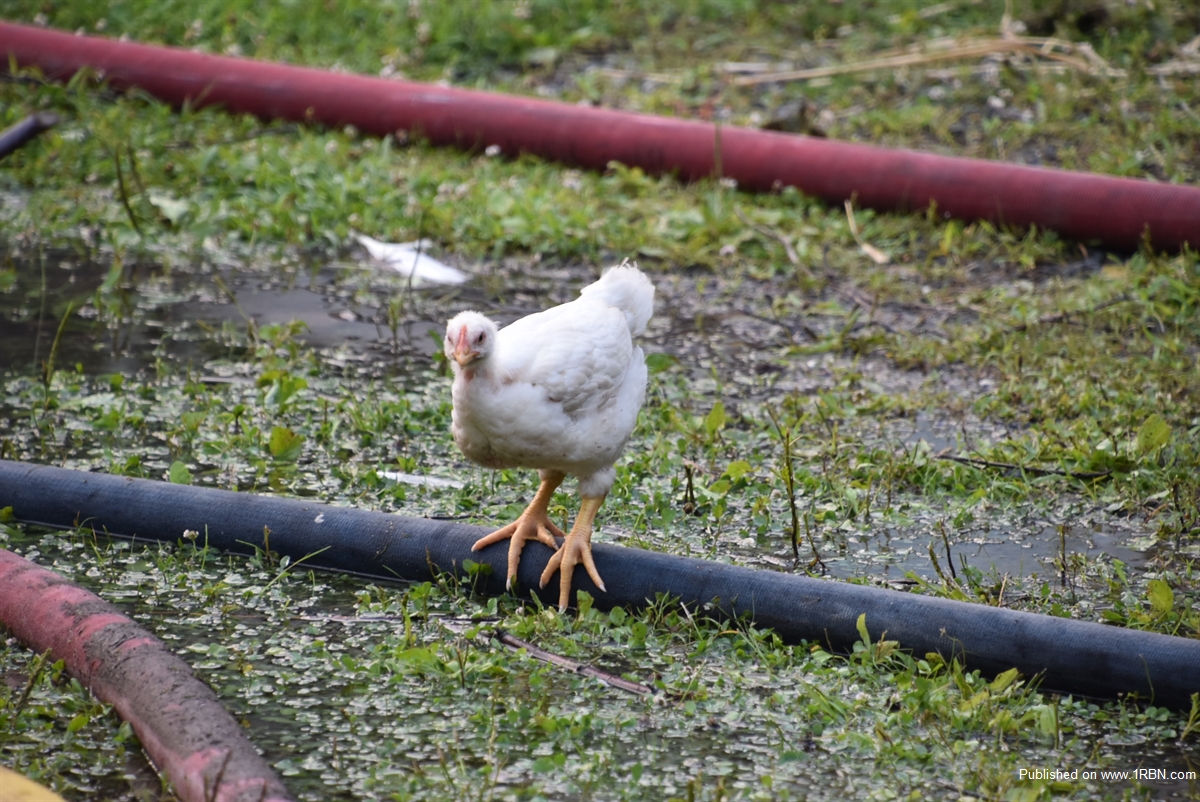 Photo by Nate Arnold One of the hen-pecked inhabitants waits patiently for the scene to be made safe.
WESTFIELD, MA - Not too many family farms still exist in the lower Pioneer Valley of Western Massachusetts, and the handful that do are small operations that rely on local patronage to keep them in business. So when a late afternoon fire broke out on July 20th in the combination work shop/chicken coop/storage building at Fini's Farm, located at 2071 East Mountain Road on the Westfield-Holyoke city line, it was quite the sight to behold.

Westfield Fire/EMS was the first department called to the scene shortly before 6:00 P.M., and on their arrival they found flames issuing from the 'Charlie' side of the building and chickens running around, well, like chickens with their heads cut off. Side stepping the panicked poultry, Westfield Jakes went to work stretching multiple hand lines to the fire building after having to get creative with obtaining positive water supplies as the fire building was located some 40-feet from the street and being surrounded on all four sides by exposure buildings.

The location of the fire building also posed a challenge for the intrepid members of Tower Co. 1. With the fire building so far back from the street, Tower 1 had to wedge their truck up against a utility pole on scene just to have a chance of getting their stick to the roof for ventilation. Holyoke sent Engine Co. 6 in on mutual aid but with the full compliment of Westfield Fire's on duty force on scene, HFD returned to quarters just 30 minutes after their arrival.

The fire was brought under control within 45 minutes of the arrival of the first-in companies, and damage was contained to the building of origin. The cause of the fire remains under investigation. While there were no human injuries, more than a few chicken feathers were ruffled.

This article is a direct street report from our correspondent and has not been edited by the 1st Responder newsroom.