Public School Emergency Stop the Bleeding Class
July 22, 2022 | NEW JERSEY
RON JEFFERS, New Jersey Editor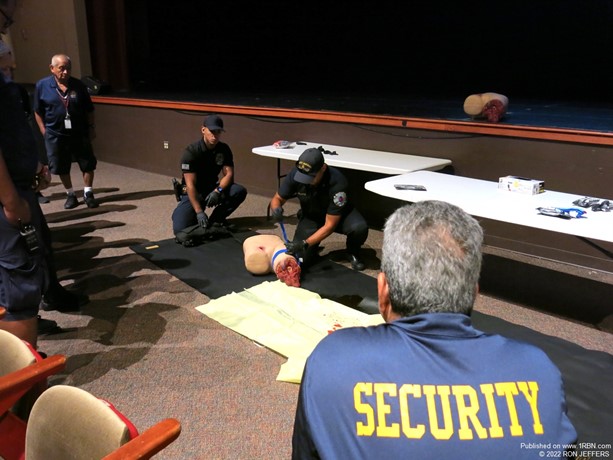 Photo by RON JEFFERSNorth Hudson Deputy Fire Chief Alider Pratts demonstrates utilizing a tourniquet, assisted by Union City Police ESU Sergeant Michael Flores, left, during a Stop the Bleed class at Union City High School for security personnel and other volunteers, July 21st.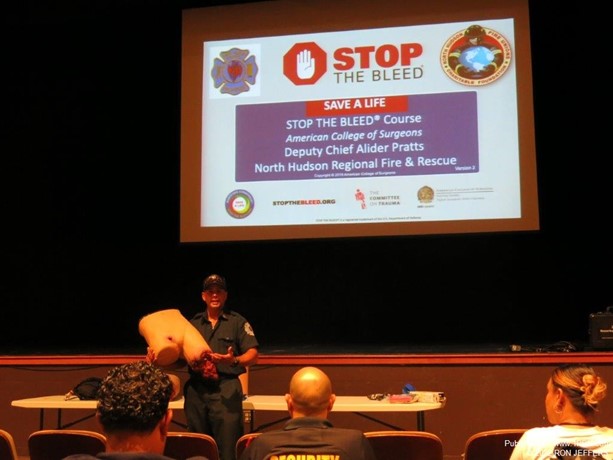 Photo by RON JEFFERS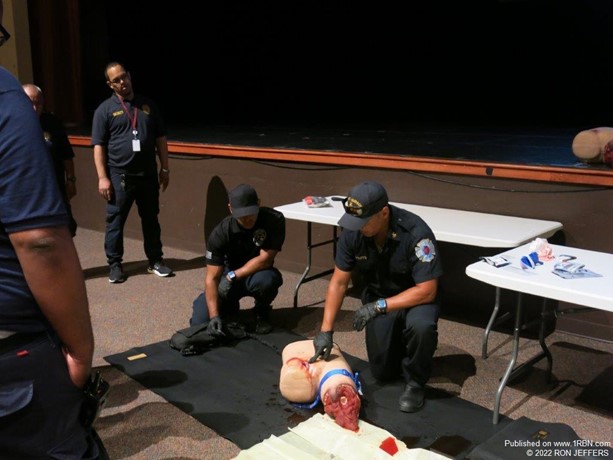 Photo by RON JEFFERS
Photo by RON JEFFERS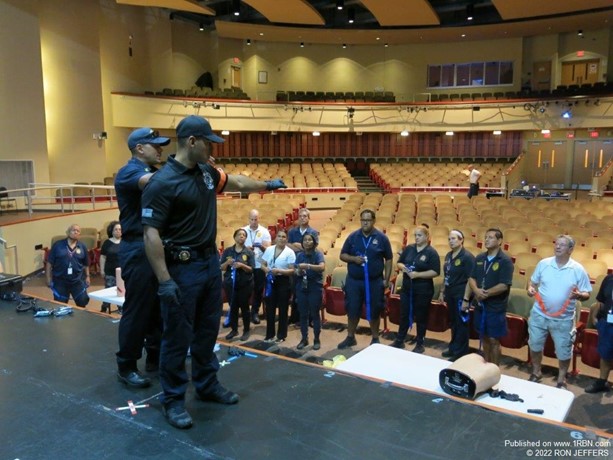 Photo by RON JEFFERS
Photo by RON JEFFERS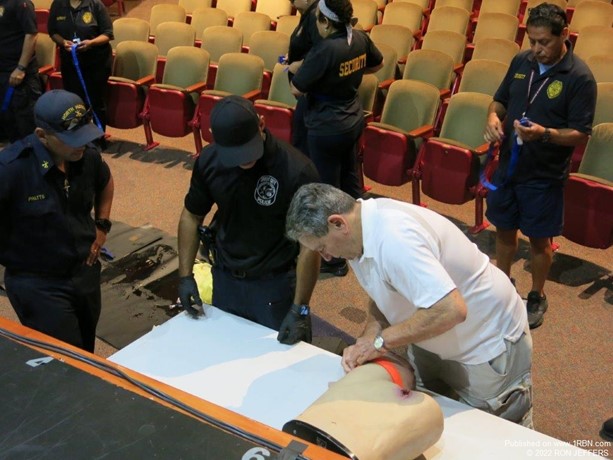 Photo by RON JEFFERS
This article is a direct street report from our correspondent and has not been edited by the 1st Responder newsroom.
UNION CITY, NJ - With regular school classes off for the summer, Union City High School is still open for various types of events and school activities. This was also a good time for local first responders to conduct a class with security personnel to be educated in emergency medical aid. Sadly, this is necessary during our current times.

School Safety Security Specialist Brian Wolpert, a retired city police inspector and Emergency Service Unit member, contacted North Hudson Regional Fire & Rescue Deputy Fire Chief Alider Pratts to see if an emergency "Stop the Bleed" class could be conducted at the high school. Pratts is Chief of Special Operations and the Rescue Task Force Coordinator.

On the morning of July 21st, security personnel and other volunteers assembled at the school's auditorium for the class. Chief Pratts was assisted by Union City Emergency Service Sergeant Michael Flores.

Chief Pratts reminded the assembly that it is a matter of when and where, and not if, referring to an active shooter or other violent act. Be prepared to save a life. And, it could be their own.

The chief explained that a class such as this was originally provided for first responders; but, it has since been expanded to persons in other fields.

In a school, victims may shelter in place. Victims can't leave the building and first responders may not be able to reach them quickly. Security personnel and teachers need the knowledge to assist the wounded, and stop the bleeding.

Numerous techniques were discussed, from a medical tourniquet, to a personal belt and other forms of pressure. Bleeding control kits are carried by first responders, and they are needed in venues such as school buildings, available to staff.

Attendees all participated in hands-on training to stop the bleeding, and all appeared to be concerned with doing it right.