Three Firefighters Injured During 2 Alarm Blaze
By WILLIAM KING, Senior Correspondent | June 29, 2021 | MARYLAND
Story No. 072121103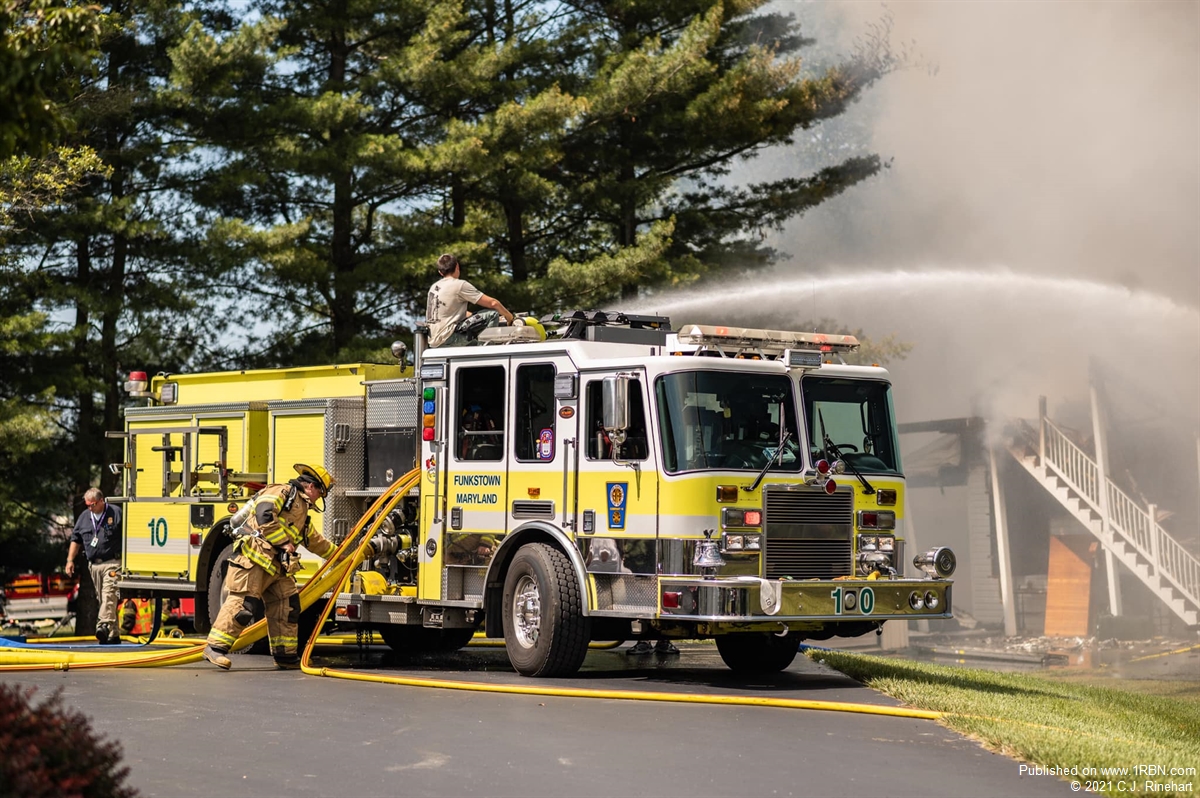 Photo by C.J. RinehartFunkstown Engine 10-1 on the scene on Carter Lane operating the Deck Gun to control the blaze.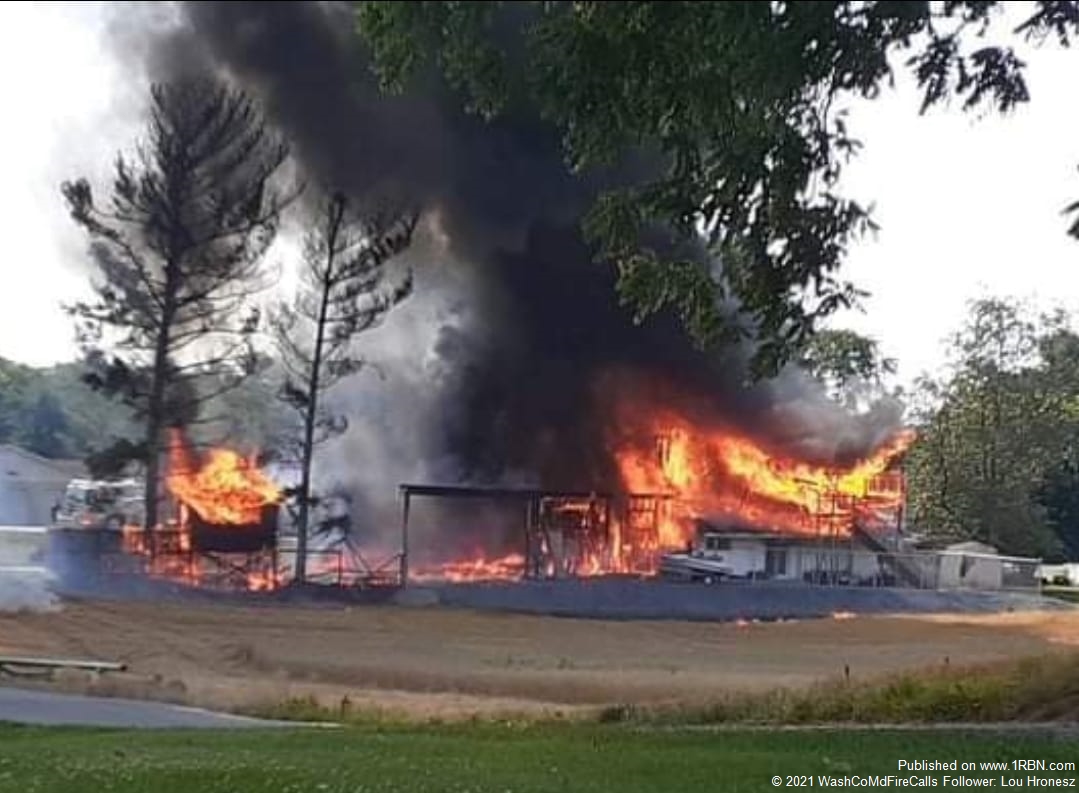 Photo by WashCoMdFireCalls Follower: Lou Hronesz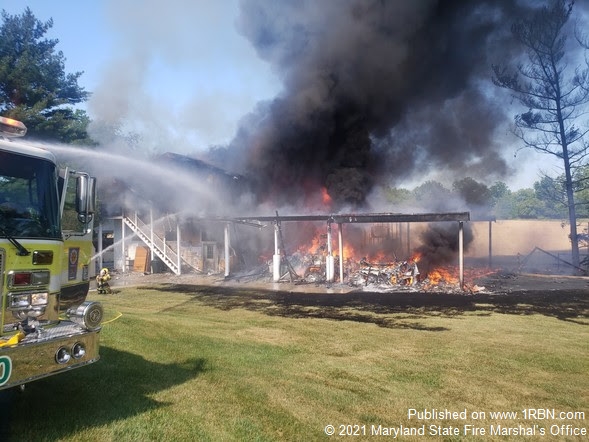 Photo by Maryland State Fire Marshal's Office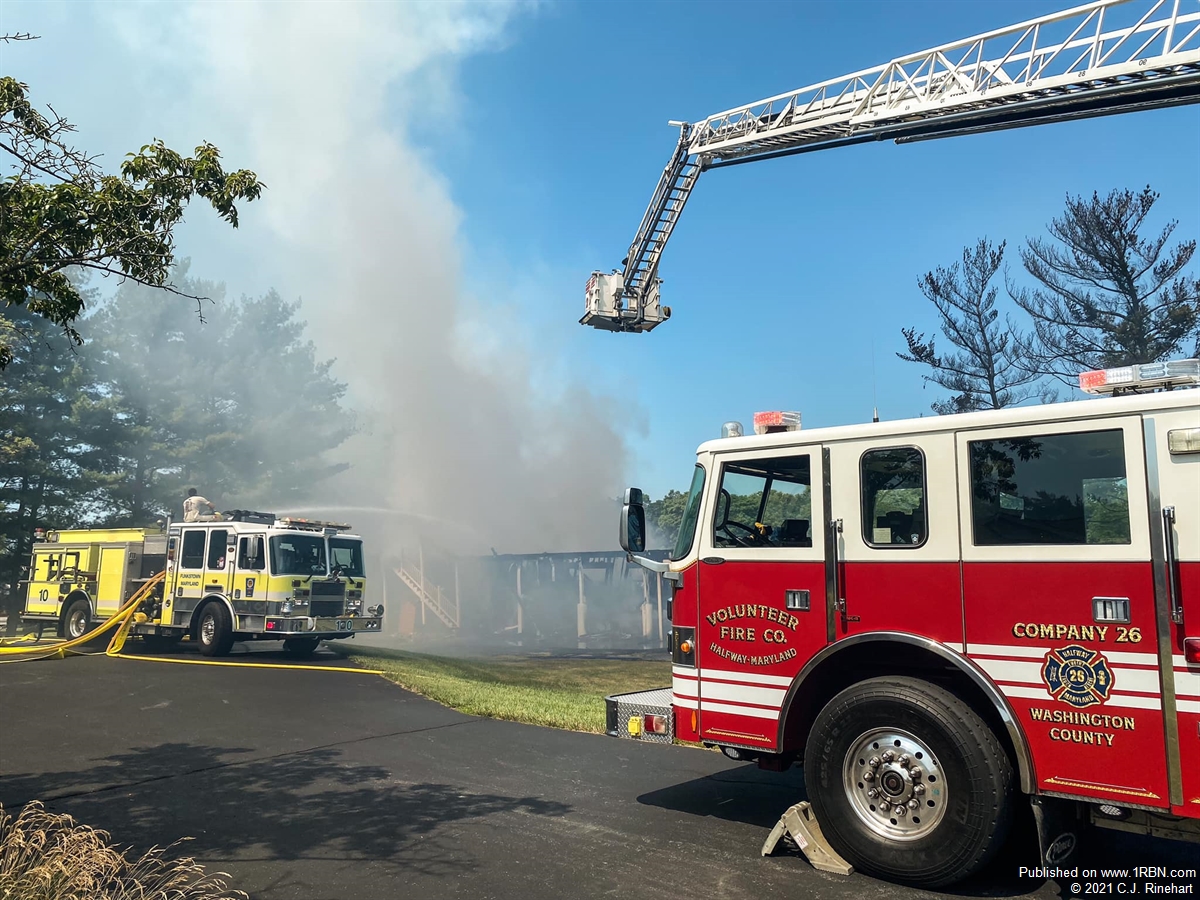 Photo by C.J. Rinehart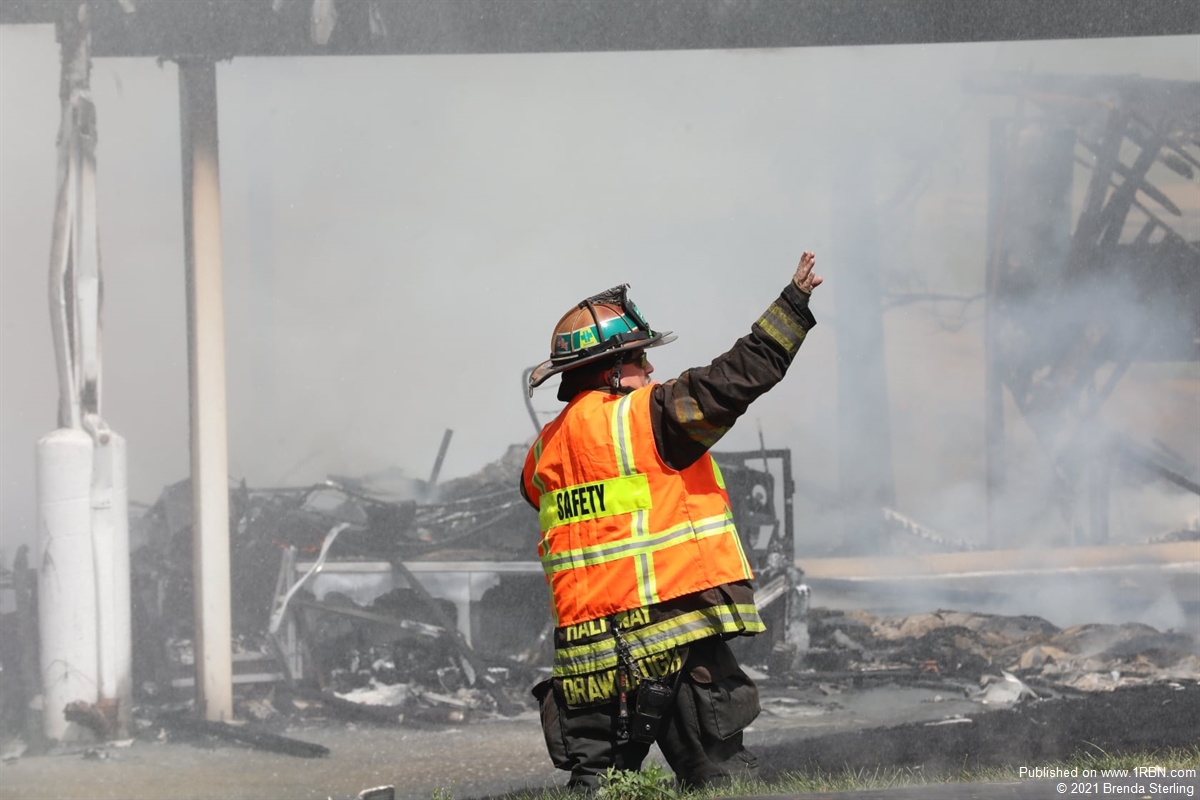 Photo by Brenda Sterling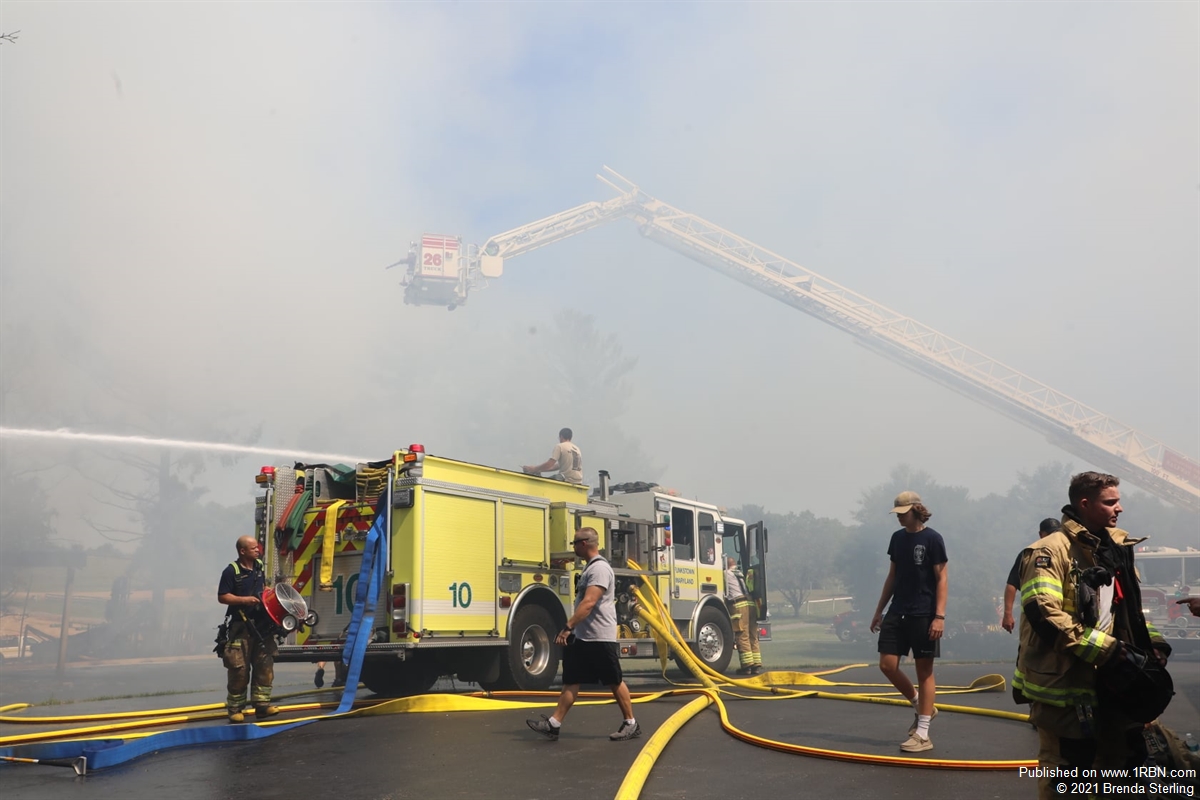 Photo by Brenda Sterling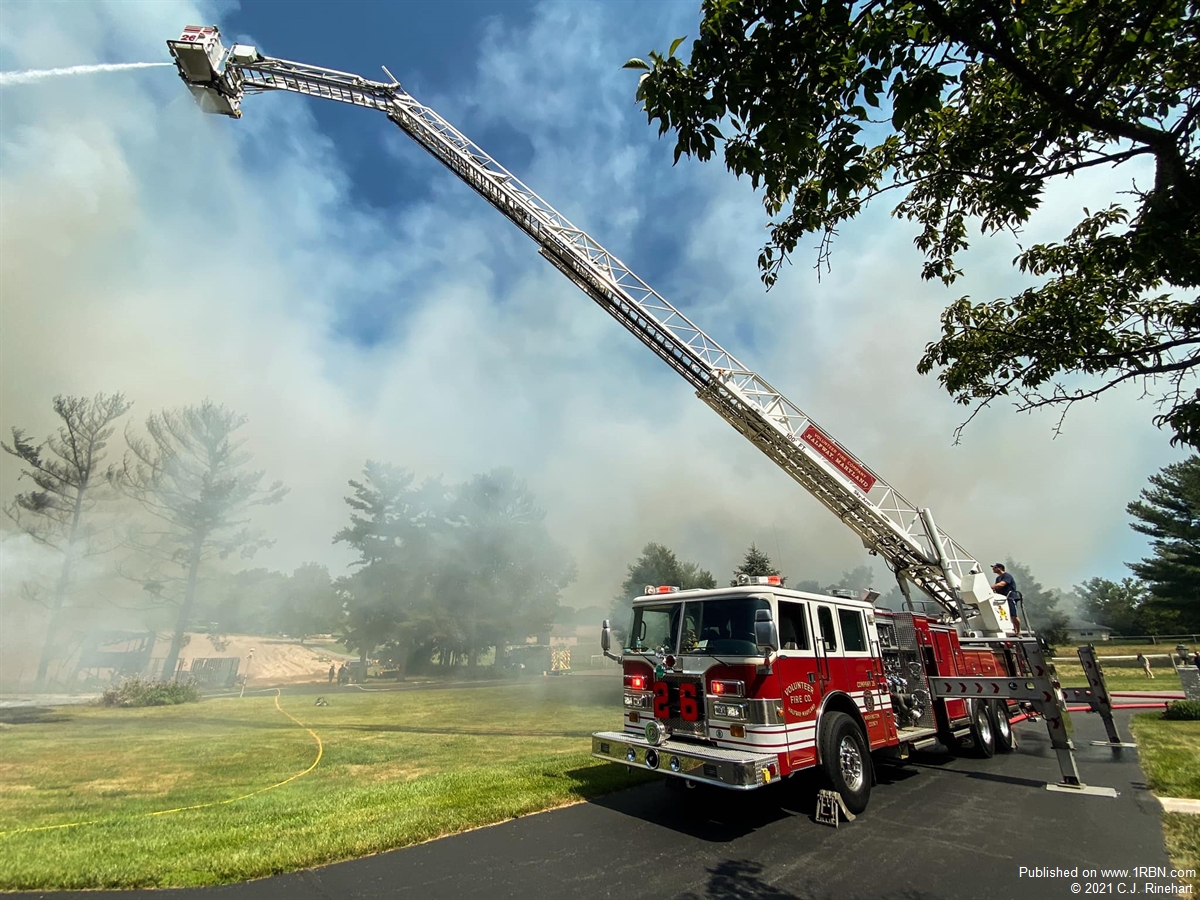 Photo by C.J. Rinehart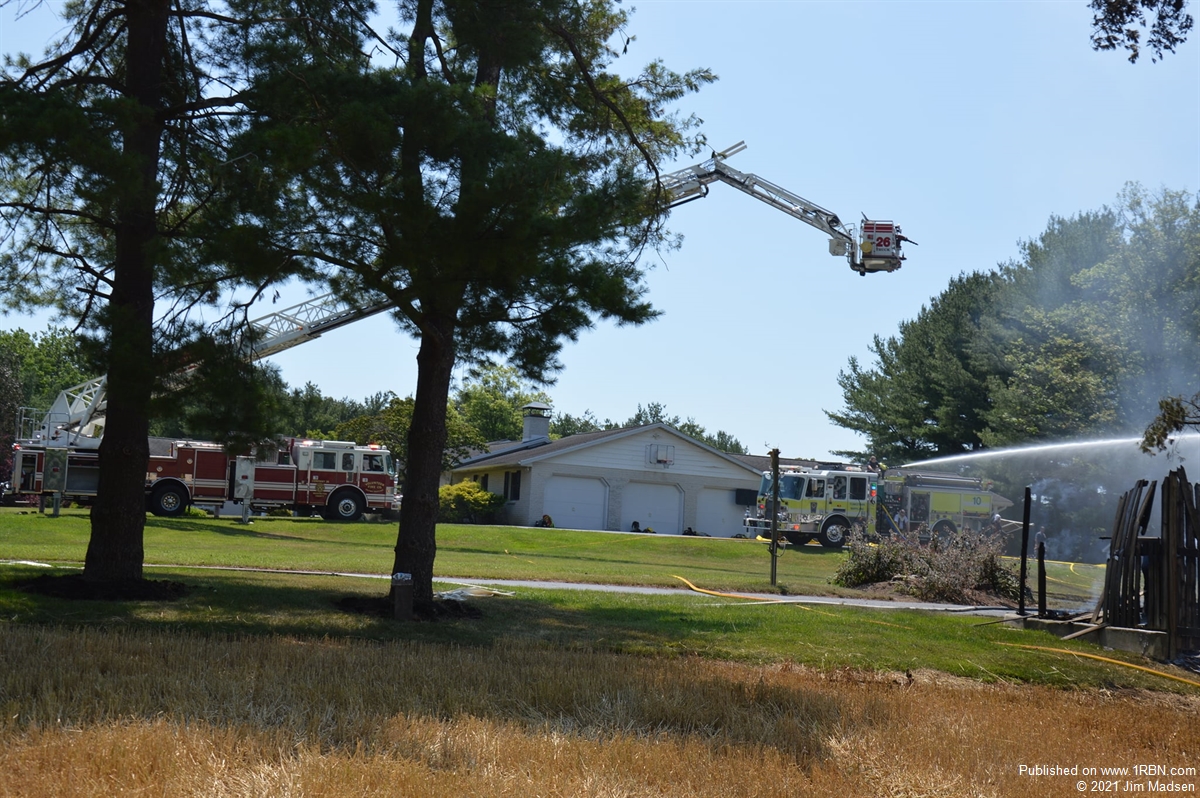 Photo by Jim Madsen
On the morning of June 29th, crews from the Funkstown Volunteer Fire Company were alerted at 10:20 hours with several other departments due on Box 10-15 for a structure fire on Carter Lane, just off of College Road south of Hagerstown. Washington County Emergency Communications 911 Center had multiple reports coming in reporting some type of explosion with heavy smoke coming from the area. Directly after dispatch, Halfway Tower 26 marked up advising they could see a large column of black smoke from Halfway. The Washington County ECC continued to be flooded with calls from miles away reporting the smoke. State Fire marshal Ed Ernst confirmed heavy smoke from Colonel Henry K Douglas Drive.

Funkstown Chief Jerry Keplinger was responding and copied units responding and immediately requested the Safety Assignment and a Tanker Task Force started. Funkstown Engine 10-1 arrived reporting what appeared to be several structures involved with heavy fire conditions that was beginning to spread to an adjacent field. Firefighters deployed multiple attack lines, blitzfires, and deck gun operations to conduct an aggressive attack on the blaze.

Sixteen minutes into the call, firefighters were faced with a "Mayday" situation after they had a partial collapse on the second floor of the structure. Three firefighters were operating on the second floor when the roof began to collapse. Two firefighters were able to bail-out but a third was trapped and transmitted a "Mayday" to command. The trapped firefighter was able to self-extricate to a point where other firefighters were able to assist him out of the building too awaiting EMS crews. From the time the "Mayday" was sounded to the time it was terminated was less than 60 seconds. EMS conducted a quick assessment of the trapped firefighter and requested aviation through Command due to the extent of his injuries. The other two firefighters who bailed out during the collapse were also checked by EMS. The trapped firefighter was transported by Maryland State Police Aviation's Trooper 3 to Medstar in Washington D.C. while the other two firefighters were transported to Meritus Medical Center.

Upon termination of the "Mayday", Command called for the structure to be evacuated and crews changed to a defensive operation. Several ladder trucks set up for ladder-pipe operations. Command requested a 2nd Alarm started to the incident for fresh personnel at 10:47 hours. Firefighters continued their aggressive fire attack for another hour before bringing the blaze under control. Command reported the fire knocked down at 12:14 hours. Firefighters remained committed on the scene for three more hours attempting to soak down the area extinguishing hotspots from the exterior of the building. Due to the heavy damage, Command deemed the structure to unsafe to make entry to conduct overhaul operations. Chief Keplinger terminated command at 15:16 hours report Fire Department Operations were complete and released all remaining units on the scene.

Firefighters responding that day dealt with heavy fire condition as well as high temperatures. The State Fire Marshal's release showed they were batting a 25' x 20' two-story wood-framed garage with a 25' x 20' wood-framed, shingled roof carport where a Class-A Motorhome was parked. Maryland State Fire Marshal Ed Ernst was able to determine the point of origin which was the motorhome within the carport area. His preliminary investigation deemed the fire accidental from an electrical failure. Damages to the structure and contents were estimated to be around $150,000. The only injuries reported during the incident were the three firefighters injured during the collapse. The two transported to Meritus Medical Center were treated and released while the one transported to Medstar was admitted for his injuries.

The Funkstown Volunteer Fire Company (Co.10) responded out on the call receiving assistance on the scene from multiple agencies around the area. Other departments on the call included The Community Volunteer Fire Company of District 12 (Fairplay Co.12), Volunteer Fire Company of Halfway Co.26), Hagerstown South End Engine 5, Williamsport Fire & EMS (Co.2), Community Rescue Service (Co.75), Boonsboro Fire Company (Stations 6 & 8), Sharpsburg Volunteer Fire Company (Co.1), Mt. Aetna Volunteer Fire Company (Co.16), Leitersburg Volunteer Fire Company (Co.9), Hagerstown Pioneer Hook & Ladder Truck 3, Hagerstown Western Enterprise Truck 4, Hagerstown Battalion Commander Adam Hopkins, Boonsboro Rescue Squad (Co.69), Sharpsburg EMS (Co.19), Frederick County's Myersville Fire Company (C0.8), Berkeley County EMS Marlowe Station 96, First Hagerstown Hose Engine 1, Potomac Valley Volunteer Fire Company (Co.11), Washington County Fire & Rescue Association Safety Officers, Washington County Emergency Support Services (Air & Rehab Co.25), Division of Emergency Services Command Staff, Maryland State Police Aviation Command (Trooper 3), Maryland State Fire Marshal (FM26), and Washington County Fire Police.

Additional crews from surrounding counties also responded to assist with station transfers to cover the area while units were committed. Covering companies consisted of Berkeley County West Virginia's Bedington Fire (Co.40), Frederick County Maryland's Middletown Fire (Co.7), Franklin County Pennsylvania's Waynesboro Fire (Co.2), and Jefferson County West Virginia's Shepherdstown Fire (Co.3).

This article is a direct street report from our correspondent and has not been edited by the 1st Responder newsroom.