Firefighters Battle 2 Alarm Townhouse Fire On Lantern Lane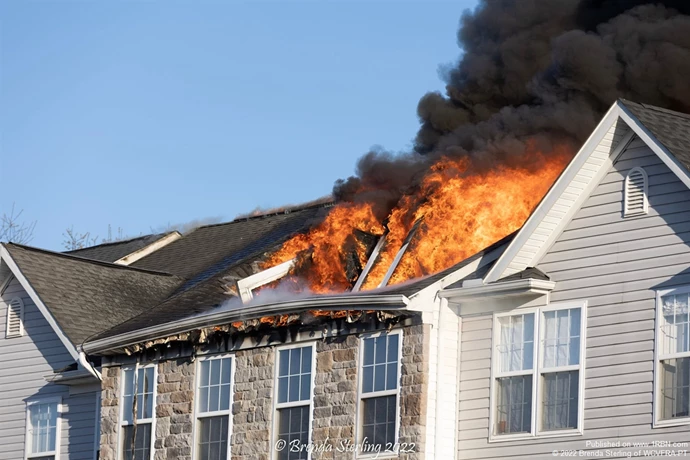 Photo by Brenda Sterling of WCVFRA-PTFirefighters on the scene of 2 Alarm Fire South of Hagerstown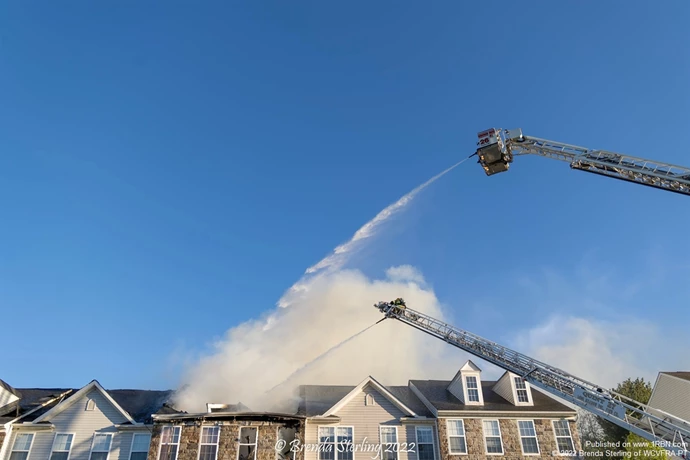 Photo by Brenda Sterling of WCVFRA-PTQuint 27 and Tower 26 in operation on Lantern Lane.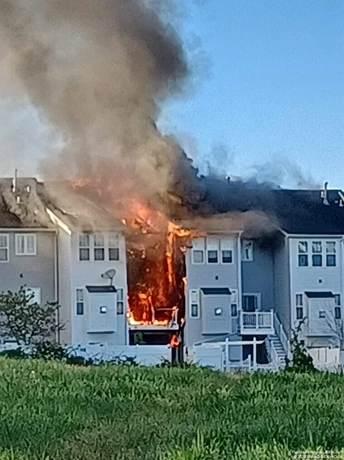 Photo by WashCoMDFireCalls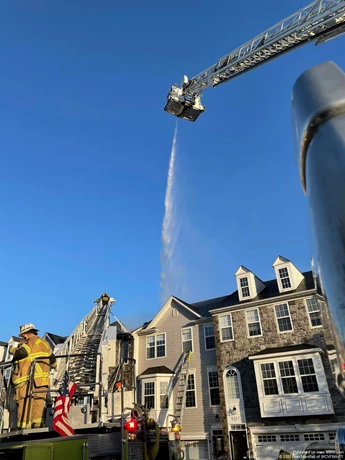 Photo by Fran Marshall of WCVFRA-PT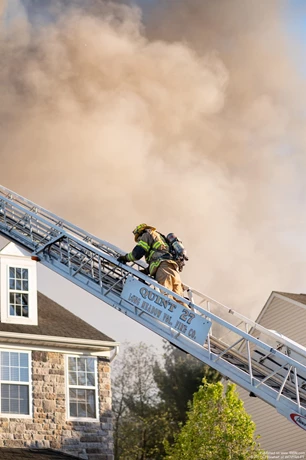 Photo by CJ Rinehart of WCVFRA-PT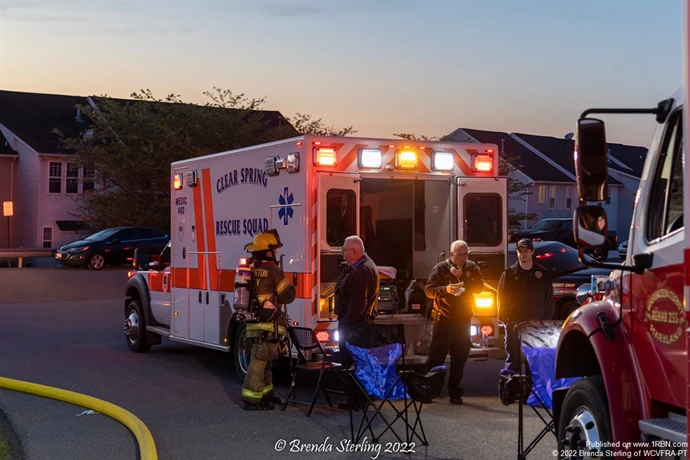 Photo by Brenda Sterling of WCVFRA-PT
This article is a direct street report from our correspondent and has not been edited by the 1st Responder newsroom.
On the evening of April 17th, Washington County 911 received multiple calls reporting a structure fire in the area of Poffenberger Road. Reports came in reporting heavy black smoke coming from a Townhouse with fire showing. Units due on Box 10-10 were dispatched out at 18:32 hours. Upon response of units, additional calls reported the fire to be on Lantern Lane in a development north off of Poffenberger Road. Funkstown Engine 101 arrived reporting heavy fire showing on side Charlie of the structure.

Funkstown Chief 10, Jerry Keplinger, arrived and reported he had a middle of the row wood frame townhouse with fire on all three floors and established Lantern Lane Command. Firefighters made entry to attempt an aggressive interior fire attack as heavy fire conditions engulfed the back of the building. Interior crews attempted their attack and were faced with a rapidly spreading fire with exposures on both sides Bravo and Delta. Firefighters stretched additional lines from Engine 261 and Engine 101 to assist with fire attack in the Bravo and Delta Exposures.

The structural integrity of the main fire building was rapidly deteriorating as parts of the roof were beginning to collapse in on the main fire building. At 18:49 hours, Command called for the main fire building to be evacuated as Halfway Tower 26 and Longmeadow Quint 27 arrived and took position on side alpha to prepare for roof and ladder pipe operations. Firefighters regrouped on Side Alpha as Quint 27 crews began conducting rood operations on the Delta Exposure and Tower 26 took position for Ladder Pipe operations.

Once regrouped, interior operations were reestablished as Command requested the 2nd Alarm Assignment at 18:59 hours. At 19:04 the main fire building was considered a complete loss and all crews were pulled out and Quint 27 and Tower 26 began Ladder Pipe Operations. With in minutes of Ladder Pipe Operations, firefighters were able to get a knock on the blaze by 19:10 hours. Command was able to confirm the fire under control thirty minutes later.

Emergency crews from multiple agencies were committed on the scene for nearly five hours that evening. Firefighters worked to conduct secondary searches of all three involved structures and extensive overhaul operations along with assisting the Maryland State Fire Marshals that were on the scene beginning their investigation into what caused the fire. Last units were able to clear the scene by 01:00 hours.

. Monday's fire caused approximately $500,000 in damage between the structure and its contents. It is believed to have started on the back deck and spread up the back of the building to the roof. The occupants of the home were not home at the time of the incident. No injuries were reported during the incident, but two dogs were lost during the blaze and several others were rescued and being taken care of by neighbors and the Washington County Humane Society. The fire walls between the townhomes effected kept a majority of the damage contained to the main fire building. The cause was confirmed to be accidental in nature. All residents involved are receiving assistance from the American Red Cross.

Nearly 100 responders were on Monday evenings incident. Funkstown Fire (Co.10) responded receiving assistance from HFD South End Fire Company (Engine 5), HFD First Hagerstown Fire Company (Engine 1), Volunteer Fire Company of Halfway (Co.26), Boonsboro Rescue Squad (Co.69), The Community Fire Company of District 12 ( Fairplay Co.12), Community Rescue Service (Co.75), Longmeadow Fire Company (Co.27), Williamsport Fire & EMS (Co.2), HFD Pioneer Hook & Ladder (Truck 3), Smithsburg Fire Company (Co.7), Sharpsburg Fire Company (Co.1), Clear Spring Ambulance Club (Co.49), Mt. Aetna Fire Company (Co.16), HFD Antietam Fire Company (Support 32), Boonsboro Fire Company (Co.6), Leitersburg Fire Company (Co.9), Washington County Division of Emergency Services, Washington County Emergency Support Services (Air & Rehab), Washington County Fire Police, Hagerstown Police Auxiliary, Washington County Humane Society, The American Red Cross, and the Maryland State Fire Marshal's Office.