Bring Out the Fire Trucks, Again!
By RON JEFFERS, New Jersey Editor | June 27, 2021 | NEW JERSEY
Story No. 071421100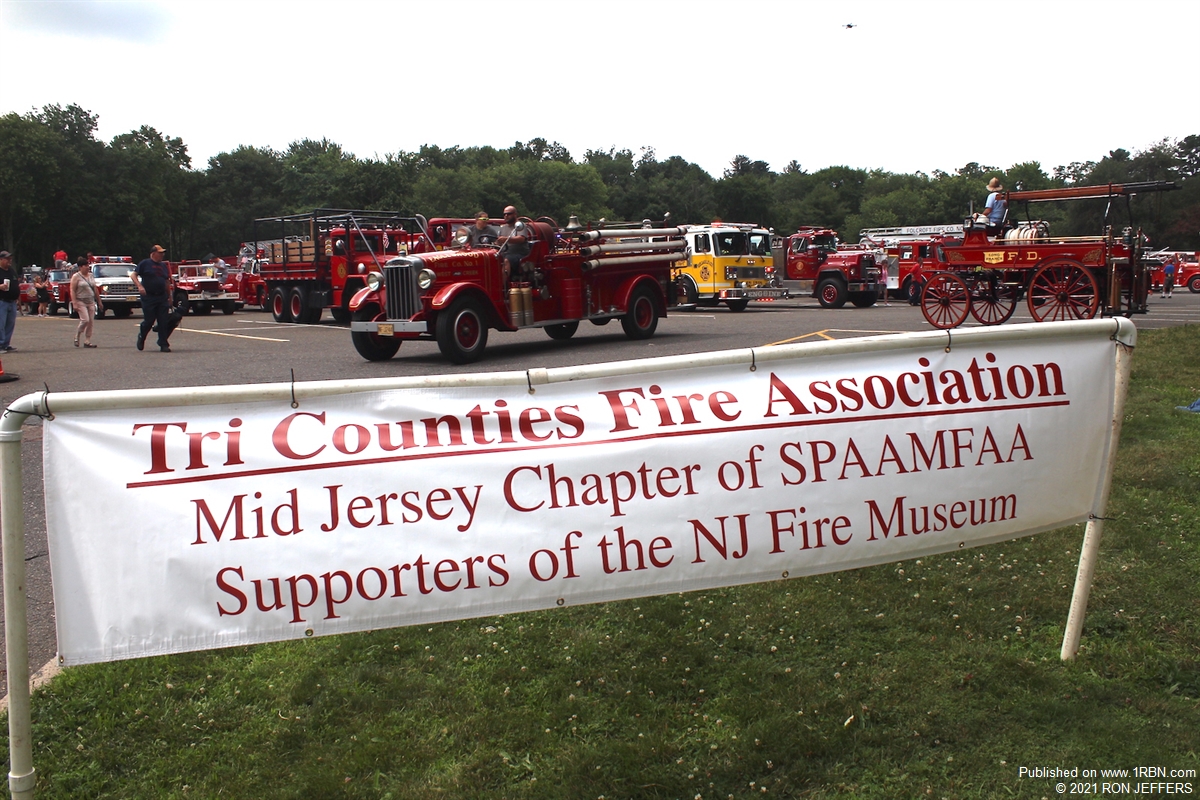 Photo by RON JEFFERSThe parade of fire apparatus begins at the annual Tri-Counties muster in Jamesburg, June 27th.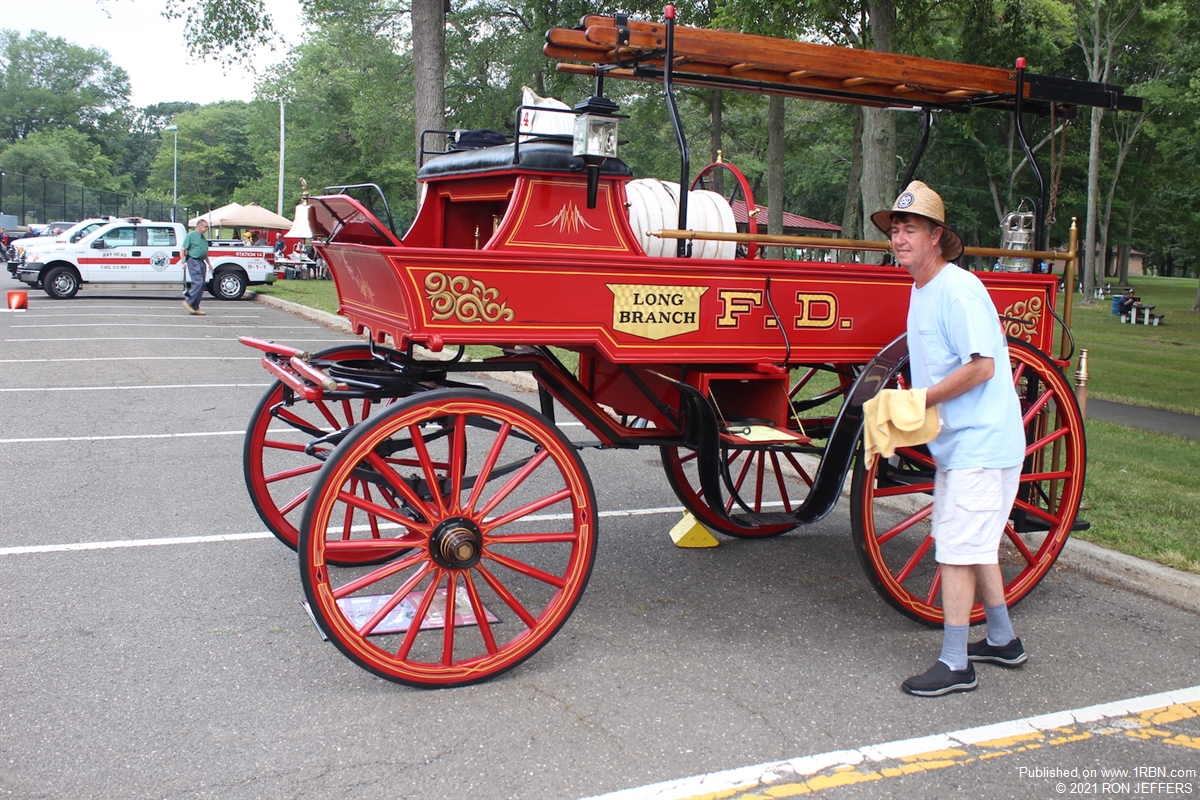 Photo by RON JEFFERSLong Branch FD historian and chief engineer of Neptune Hose Co. 1, Arthur Green III, maintains his 1890 horse-drawn hose wagon that saw duty with his company.
JAMESBURG, NJ - With COVID-19 dissipating in our area, and many things returning to a new-normal, the Tri-Counties Fire Association held their 29th Annual Antique Fire Apparatus Show at Thompson County Park, June 27th. Firefighters, their families and friends, turned out to participate in the Sunday event, with 58 pieces of fire apparatus.

The familiar flea market tables were present at the muster, and the Jamesburg Fire Department members operated a refreshment stand for the hungry and thirsty participants. Kids enjoyed looking at all of the fire trucks and watching the 10:30 A.M. parade through town, with apparatus emergency lights flashing and sirens blasting. Some kids even got to ride on a fire truck.

The featured apparatus model for this year was Hahn fire apparatus, and there were plenty represented. Red ones, white ones and lime colored Hahn pumpers.

When the parade was over, some engines went lakeside to draft and flow water through hoses and monitors. They also supplied a privately owned 1989 Mack tower ladder that flowed water over Lake Manalapan.

Judges examined the rigs in the parking lot, kept clean and in proper working order, proudly maintained by fire companies or private owners.

Arthur Green II, Long Branch FD historian and chief engineer of Neptune Hose Co. 1, kept cleaning his 1890 horse-drawn hose wagon, that belonged to his fire company. Green brought along literature showing the history of the wagon, and relayed his vast knowledge of the LBFD. The wagon was restored by a carriage house in New England. Green received the Burner Award for best restored apparatus. In addition, he said the LBFD went fully motorized by 1923.

Harold Mermel drove in with his replica of an FDNY 1911 Ford Model T Torpedo Runabout car. He possessed literature describing 10 of these autos that were assembled for use by city fire chiefs. This group were vehicles built for use by the city division chiefs, as per retired FDNY Battalion Chief John A. Calderone, who was present at the muster. A rear box was included that held a fire extinguisher, coil of rope and other items. Missing on the replica was a rocking type locomotive bell that was mounted in the area where the windshield is normally located, that was part of the original vehicles.

Another rig that drew a lot of interest by participants was a 1951 Seagrave tractor-drawn aerial ladder. Literature describes the rig as being built in the first year of Seagrave's "70th Anniversary Series" models, and the only 75-foot tractor-drawn aerial ladder made in 1951. The price was $32,000, and it was delivered to Union Fire Company 2 in Mount Holly. It saw duty there until 1976. It was then sold to Masonville Fire Company 1, in Mount Laurel. The rig was retired from active fire duty in 1988. It was refurbished in 2004 by Lee's Emergency Equipment, and is still around for new generations of firefighters and fire buffs to enjoy.

The afternoon wound down with the presentation of awards for the apparatus, in various categories.

The muster was held on a day that began cloudy and gloomy, but the sun later made its appearance. Again, the Tri-Counties committee set up a spot for apparatus buffs to photograph rigs as they entered the park, and before they stopped at the registration stand. Mother Nature did let the clouds part for some of the earlier photography.

This day also marked the beginning of a heat wave in New Jersey, but the weather conditions waited for one more day before getting really uncomfortable. A breeze, under the trees, helped!

Congratulations to the Tri-Counties Fire Association for another great day, when we needed it. As the master of ceremony said over the speaker at the end of the day, "See you next year."

This article is a direct street report from our correspondent and has not been edited by the 1st Responder newsroom.