Lehighton has the last one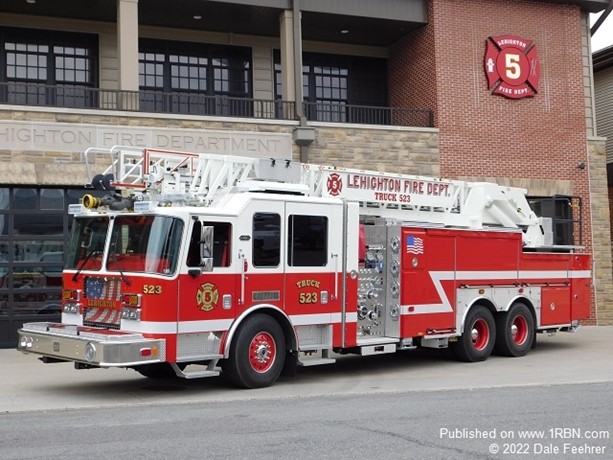 Photo by Dale Feehrer Truck 523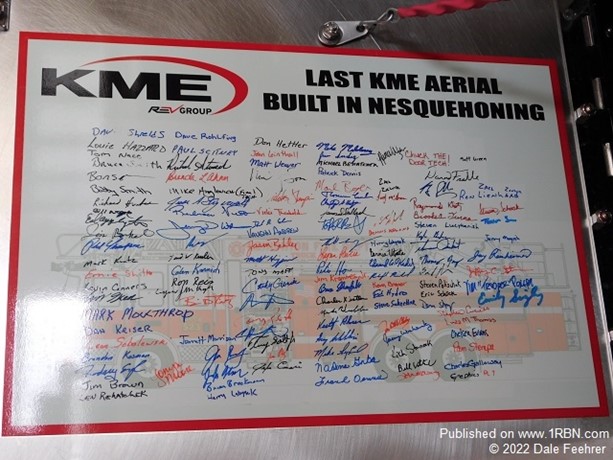 Photo by Dale Feehrer Signed Whiteboard
This article is a direct street report from our correspondent and has not been edited by the 1st Responder newsroom.
When a committee was formed in the summer of 2015 to replace their 1989 E-One ladder truck the members of the Lehighton FD had no clue who was even going to build it. The committee spent five years accessing the "needs and wants" and looking at many manufactures before settling KME. The new Truck 523 was ordered in May of 2020 with an estimated completion date to be in the fall of 2021. 

At this point the members did not know that their new ladder would be the last piece of apparatus built by KME in Nesquehoning, PA. In late September of 2021 the REV Group announced that it will be closing the KME plant in Nesquehoning in April of 2022 and moving it's operations to various builders within the REV Group. Questions and concerns from the Lehighton FD grew as their new ladder was caught in the middle of this. As time would pass with each visit to the plant, the concerns diminished. With each visit the new ladder's progress was on schedule and the craftsmanship was on point.

As time was winding down for KME the ladder was near completion and word grew that Lehighton's ladder was going to be the last piece to roll off the line at KME. Both employees and members were very pleased to hear that the last piece they built was going to a local department ten miles away. Prior to the delivery, the employees added a whiteboad that is kept on the inside of a compartment with the employee's signatues of who worked on the ladder. A few other places on the ladder have signatues as well such as the chassis. 

Truck 523 was delivered to the Lehighton FD in late April of this year and went inservice not long ago.

I would like to thank M. Mriss and the members of Lehighton for their hospitality and the information given for this article.