Well Respected Dispatcher Retires After Long Career
July 01, 2021 | NEW JERSEY
RON JEFFERS, New Jersey Editor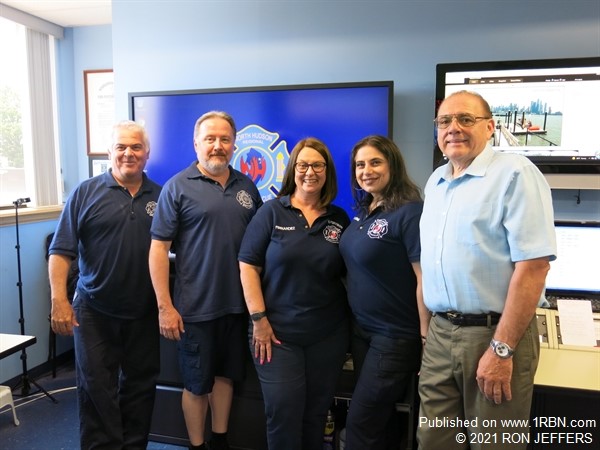 Photo by RON JEFFERSNorth Hudson Supervising Dispatcher Debbie Fernandez, 3rd from left, with her 4th Platoon crew. (L to R): Michael Lacenere, Robert Suckiel, Fernandez, Michelle Chemas and Communications Director Joe Isola.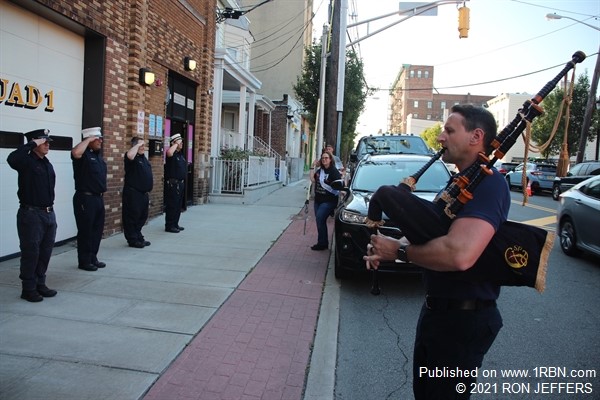 Photo by RON JEFFERSDispatcher Fernandez received a bag-pipe salute as she left Fire Control after her final tour of duty, on the morning of June 30th.
This article is a direct street report from our correspondent and has not been edited by the 1st Responder newsroom.
UNION CITY, NJ - Debbie Peek-Fernandez possessed public safety in her blood for most of her life, beginning with becoming a police explorer in Union City. In 1984, she became a fire dispatcher for the North Hudson communications center, way before five area-departments merged into the current North Hudson Regional Fire & Rescue. After a long and dedicated career, Dispatcher 920 worked her last tour of duty on June 29th.

Fire Control, as it is known, started in 1982 combining the alarm rooms of Union City, North Bergen, West New York and Weehawken. Later, Guttenberg joined the system.

As a dispatcher for five different departments, the radio room members had to work with five different procedures, different tours in each department and their procedures, radio frequencies, and more. Hard copy alarm reports were color coded for the different municipalities.

In 1988, Dispatcher Peek-Fernenadz was promoted to shift supervisor. She held that position until retirement.

The original communications center was located in a separate area of West New York Engine Co. 4's firehouse at 4911 Broadway, West New York, with three dispatchers assigned to a group. It was "homey," and dispatchers and firefighters got along and supported each other. There was a window between the two sections of the building. When they had extra food, firefighters would pass along lunch or dinner goodies to the Fire Control dispatchers through the window. Fernandez said the firefighters called it a "one way window," as the engine members passed along food to them-one way! Part of firehouse ribbing.

The North Hudson area consists of a lot of border lines. For example, when you walk out of the firehouse at 4911 Broadway, make a right turn and walk a few feet, you are in Union City. The border line, there, is in the middle of a city block. One block to the east, and you enter Weehawken.

In 1999, the five departments merged into the North Hudson Regional Fire & Rescue. The dispatch center remained in the firehouse until a new communications center was created in the firehouse at 4300 Kennedy Boulevard, in Union City. Federal funding helped create the new, and upgraded center, due to North Hudson being assigned to dispatch the marine units that are part of the New Jersey Regional Fire Boat Task Force. With more responsibility, four dispatchers are assigned to a shift.

Dispatcher Fernandez was known for her calm and professional manner and digging in when things got rough. The good times and the bad. Working, and in tears, on the September morning in 2006 when Firefighter Vincent Neglia was killed in the line of duty at a fire on Bergenline Avenue. Keeping things operating in a professional manner. Participating in the annual Christmas parade, wrapping party and other department related events.

At the beginning of the 0800 hours radio test on June 29th, the known tough-no nonsense dispatcher became a bit broken up when she announced to all units that this was her last tour. During a visit by Group 4 Deputy Chief David Donnarumma, he told Dispatcher 920, "It takes a special person to do what you do."

On the evening of her last tour, members of the firehouse from Rescue 1, Squad 1 and Battalion 2 set up tables and had dinner in the radio room with Supervisor Fernandez and her three dispatchers. There was also a special cake. Family, away from home.

Of course, during the tour she received firehouse "ribbing" and many phone calls, including retired members. They told Dispatcher 920 she was going to go out "with a bang!" Well, most of the tour was routine.

Things changed after sunrise. Downstairs, in the firehouse kitchen, members saw a junkyard fire on television being reported from a news helicopter before the alarm was called in. The Group 4 dispatchers then turned out a full assignment for the fire on 91st Street, North Bergen. Companies reported a large column of smoke in the sky, while responding. Numerous vehicles were burning and live wires down. Water supplies were set up and the fire was held to an all hands with 9 companies, Safety 1, Deputy 1 and Battalions 3 and 2.

The companies on 43rd Street had turned out for the fire, putting a damper on plans for a surprise walk-out salute for Dispatcher Fernandez, from her buddies downstairs, as she left the building, after 7 a.m.

Never say "no." The incoming tour, along with staff members and Group 4 Second Battalion Chief Robert Morrison, lined up for a bag-pipe salute, as the well respected and loved dispatcher left the building. The Group 1 members then boarded Rescue 2's apparatus to report to the fire and make reliefs.

During her last morning radio test, Chief of Department Frank Montagne radioed in, "You kept our firefighters safe and our community."