Two Women Charged with Arson Following Mobile Home Fire in Hagerstown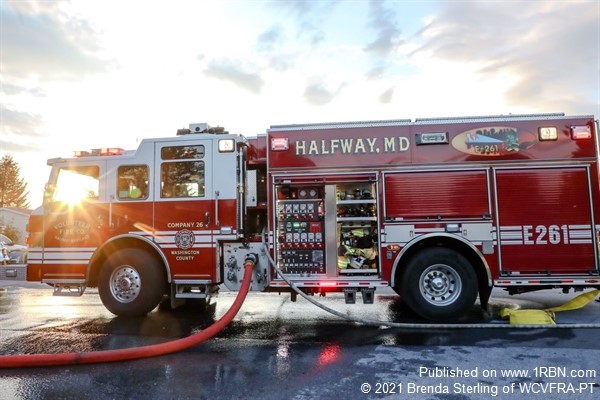 Photo by Brenda Sterling of WCVFRA-PTEngine 261 on the scene at Warbler Ct in Lakeside
Photo by Brenda Sterling of WCVFRA-PT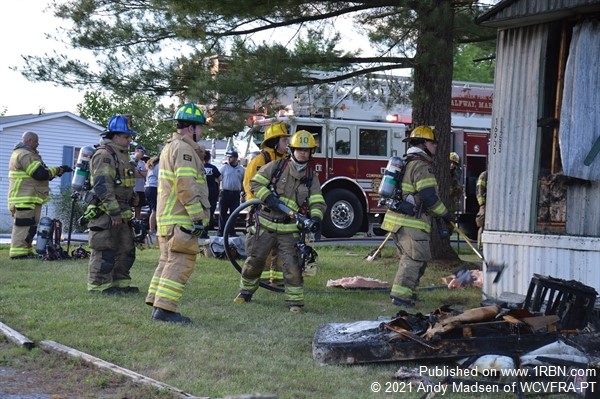 Photo by Andy Madsen of WCVFRA-PT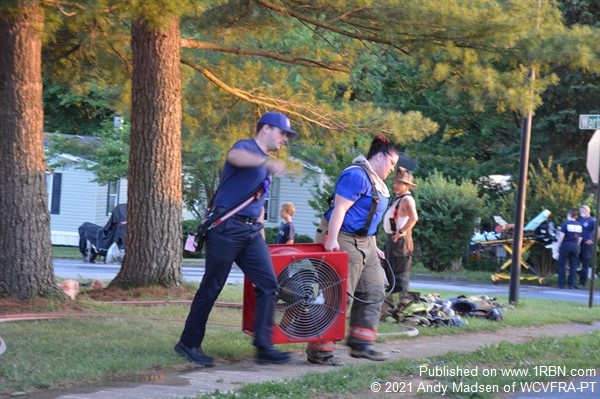 Photo by Andy Madsen of WCVFRA-PT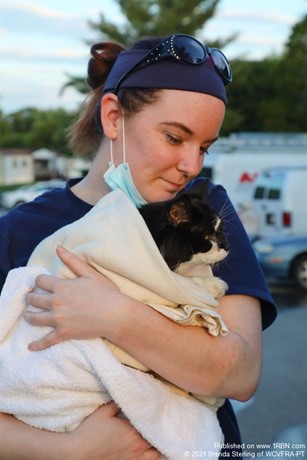 Photo by Brenda Sterling of WCVFRA-PTHannah Neuenschwander with Halfway holds the cat rescued from the fire, awaiting the Humane Society's arrival.
Photo by Andy Madsen of WCVFRA-PT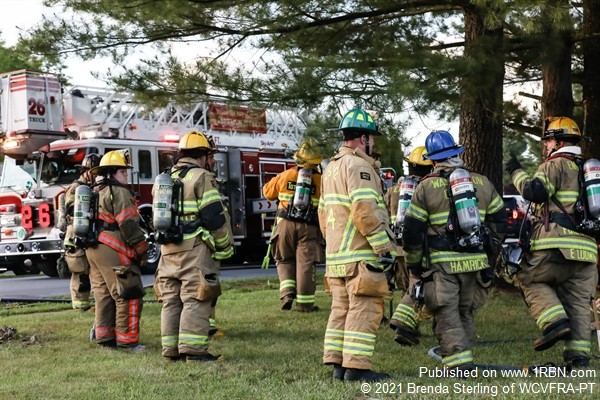 Photo by Brenda Sterling of WCVFRA-PT
This article is a direct street report from our correspondent and has not been edited by the 1st Responder newsroom.
HAGERSTOWN, MD - On the evening of June 15th, Washington County received calls reporting a mobile home fire in the Lake Side Mobile Home Community on Lake View Drive.

Crews from the Volunteer Fire Company of Halfway were alerted on Box 26-9 at 7:15 P.M., along with several mutual aid departments. Washington County had several calls reporting the mobile home on fire. Units arrived at 16900 Warbler Court to find a working bedroom fire on the 'Delta' side of the home. Deputy Chief Drawbaugh arrived and established Lake Side Command. Initial reports from neighbors stated that there might be someone still inside the home.

Halfway Engine 261 arrived and quickly deployed an attack line with a crew of two through side 'Alpha' of the structure to begin their interior attack as other crews began search and rescue to check the structure for victims. As crews made entry, Chief Ernst arrived and command was transferred to Chief Ernst while Deputy Chief Drawbaugh took operations. Interior crews were able to conduct a quick primary and secondary search, finding no victims in the home as fire attack worked to get a knock on the fire. Command reported the fire out at 7:30 P.M., but held units on the scene for extensive overhaul.

Firefighters were committed on the scene for nearly two hours conducting overhaul operations. It was later confirmed that the mobile home was currently unoccupied. No injuries were reported during the incident, but there was one cat rescued by firefighters. Fire department operations were wrapped up around 9:00 P.M. that evening, at which time Command was terminated, but Maryland State Fire marshals remained on the scene to begin their investigation into what caused the fire.

Members of the State Fire Marshal's Office, led by State Fire Marshal Ernst, were able to conduct a quick investigation and determined the cause of the fire that led to the arrest of two females that were seen at the home shortly before the fire, according to witnesses. Charges have been filed against Cheryl D. Saunders and Katherine A. Edwards for the incident. The investigation showed that both suspects were involved in intentionally setting the mobile home on fire that Tuesday evening. Both suspects have been charged with First-Degree Arson and First-Degree Malicious Burning and Destruction of Property over $1,000.

Over 50 emergency responders were on Tuesday evening's incident in Lake Side. The Volunteer Fire Company of Halfway (Co.26) responded on the call, receiving assistance from Clear Spring Fire (Chief 4), Hagerstown South End Fire (Engine 5), Western Enterprise (Engine 4), Maugansville Goodwill Fire (Co.13), Williamsport Fire & EMS (Co.2), Funkstown VFC (Co.10), Community Rescue Service (Co.75), Longmeadow VFC (Co.27), Washington County VFRA Safety Officer, Washington County Emergency Support Services (Air & Rehab 25), Washington County Fire Police, Maryland State Fire Marshal's Office and the Washington County Humane Society.