Fully Involved Barn Fire in East Nantmeal Twp.
By LUCAS RICHARDSON, Correspondent | June 24, 2020 | PENNSYLVANIA
Story No. 062420112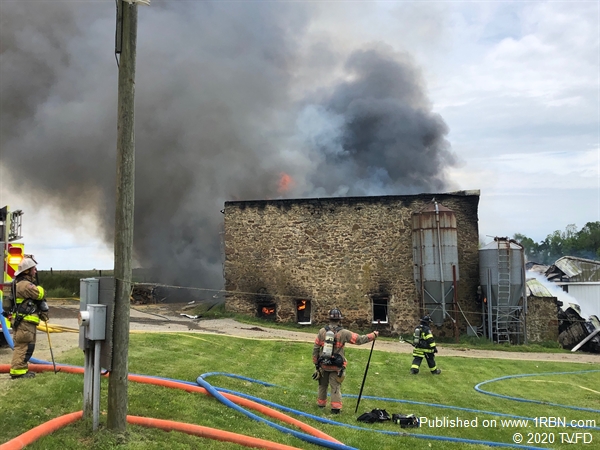 Photo by TVFDFirefighters arrived to find heavy smoke and fire showing from a barn that was connected to several other buildings.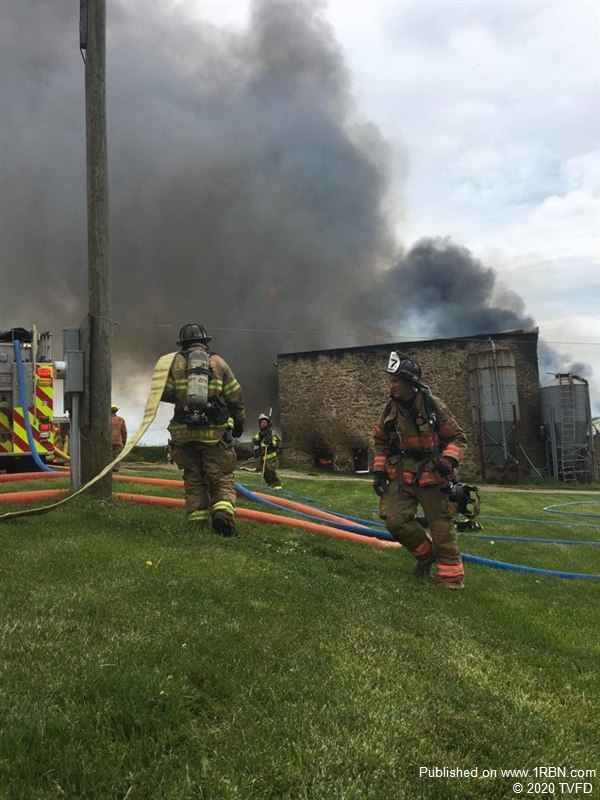 Photo by TVFD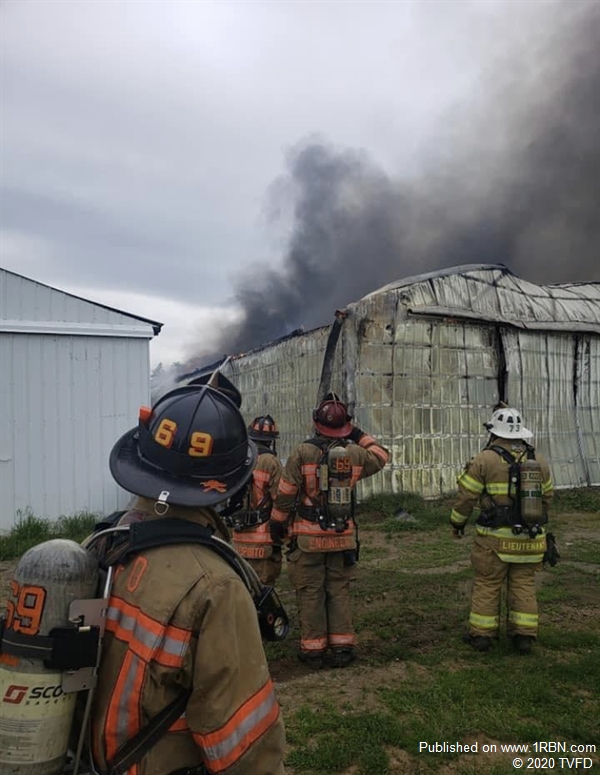 Photo by TVFD
At 1:24 PM, Twin Valley Fire Department and multiple mutual aid companies were dispatched to Hedge Road in East Nantmeal Township for a possible barn fire. The Chester County Emergency Services Center received a call from a passerby on the turnpike that saw a barn on fire in the area of mile marker 303.5. The dispatcher used that information to direct crews to a farm on Hedge Rd. While enroute, Ambulance 89-1 advised Chester they could see a column of smoke. Chester also received multiple other calls for a barn fire. Due to multiple callers and the ambulance's report Chester upgraded the assignment to a working fire. Deputy 69 requested a tanker task force be dispatched. Ambulance 89-1 arrived and reported a 50x50 barn that was well involved and threatening a propane tank. Deputy 69 arrived and assumed command on central ops 1. Ludwigs Corner Engine 73-2, Glenmoore Engine 48-5, and Twin Valley Engine 69-1, all arrived less then a minute from each other. Crews stretched attack lines off of Engine 73-2 while Engine 48-5 supplied water and Engine 69-1 laid a supply line Into the scene from the main road. Crews immediately began dousing the propane tank to protect it as other lines began putting water on the fire. Crews quickly discovered that the fire had already made itself into a second barn that was connected to the initial barn. While heavy water lines were used to try and halt the fire's progress crews were unable to stop the second barn from becoming fully involved. At that point crews began focusing on protecting a third barn that was beginning to catch fire. Firefighters were able to extinguish the small amount of fire on the third barn. Due to the heavy fire load a 2nd alarm tanker task force was requested to the scene for additional water supply. At 2:30 PM, the structural integrity of the second barn began to deteriorate, the evacuation tones were put out to clear firefighters from all buildings in the complex. Crews began an exclusively defensive attack as the amount of water available decreased. Once a constant water supply was established, crews were able to quickly knock down a bulk of the fire in both barns. Even though a majority of the fire was out, crews stayed out of the barns until an excavator arrived to assist with overhaul. Once the excavator arrived it began tearing through debris in the second barn as crews extinguished hot spots. Once crews finished dealing with all the hot spots in the second barn, the excavator was brought to the initial barn which was full of hay. Crews Worked for over an hour digging through the massive pile of hay and dousing hot spots. Once the hot spots were extinguished crews began breaking down handlines and supply lines. Crews cleared the scene at 9:29 PM, just over 8 hours after the initial call.
This article is a direct street report from our correspondent and has not been edited by the 1st Responder newsroom.