Suspicious Fire at Abandoned Paper Mill in Russell Burns for Days
By NATE ARNOLD, Correspondent | June 19, 2020 | MASSACHUSETTS
Story No. 062320107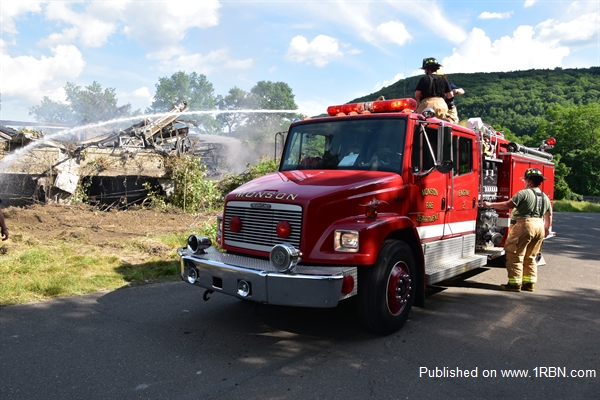 Photo by NATE ARNOLD Monson, MA Engine 2, which came from the opposite side of Hampden County, plays their gun into the remains of Strathmore #2.
Russell, MA - A fire that would subsequently burn for several days started early in the evening of Friday, June 19th, and would require task force responses from four counties to the Western Hampden County town of Russell.

Calls to 911 reporting a large fire at the long abandoned Strathmore Paper Mill number 2 on Valley View Avenue started coming in at 8:30 P.M. on an unseasonably hot, humid early summer night. Russell firefighters arrived on scene to find a heavy volume of fire destroying a single-story portion of the mill and threatening to take possession of the three-story portions of the complex.

No time was wasted in calling for mutual aid, as this small town volunteer department only has 28 members on the roster. Crews from every neighboring town soon started streaming in to to help their overwhelmed brethren as the night was young, the fire was large and there were many obstacles to overcome.

The fire hydrants closest to the mill proved ineffective early on in the operation, as they were on a dead end main that was undersized for the volume of fire it was tasked with fighting. The nearby Westfield River, a tributary of the Connecticut River, was inaccessible due to rocky shores which made for no safe or quick way to initiate a drafting operation.

The possible crowning insult to local fire crews was that the bridge that carries Valley View Avenue over the river is a temporary, one lane span that was installed to replace the dilapidated Bridge St. bridge and has a maximum weight restriction of 75 thousand pounds, which limited the number of apparatus that could access the scene to one vehicle at a time.

A long duration operation ensued which involved tankers traveling to the neighboring City of Westfield to fill up at a hydrant that could supply the necessary water and then shuttling back to the scene to dump their loads into portable tanks. This effort continued around the clock for more than 72 hours, with Russell firefighters rotating off scene for rest and rehab while mutual aid from several counties away continued the firefighting effort.

Nearly 100 firefighters rotated through the scene as of this article's writing, and the building was expected to smolder for days on end. The cause of the fire has been deemed suspicious by the State Fire Marshal's office, and a $5,000 reward was posted for information leading to an arrest.
This article is a direct street report from our correspondent and has not been edited by the 1st Responder newsroom.