NJ EMS Task Force Holds All-Member Meeting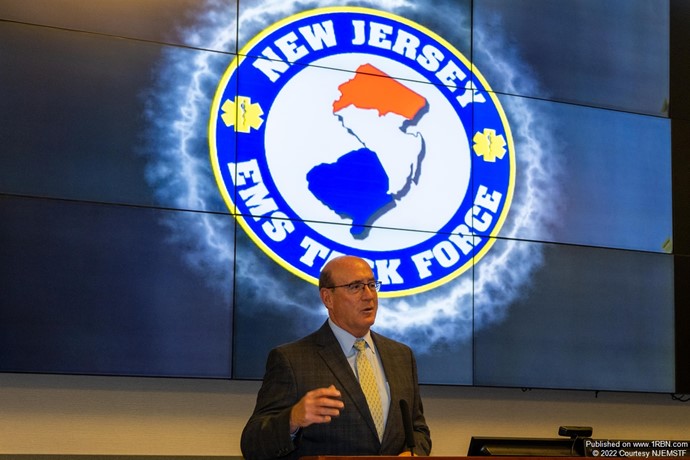 Photo by Courtesy NJEMSTFMike Bascom, chairman of the non-profit NJEMSTF.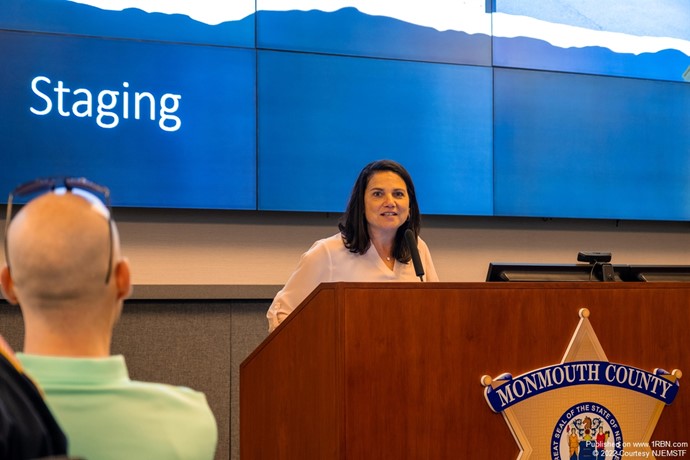 Photo by Courtesy NJEMSTFJennifer McCarthy, vice chair of the NJEMSTF board of directors, talks with attendees at the organization's team meeting.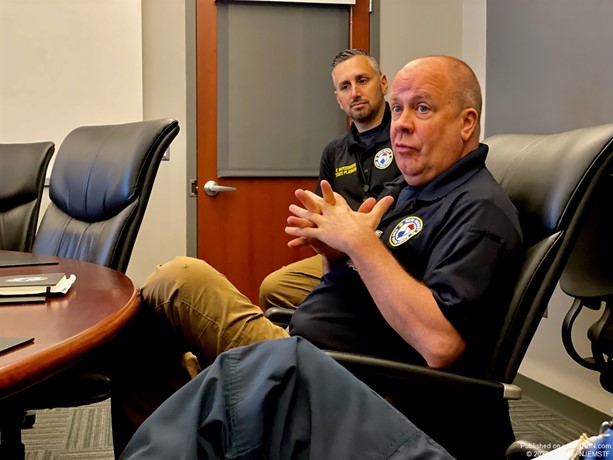 Photo by Courtesy NJEMSTFNJEMSTF State Planners Frank Intessimoni and H. Bucky Buchanan discuss future plans with Task Force members.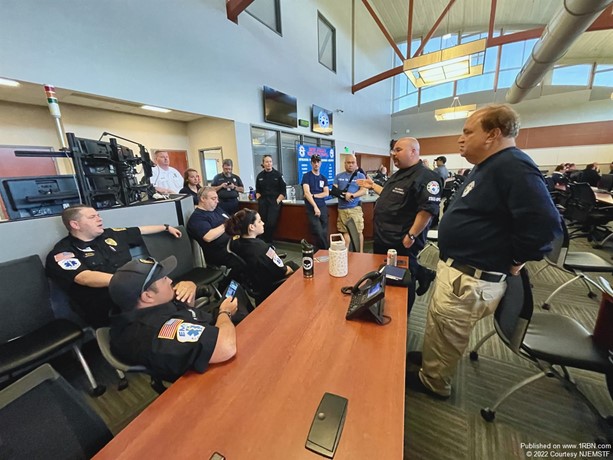 Photo by Courtesy NJEMSTFStaging team members of the NJ EMS Task Force gather for a breakout session during the NJEMSTF full-team meeting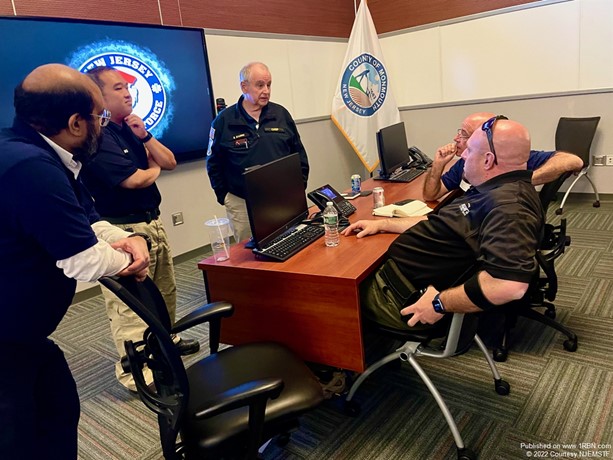 Photo by Courtesy NJEMSTFThe NJ EMS Task Force communications module talks about future operations during the NJEMSTF team meeting.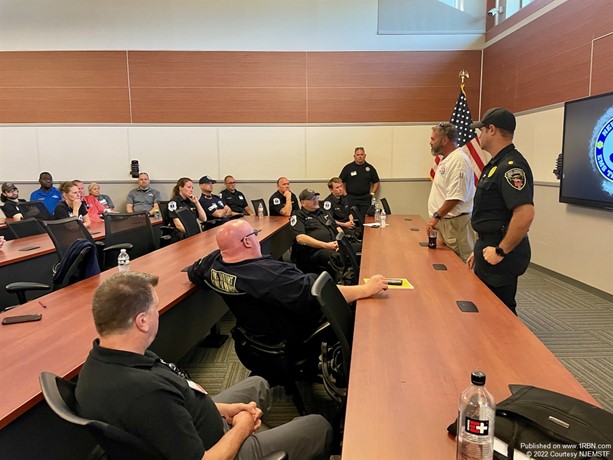 Photo by Courtesy NJEMSTFJason Hamilton, leader of the medical operations module, briefs attendees on operations.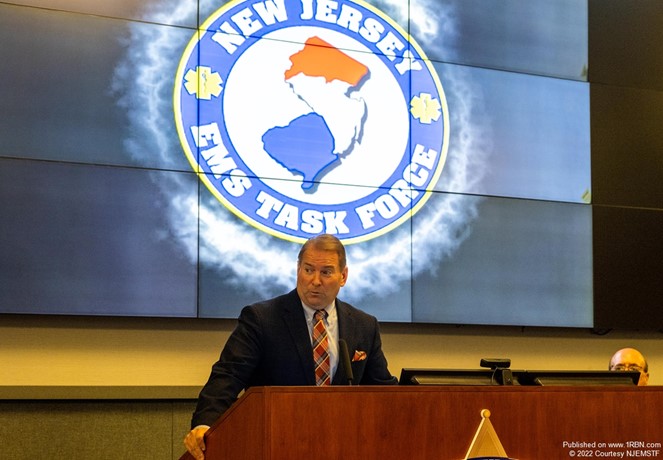 Photo by Courtesy NJEMSTFMonmouth County Sheriff Shaun Golden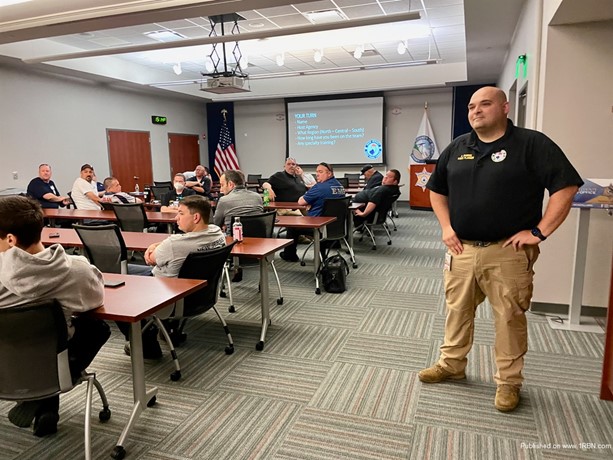 Photo by Courtesy NJEMSTFAnthony Gabriel, a NJ EMS Task Force state planner, shares information with the logistics module during the organization's team meeting.
This article is a direct street report from our correspondent and has not been edited by the 1st Responder newsroom.
FREEHOLD, NJ - The New Jersey EMS Task Force members were briefed on the organization's structure, operations and future at its annual all-members meeting held May 25th at the Monmouth County Sheriff's office in Freehold.

Mike Bascom, chairman of the non-profit EMS organization, said the NJEMSTF has a lot of equipment and assets, adding "None more important than our members."

Without the members, the equipment was "meaningless unless we have an elite team to deploy it," Bascom said.

"Mission readiness is important to us," he added. "Every member has to be able to perform at elite levels in times of crisis."

Due to the pandemic, the meeting marked the first time the organization has been able to gather as a whole since 2019. Since the pandemic began, the NJEMSTF has been a key participant in New Jersey's battle against COVID, from working at testing sites, developing new operations to administer and transport vaccines, and working with state and local OEM, health departments, hospitals and law enforcement agencies.

Jennifer McCarthy, vice chair of the NJEMSTF board of directors, asked members to pause for a moment to reflect on those members of the EMS community that passed away during the pandemic and to think of their families.

NJEMSTF leaders and module leaders revealed plans for the organization in the coming year and also outlined the operations of various units from staging, planning, public information, helibase operations, medical operations, HazMat, education, finance and more.

The NJEMSTF was created in the wake of the September 11, 2001 terrorist attacks and represents more than 200 career and volunteer EMS providers throughout the state. The NJEMSTF membership is trained to respond to large-scale man-made and natural disasters, catastrophes and planned events. Today, the NJ EMS Task Force is a nationally recognized leader that represents top-line EMS providers from career and volunteer services, hospital-based advanced life support providers and communications teams.

The New Jersey EMS Task Force became a 501c3 non-profit in February 2020.

"We put together a powerhouse board of directors. They're industry names, they're well known, and they are committed," said Bascom. "Creating a non-profit organization like this is a heavy lift. It took a great deal of work."

That process also allowed the NJEMSTF to apply for more grants and replace aging equipment.

"Our strong partnership with the NJ Department of Health is critical to our success and for EMS emergency preparedness for the State of New Jersey," Bascom said.

In October, the NJEMSTF will conduct a three-day base operations exercise for all members. Additionally, NJ EMS Task Force planes are writing new emergency response plans and updating all statewide emergency plans. Also, NJEMSTF members will be in operation at several major events throughout the summer.

McCarthy told the members that one of the key aspects of a team functioning well is using simulation to create emergency scenarios.

"What we're asking for membership to do is to consider these soft events, concerts, to test our policies for deployment," McCarthy said. "While we joke about a concert or a marathon, they serve as an important opportunity to train."

She also noted that to be part of an organization like the NJEMSTF requires participation, and by having as many members as possible respond to events helps the team have a more significant role in the state's emergency operations.

"Data drives change," McCarthy said.