Working Camper Trailer Fire Under Investigation in Halfway
By WILLIAM KING, Senior Correspondent | May 22, 2020 | MARYLAND
Story No. 052620107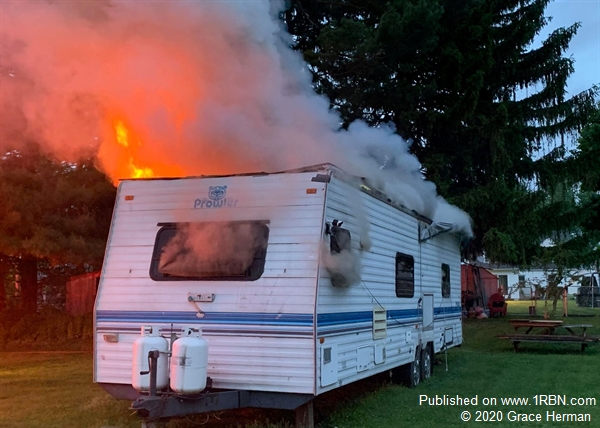 Photo by Grace HermanFirefighters from the Volunteer Fire Company of Halfway arrive to find a working camper trailer fire.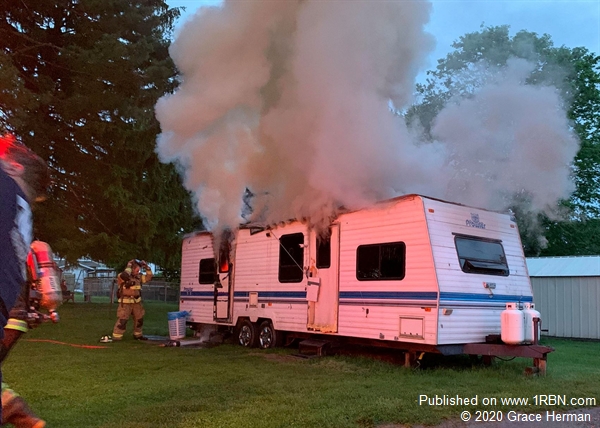 Photo by Grace Herman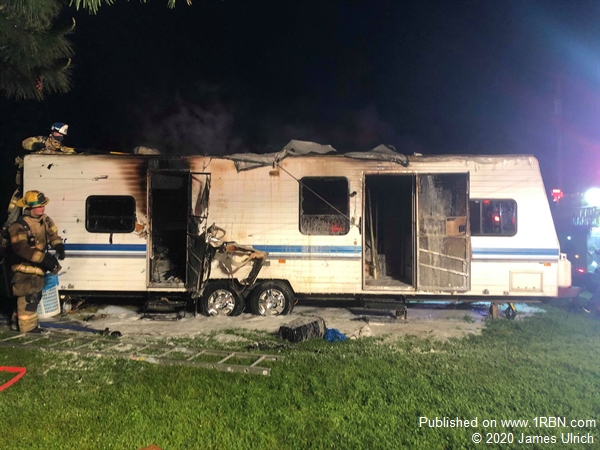 Photo by James Ulrich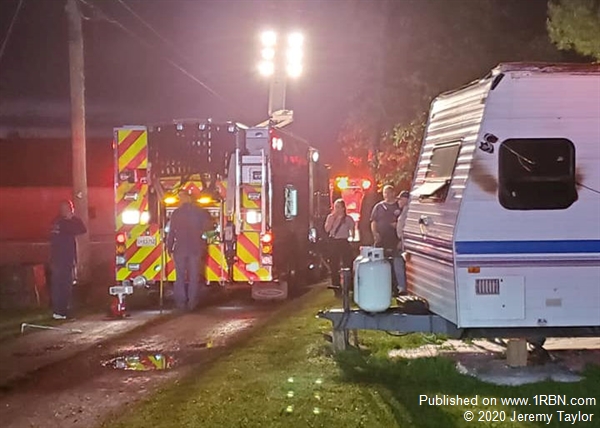 Photo by Jeremy Taylor
Halfway, MD - On the evening of May 22nd, Washington County Emergency Communications received a call reporting smoke and flames coming from a camper trailer in the area of Greenmount Avenue in Halfway. Crews from the Volunteer Fire Company of Halfway were dispatched out, along with several other units due on Box 26-10 around 8:29 P.M. Emergency crews quickly responded on the call and were able to see smoke coming from the area as they approached the scene.

Crews from Halfway arrived to find smoke and flames coming from a camper trailer to the rear of 11210 Hollywood Road. Paramedic James Ulrich on Paramedic 26-9 arrived and established command as Engine 26-1's crew arrived and prepared for their fire attack. Due to the structural integrity of the camper along with other safety concerns, firefighters pulled an attack line and conducted a defensive attack only from the exterior of the camper. Their aggressive efforts allowed them to get a quick knock of the fire, keeping it contained to the camper only. Command reported to Washington County that the fire was under control at 8:44 P.M.

Firefighters were committed on the scene for several hours conducting overhaul and assisting investigators from the Maryland State Fire Marshal's Office. Fire Marshal Ed Ernst (FM26) was on the scene Friday evening and able to confirm the point of origin to be the interior closet in the camper. The damages are estimated to be around $8,000 between the camper and its contents.

The cause of the fire is not currently known and remains under investigation. No occupants were found to be in the camper at the time of the incident and no injuries were reported that night as a result of the fire. All emergency personnel were able to clear the scene shortly before midnight.

Over 30 emergency responders answered the call that Friday evening in Halfway. Personnel from the Volunteer Fire Company of Halfway (Co.26) responded, receiving assistance from Williamsport Fire & EMS (Co.2), Funkstown Vol. Fire Company (Co.10), Maugansville Goodwill Fire (Co.13), Washington County Special Operations (Co.20), Community Rescue Service (Co.75), Washington County Fire & Rescue Association Safety Officer, Washington County Emergency Support Services (Rehab 25), and Washington County Fire Police.
This article is a direct street report from our correspondent and has not been edited by the 1st Responder newsroom.