Islip Town Fire Museum Hosts 2nd Annual Man Vs. Machine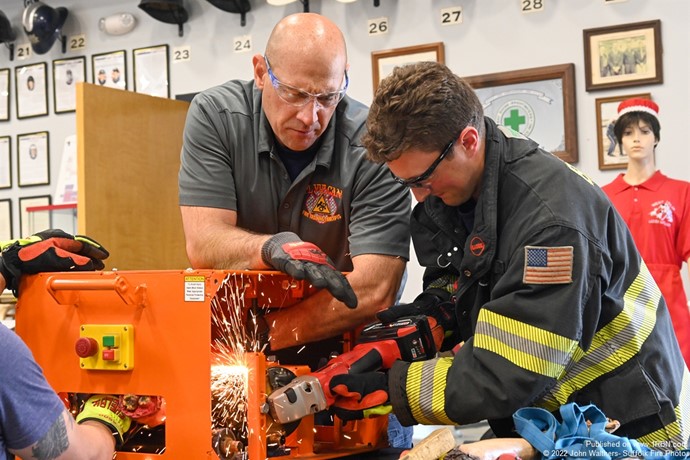 Photo by John Walthers- Suffolk Fire PhotosBrookhaven FF Jimmy Cassidy works with Captain Mark Gregory on getting a hand out of a piece of industrial equipment during Man Vs. Machine training.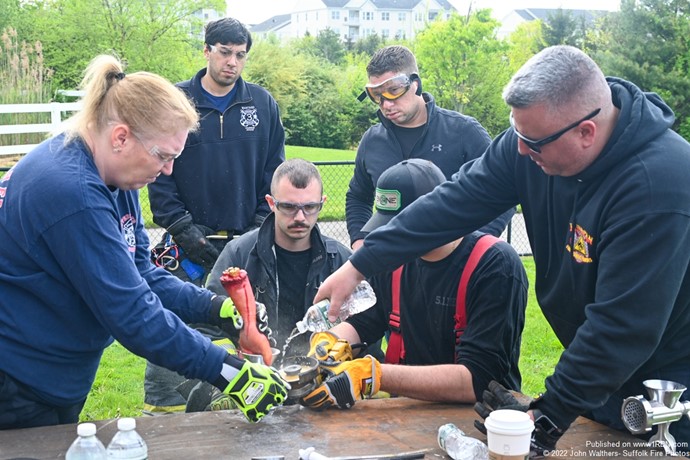 Photo by John Walthers- Suffolk Fire PhotosFirefighters work to remove a hand from the meat grinder during Man Vs. Machine Training at the Islip Town Fire Museum.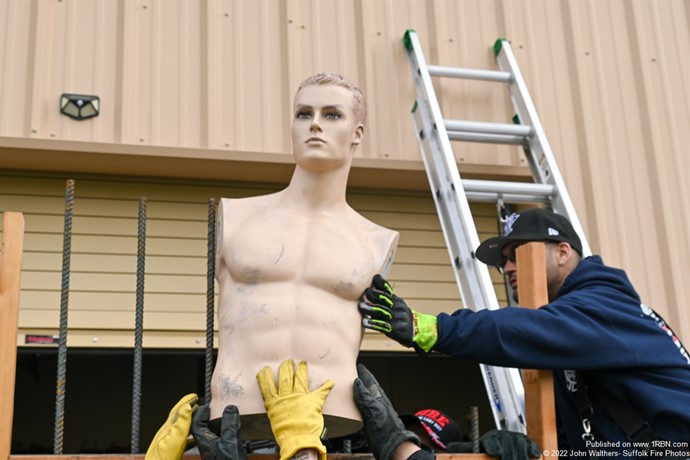 Photo by John Walthers- Suffolk Fire PhotosFirefighters work to remove an impaled "person" during the annual Man Vs. Machine training at the Islip Fire Museum.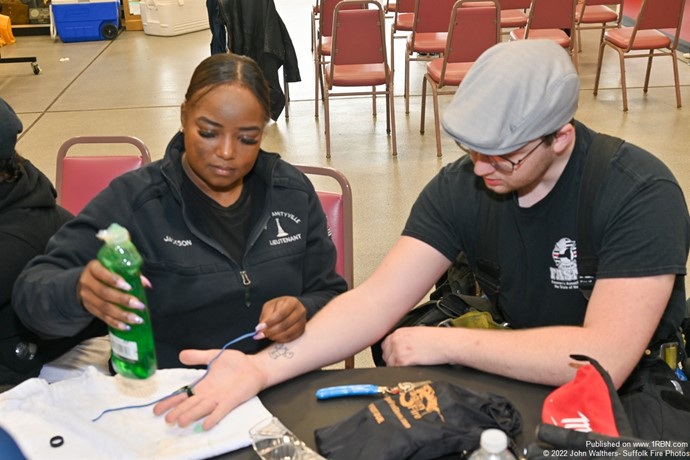 Photo by John Walthers- Suffolk Fire PhotosA Lieutenant from North Amityville works to remove a stuck ring from Brookhaven Firefighter David Sill's finger.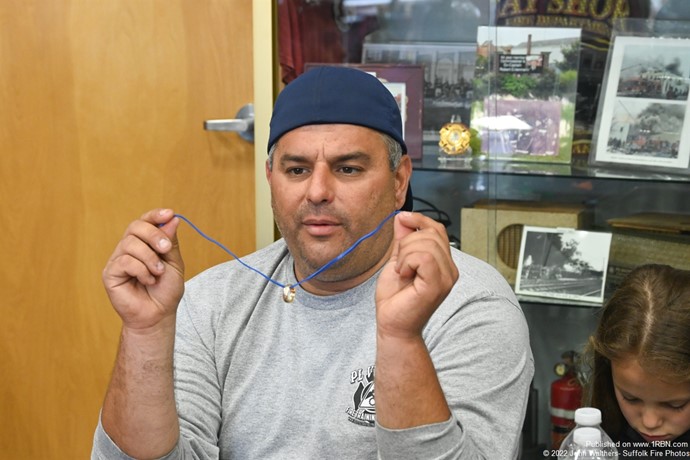 Photo by John Walthers- Suffolk Fire PhotosPL Vulcan Instructor Tommy Gies holds up a ring on a rubber band after a successful removal.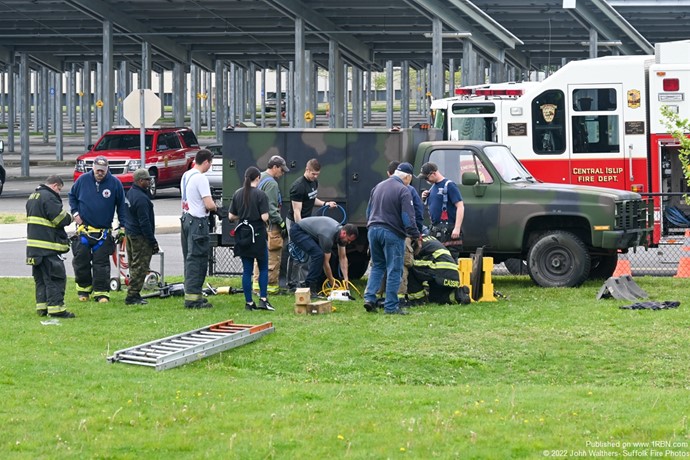 Photo by John Walthers- Suffolk Fire PhotosFirefighters learn how to lift a truck/ other vehicle up with ladders and other items off a firetruck.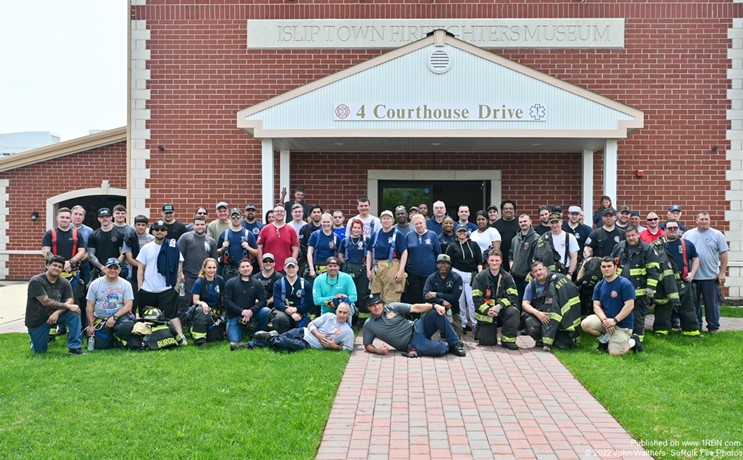 Photo by John Walthers- Suffolk Fire PhotosThe entire Man vs. Machine class and instructors outside the Islip Town Fire Museum after a wonderful weekend of training.
This article is a direct street report from our correspondent and has not been edited by the 1st Responder newsroom.
CENTRAL ISLIP, NY - On the weekend of May 13th and 14th, the Islip Town Fire Museum & Education Center hosted its 2nd annual Man VS. Machine training. This year's event consisted of two days of training and valuable material. Departments from across Suffolk and Nassau Counties came out to the museum to learn from instructors from PL. Vulcan Fire Training.

On Friday night, PL Vulcan Instructor Tommy Gies of Ladder 147 taught the lecture portion of the program, which was new for this year. The lecture discussed all different types of man vs. machine jobs, such as hands and body parts trapped in things, people stuck under machines or a car, and more. A lot of it was based on Gies' own experiences in the fire service, as well as the training of him and his fellow instructors.

On Saturday, approximately 60 students returned to the Islip Fire Museum for the "Hot", aka hands-on portion of the training. Under tutorage of Captain Mark Gregory and the many other knowledgeable instructors from PL Vulcan, stations were set up to demonstrate different types of emergencies. The first station was a simple station on removal of rings from fingers. Tommy Gies showed the firefighters various ways to remove a ring that was stuck. This included gentle methods like using soap and rubber bands, to more drastic measures like cutting it off with a dremel tool or using a ring cracker.

The next station, which was split into two sections, was on industrial accidents. Captain Gregory and one of his other instructors set up two tables with different types of industrial machinery and spoke about/demonstrated how to remove hands trapped from machines with things like conveyer belt type systems and augers. Another station set up was the ole hand in the meat grinder. Firefighters had to stabilize the hand and cut the meat grinder without causing anymore damage to the hand. The fourth station was set up to demonstrate lifting a vehicle off a person stuck underneath it. For this station firefighters learned how to lift a car, or in this case a truck, off of a person with basic tools that may be on the fire truck such as ladders, chocks and even the Hurst tool spreaders. The final station was on impalements. A dummy was placed on a fence prop with rebar stuck through it and the firefighters had to successfully cut the rebar with a ban saw to remove the patient to be packaged for transport.

At the end of the weekend, a debrief was done and the instructors talked about the training to recap it and then listened to any feedback. It was a very successful weekend of training.