DeFuniak Firefighters Save Puppy from Drowning
By JAMES STULTZ, Correspondent | May 04, 2021 | FLORIDA
Story No. 051921102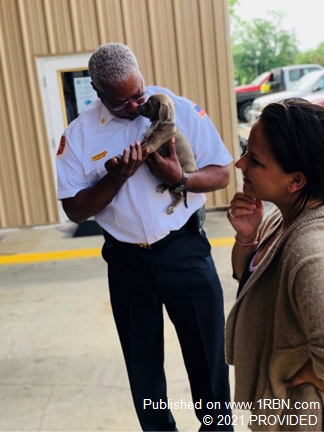 Photo by JAMES STULTZ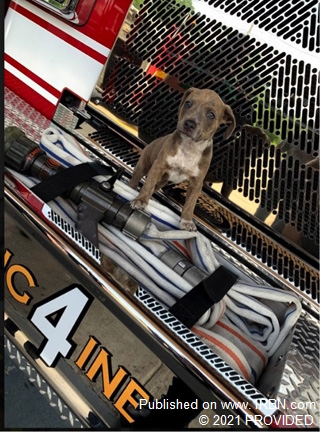 Photo by JAMES STULTZ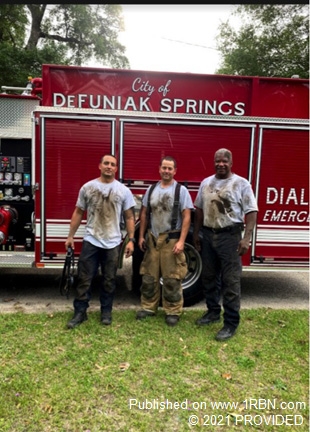 Photo by JAMES STULTZ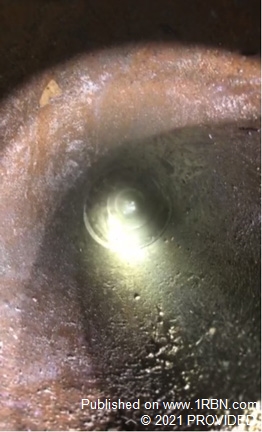 Photo by JAMES STULTZ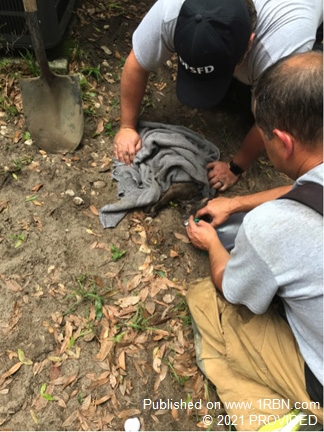 Photo by JAMES STULTZ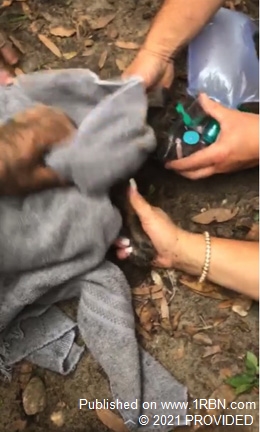 Photo by JAMES STULTZ
DEFUNIAK SPRINGS, FL - On the early afternoon of Tuesday, May 4th, service tones dropped for a puppy stuck underneath a house.

Firefighters arrived to find a frantic pet owner, who told responding crews that her 6-week-old puppy was stuck underneath her home in a pipe approximately 15-feet deep. Firefighters from the City of DeFuniak Springs Fire Department immediately sprung into action, gained access to the underside of the house and crawled 50-feet, where they found the faint yelps of a puppy desperately clinging onto life.

What they found was an approximate 8-inch-diameter well casing that descended 30-40 feet deep into the earth. At the bottom of this hole were the faint gasps for air of a small puppy, with barely enough room to remain afloat pinned between the wall of the casing. Firefighters requested for additional resources from City, while attempts continued to lasso the dog with a slip knot. After numerous unsuccessful attempts, crews reset and devised a different plan.

Public works employees were called to the scene and assisted greatly in devising a series of pvc electrical conduits together, with a long stretch of 12-gauge wire fed through and tied at one end. The plan was to push the conduit down past the dog, while placing the wire in positon over the dogs head. Once lowered around the dog, the wire would be pulled tight and the dog quickly evacuated from the well. It only took two attempts, and the dog was removed from the well, unconscious, not breathing and lifeless.

Firefighters immediately began chest compressions on the small dog, and provided oxygen via non rebreather mask, and the puppy quickly regained consciousness and began breathing again on its own. The dog was quickly whisked away to the local veterinary hospital where she spent the next 24 hours receiving IV fluids, and was released with a clean bill of health.

The puppy was subsequently named after two of the firemen involved in the rescue, Allen James. Fire Chief Ross Sheffield also got in on the action and was involved with not only bringing in additional resources from the City, but also in the final rescue attempt that brought the dog up from the bottom of the well.

Chief Sheffield praised the efforts of his firefighters, as well as the men from the City's Public Works department without whom, the dog surely would have perished.
This article is a direct street report from our correspondent and has not been edited by the 1st Responder newsroom.