Captain Eugene (Gino) La Mastro Served Us Well
By RON JEFFERS, New Jersey Editor | April 16, 2021 | NEW JERSEY
Story No. 041621113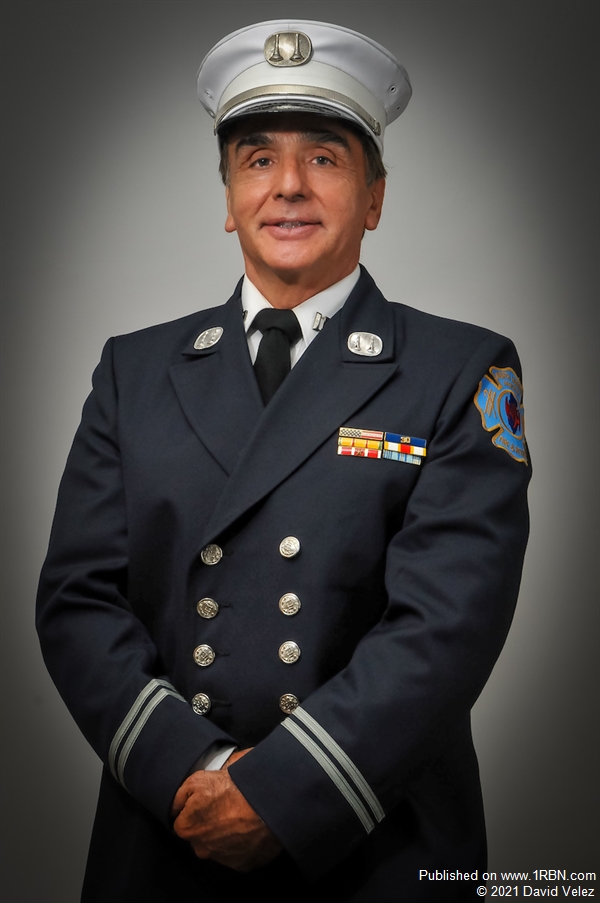 Photo by David VelezNorth Hudson Captain Eugene La Mastro.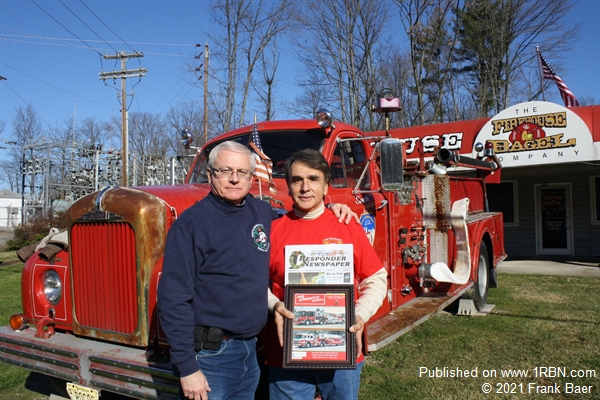 Photo by Frank Baer1st Responder News NJ Editor Ron Jeffers, left, with retired Fire Captain Eugene (Gino) La Mastro at The Firehouse Bagel Company, in 2011.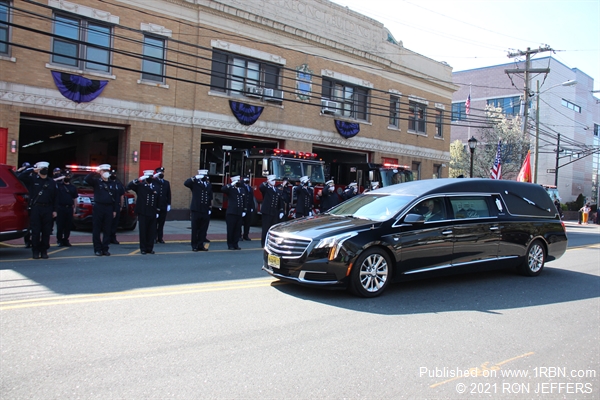 Photo by RON JEFFERSOn the morning of April 20th, North Hudson firefighters offered retired Captain Eugene (Gino) La Mastro a final salute at the 16th Street firehouse in Union City, where he spent many years. He also patrolled the same area when he was a police officer in the 1970's. Captain La Mastro lost his life in the Line of Duty as a result of health complications that he incurred from his duty at the World Trade Center after the 9/11 attacks on our country. La Mastro was a U.S. Marine and a Vietnam veteran.
Eugene (Gino) La Mastro was a marine who served in Vietnam (1968-1970). He joined the Union City Police Department in 1971. Gino and I worked on the same squad in lower Union City and he was my back up car. He became a city firefighter in 1980 and was promoted to captain in the North Hudson Regional FD in 2005.

Gino was always full of life, an excellent cook, and he loved being a firefighter. He enjoyed baking and proudly served as a firehouse chef. In 1991, he won second place for his "flourless" chocolate raspberry cake when he competed in a state FMBA cooking contest.

Captain La Mastro died on April 14th after a battle with cancer.

Before he retired, he opened up The Firehouse Bagel Company on Route 206, in Branchville. It was a restaurant with a fire service theme loaded with fire memorabilia that he had collected for his business.

Several years earlier, he had acquired a 1958 Mack pumper. He used it, to the delight of children, in the annual UCFD Christmas parade. After the 1999 merger, it was a North Hudson parade, traveling down Bergenline Avenue, covering four of the five municipalities that make up the regional department. The Mack later became the restaurant's landmark, located in front of the business.

Gino loved the holidays and took pride in putting decorative lighting on the Mack. It was another reason for customers to stop by the restaurant with holiday spirit.

Gino made many more contacts in the fire service, from numerous states, that would stop by the restaurant. Visiting firefighters would drop off one of their local department's shoulder patches to be part of his display. Gino also took great pride in his 9/11 memorial. He displayed his youthful energy when showing off the store and its collection.

Many who worked with him were shocked at the news of his passing. He was upbeat until the end. Even during his last days in hospice care, he was up and talking, with his remaining energy.

In an interview I did with him about the restaurant in 2011 for 1st Responder News, he said, "Being a fireman, you can never get that out of your blood."
This article is a direct street report from our correspondent and has not been edited by the 1st Responder newsroom.