The Bergen County Firemen's Home Association February 16th, 2020
By JUSTIN WATREL, Correspondent | April 08, 2020 | NEW JERSEY
Story No. 040820108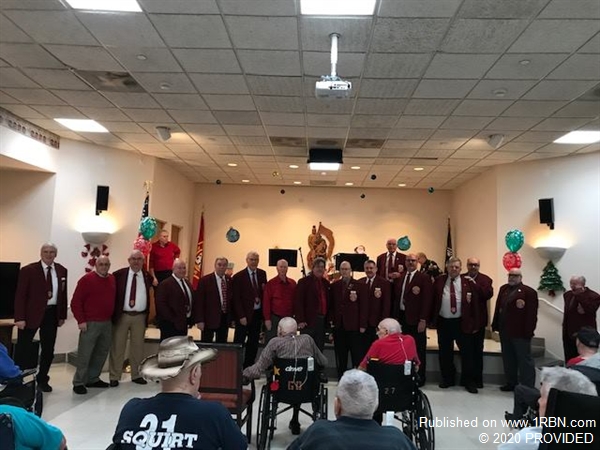 Photo by PROVIDED
Meeting was called to order at 13:00. There was a Flag Salute and a moment of Silence. The Monthly Prayer was done F. Glucker. We dispensed of the Minutes since we did not have a copy of both the November or December minutes. Motioned by F. Glucker and Seconded by E. McGorman.

Present: G. Corbett, F. Glucker, F. Jaegge, P. Jeffer, J. Kinner, K. Krausz, D. Kunz, E. McGorman, J. Naylis, J. Parma, G. Popjoy, J. Vergas and J. Watrel.

Absent: Secretary Simpson, Trustees E. Leone, N. Ciampo, and G. Steger, W. Brock, A. Castronovo, W. Cockcroft, P. Devries, E. Frey Jr., B. Hennig, M. Kashtan, D. Loftus, J. McLoughlin, C. Moots, R. Ordway and A. Steimie.

Sick: President Heflich

Executive Board Reports:

President Heflich: President Heflich was out sick for this meeting.

Vice-President Watrel: I wanted to thank everyone for their support. He thanked Jerry Naylis for all his help on recent articles on the organization that have appeared in Jersey Firefighter, NJ Fire News and First Responder Magazine. He said he was sorry he had to miss the meeting as he was out of town for Thanksgiving. He thanked the Naylis family for all of their support and for entertaining the guests at the Christmas Party. The article also appears on our blog, BCFHA@Wordpress.com along with the video taken by the home.

Secretary Simpson: Was out of town for the meeting.

Treasurer Kinner: The Audit of the Books has been finished and everything was balanced out. He wanted to thank the Audit Committee of G. Heflich, G. Corbett and J. Kinner for all their hard work. The Current Balance of the Treasury is $19,484.37. There was one bill from last meeting, one for $6,527.17 for the gifts for the residents of the home for Christmas. We also had total receipts of $6,770.00 and debits of $7,250.78.Motioned to Accept. Motioned by D. Kunz and Seconded by J. Veras. Passed.

We have two bills for today, $840.00 for the Denville Band and $200.00 for a full page ad. Motioned to Accept. Motioned by E. McGorman and Seconded by F. Jaegge. Passed.

Committee Reports:

Good & Welfare: A member was not feeling well and J. Naylis said that he would send a card.

Budget & Audit: The report was given under the Treasurer's report. The Audit Committee of G. Heflich, G. Corbett and K. Kinner audited the books and everything balanced out for 2019.

Fund Drive: Chairman J. Parma: We had 33 donations in 2020 totaling $5125.00. There was a difference of $150.00 as one donation was counted twice. There was a total of $17,570.00 for 2019 for the Fund Drive. The donations numbers are almost the same as last year but we are seeing an increase in dollar amounts. We have had a good response from the various departments. J. Naylis brought up contacting the Departments that don't donate to the BCFHA and that he can help in contacting them.

Bylaws: Chairman F. Glucker: Progress

Christmas Party: VP Watrel wanted to thank J. Naylis for his help on writing the article on the BCFHA Christmas Party for the papers. The party got a lot of exposure in the press. Everyone wanted to thank the Naylis family for donating their time to entertaining the residents at the party. J. Naylis said that they had a lot of fun doing it and had a lot of nice feedback. The residents and their guests told everyone what a nice time they had the day of the party.

Summer Picnic: J. Veras wanted to let us know that there would be a drill being held at the Home the day of the picnic and would we consider changing the date. The next weekend would be Father's Day Weekend so that would be out. It was suggested that we move it to June 7th. Motioned by J. Naylis and Seconded by G. Corbett. Passed. We will let A. Castronovo that we are changing the date so he can let the band booked for that day know of the change.

Entertainment: The Denville Band will be performing this afternoon after the meeting. J. Naylis said that he will contact the Bergen County Pipe & Drum to perform at the Barbecue.

Membership: We are looking for new members.

Publicity: We are looking into putting two full page ads in the NJ/NY Firemen's Association book for $125.00 and the NJ Exempt Association book for $200.00.

Old Business: No Report

New Business: G. Corbett wanted to let everyone know that Peter Jeffer had 45 years in the Department. J. Naylis wanted to let everyone know of the new Electric Wheelchair we helped buy for a resident of the home.

Bills to Be Paid: Discussed under the Treasurer's Report.

Adjournment: The meeting was adjourned at 14:00. Motioned by F. Jaegge and Seconded by J. Naylis. Passed. We will see everyone on April 19th for the next BCFHA meeting.


This article is a direct street report from our correspondent and has not been edited by the 1st Responder newsroom.