Large House in Brookfield Burns in Wind-Driven Fire
By BERNIE MEEHAN, Senior Correspondent | April 02, 2021 | CONNECTICUT
Story No. 040221103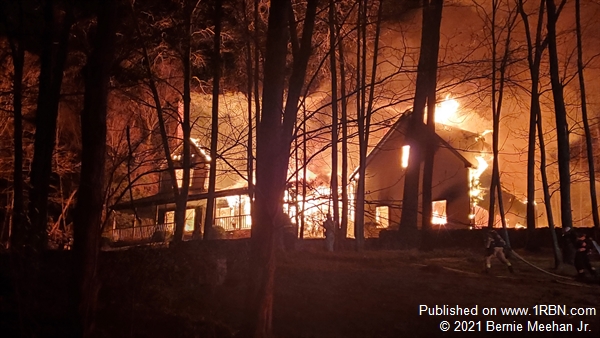 Photo by Bernie Meehan Jr. Fully Involved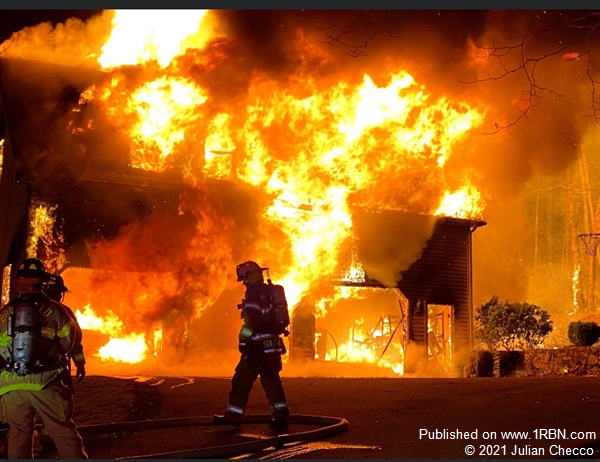 Photo by Julian Checco Heavy Fire Issuing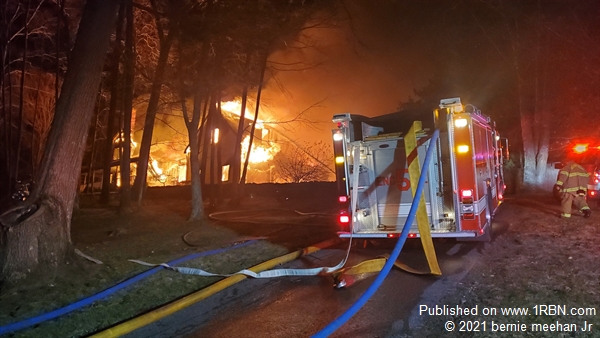 Photo by bernie meehan JrEngine 5 Position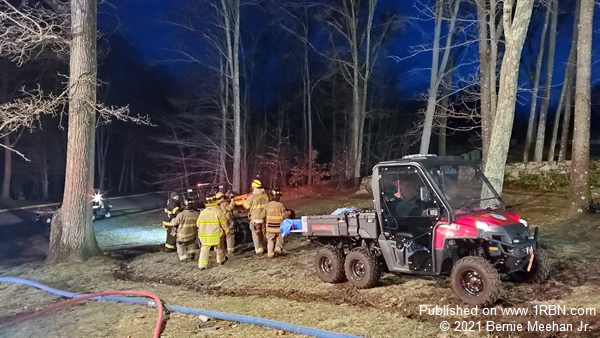 Photo by Bernie Meehan Jr. UTV in Operation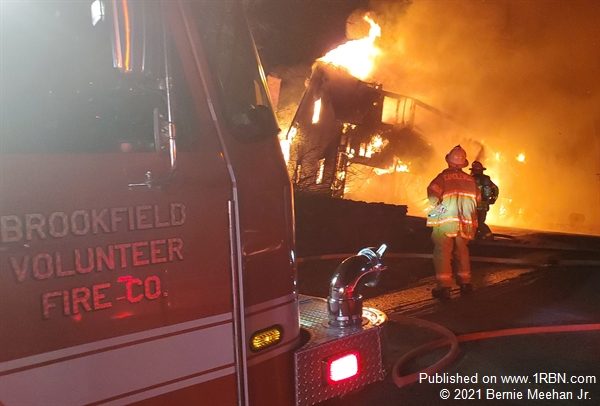 Photo by Bernie Meehan Jr. Driveway side.
BROOKFIELD, CT - On Good Friday, April 2nd, the tones went off for the Brookfield Fire Department at 4:01 A.M., reporting a structure fire at 29 Christian Lane.

First to arrive Car 1, Chief Andrew Ellis, found a very large contemporary house with heavy fire throughout. The house was located at the top of a hill at the end of an 800-foot long driveway, which presented a challenge for access.

First due Engine 5 laid their five inch supply up the driveway and began to attack the fire. Engine 1 (78' Quint) followed Engine 5 up the driveway, but due to access, was unable to position near the house. The weather on arrival was brisk, temperature was 22F, with a wind gust of about 15mph. Being on top of the hill, the fire rapidly became wind-driven.

Car 1 transmitted an immediate second-alarm, bringing in mutual aid from a number of surrounding towns. Brookfield Engine 4 set up a drafting/dumping station at the foot of the driveway utilizing two folding tanks for the tankers to off load into. Augmenting the two tankers from Brookfield were two tankers from New Milford, two from Danbury, and one each from Stony Hill, Bridgewater, Roxbury, and Hawleyville. Additional manpower responded from Newtown and New Milford.

Since the fire had taken complete control of the structure, an exterior attack was the only option. Multiple handlines were deployed, including 'blitzfire' type master streams. A special call went out for New Milford and Sandy Hook for their Utility Terrain Vehicles to supplement Brookfield's UTV. These units were indispensible for hauling people and equipment up the steep, long driveway.

Luckily, the occupants of the house were able to escape the flames unharmed, and no firefighters were injured while battling the blaze. The cause and origin is under investigation by the fire marshals, and most units were back in service by approximately 9:00 A.M.
This article is a direct street report from our correspondent and has not been edited by the 1st Responder newsroom.