JITNEY BUS DANGLES OFF CLIFF IN NORTH BERGEN
March 07, 2023 | NEW JERSEY
RON JEFFERS, New Jersey Editor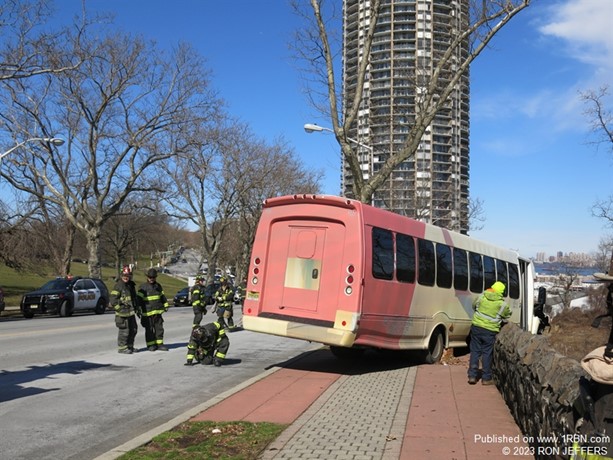 Photo by RON JEFFERSA tow truck operator, right, surveys the accident scene after firefighters stabilized a jitney bus that struck, and crashed through, a stone wall on Boulevard East, North Bergen, March 7th.  There were no passengers on the bus and the driver was unharmed.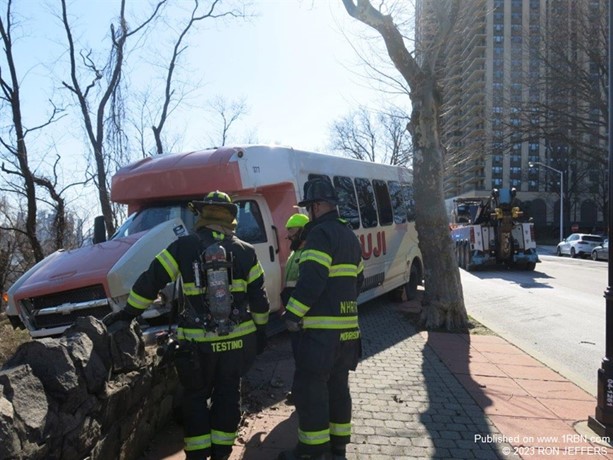 Photo by RON JEFFERS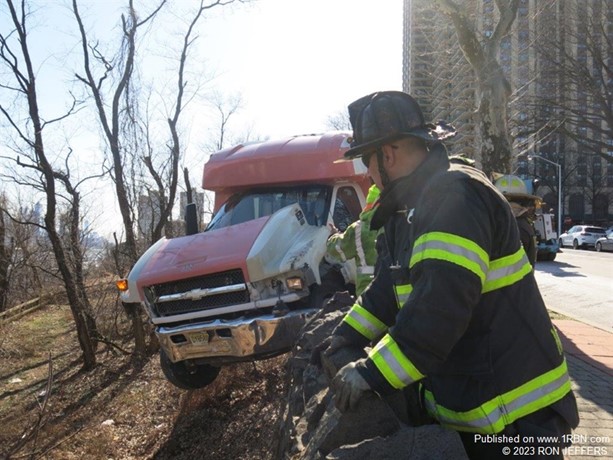 Photo by RON JEFFERS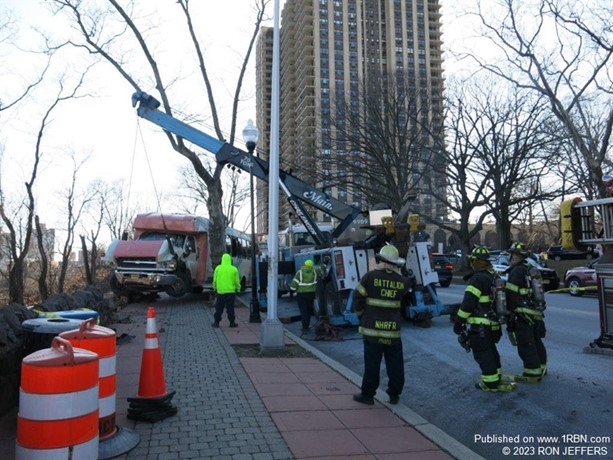 Photo by RON JEFFERS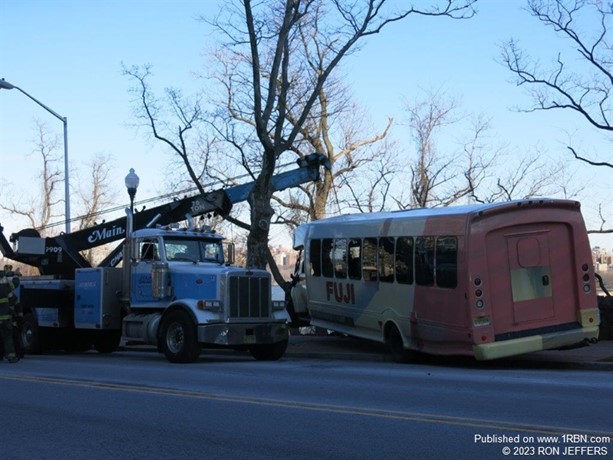 Photo by RON JEFFERS
This article is a direct street report from our correspondent and has not been edited by the 1st Responder newsroom.
North Bergen, N.J. - The driver of a jitney commuter bus escaped injury when his malfunctioning vehicle crashed into a stone wall on Boulevard East, near 79th Street.
The North Hudson Regional F.D. dispatched a rescue assignment to the location for a bus in a dangerous condition, on the afternoon of March 7th. They found the bus that had partially broke through the wall, coming to a stop with its front wheels hanging over the Palisades cliffs.  Lucky, there were no pedestrians in the area at the time of the accident. Boulevard East is a popular location for people to view and photograph the Manhattan skyline.
According to the Jersey Journal, the driver was taking the bus to a mechanic shop when the ignition shut off and he lost power steering.  He was unable to stop as the boulevard sloped downhill.  The driver aimed the bus as the stone will where it crashed to a halt.
There were no passengers on the bus, and the driver was not injured. 
Firefighters secured the bus until two heavy duty tow trucks arrived to remove the vehicle from the wall and towed it away from the scene. 
Hudson County road personnel placed barriers along the area of the damaged wall until permanent repairs could be made.