Two Traumas Transported from Single-Vehicle Rollover in Halfway
By WILLIAM KING, Senior Correspondent | March 07, 2021 | MARYLAND
Story No. 030821102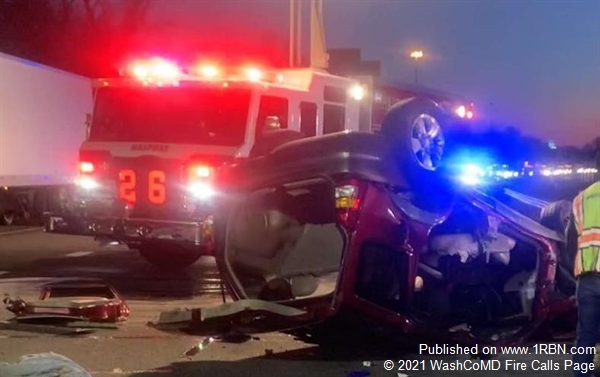 Photo by WashCoMD Fire Calls PageVFC of Halfway Engine supplies lighting for MSP on the scene of a single-vehicle accident.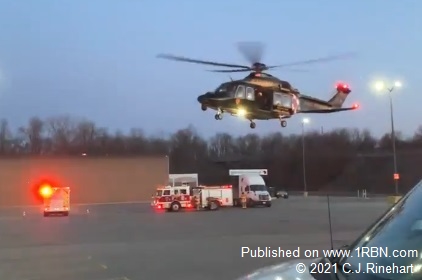 Photo by C.J.RinehartMSP Aviation Command's Trooper 3 lands at the old K-Mart in Halfway to fly out a Priority 1 Category A Trauma Sunday Night.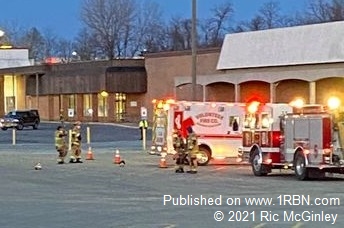 Photo by Ric McGinleyParamedic 269 and HFD Engine 5 at the LZ in Halfway.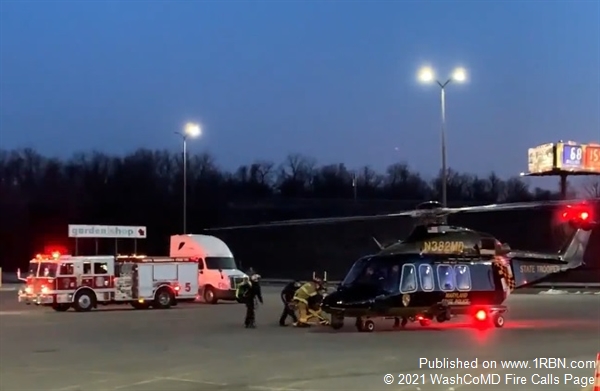 Photo by WashCoMD Fire Calls PageEmergency crews load the patient into Trooper 3 for transport to Shock Trauma in Baltimore.
Halfway, MD - On the evening of March 7th, Washington County Emergency Communications received reports of a single-vehicle rollover in the area of Exit 5 of Interstate 81 northbound. Emergency crews from Halfway, Hagerstown, Williamsport and Community Rescue were alerted for the call just before 6:00 P.M. Washington County advised responding units that they had reports of one entrapment.

Crews arrived to find a single vehicle overturned with one occupant still in the vehicle. Firefighters from Halfway began to stabilize the vehicle as the Duty Officer from Williamsport Fire & EMS arrived and established command. After a quick evaluation of the scene, command reported they had two patients on the incident scene. One patient was self-extricated with assistance by bystanders prior to their arrival, and the other was entrapped in the vehicle.

Aviation was immediately requested for the occupant still entrapped, who was categorized as a Priority 1 Category A Trauma. The second patient was evaluated and transported by Community Rescue's Paramedic 759 by ground to Meritus Medical Center and was categorized as a Priority 2 Category C Trauma due to mechanism.

Firefighters worked as a team to extricate the patient from the wreckage. Extrication was marked complete at 6:13 P.M. The patient was quickly packaged and transported by Halfway's Paramedic 269, with assistance by Duty 75 to a nearby landing zone which was established for Maryland State Police Aviation Commands Trooper 3. Trooper 3 arrived, took over patient care and transported the patient to R Adams Cowley Shock Trauma Center.

The cause of the accident is currently under investigation by the Maryland State Police. Initial reports say the vehicle was heading southbound when they swerved and lost control and rolled the vehicle, coming to rest in the northbound lane. No specific cause has currently been released. Halfway Engine 261 was committed on the scene until shortly after 8:00 P.M. that night assisting MSP with lighting.

Emergency crews on the scene included the Volunteer Fire Company of Halfway (Co.26), Hagerstown FD (Engine 4, Truck 4, Battalion 3), Williamsport Fire & EMS (Co.2), Community Rescue Service (Medic 759 and Duty 75), and Maryland State Police Aviation Command (Trooper 3). Additional assistance was received at the landing zone from Hagerstown FD's Engine 5, Washington County Fire Police, and Hagerstown Auxiliary Police.
This article is a direct street report from our correspondent and has not been edited by the 1st Responder newsroom.