Grave Digger Killed While Digging Grave in Mount Sinai
By CHRIS SABELLA, Senior Correspondent | February 25, 2021 | NEW YORK
Story No. 022521114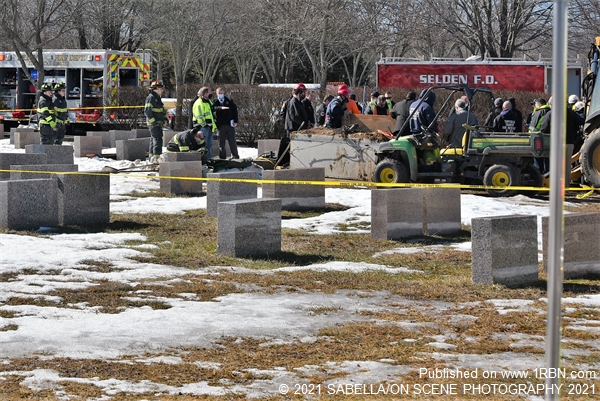 Photo by SABELLA/ON SCENE PHOTOGRAPHY 2021 MAN DIES WHILE DIGGING A GRAVE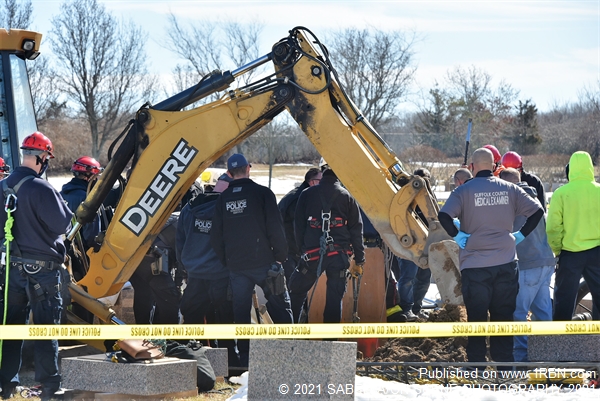 Photo by SABELLA/ON SCENE PHOTOGRAPHY 2021MULTIPLE DEPTS RESPOND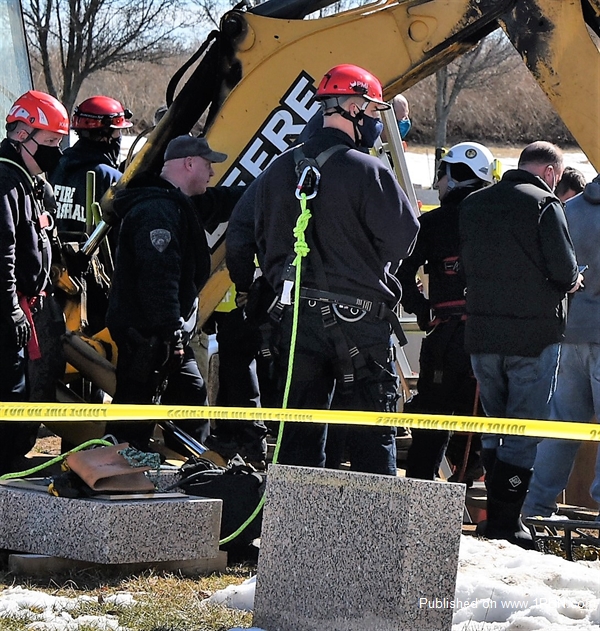 Photo by SABELLA/ON SCENE PHOTOGRAPHY 2021 MAN KILLED IN BOTTOM OF GRAVE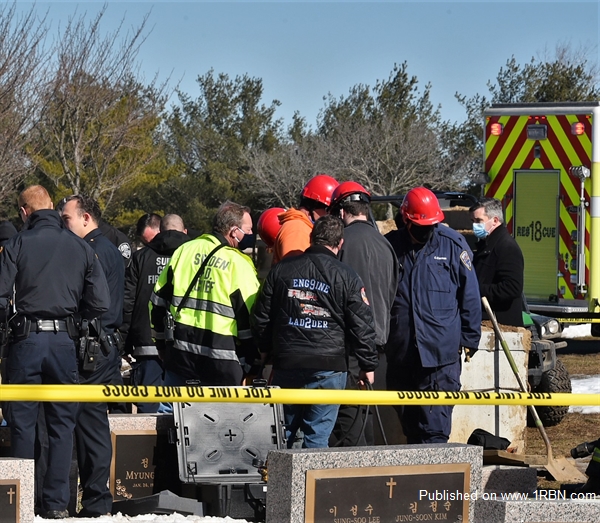 Photo by SABELLA/ON SCENE PHOTOGRAPHY 2021
Photo by SABELLA/ON SCENE PHOTOGRAPHY 2021 BROOKHAVEN TECH RESCUE TEAM RESPONDED
Photo by SABELLA/ON SCENE PHOTOGRAPHY 2021 WORKERS WATCHING AND WAITING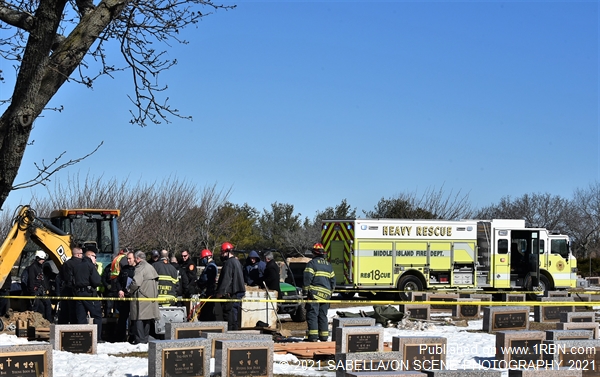 Photo by SABELLA/ON SCENE PHOTOGRAPHY 2021 TEAM WORKED TO SECURE HOLE FOR RECOVERY EFFORTS
Mount Sinai, NY - A cemetery employee was killed early Thursday, February 25th, in Mount Sinai when the grave he was working in collapsed on him, Suffolk County Police said.

Rodwin Allicock, 42, was working at the bottom of a more than seven-foot deep grave in Washington Memorial Park when the grave gave way on him at about 8:30 A.M., police said.

His co-workers unsuccessfully tried to dig out Allicock, a resident of Coram. Police, firefighters and other emergency workers responded to a 911 call from the Canal Street cemetery, but Allicock was ultimately pronounced dead at the scene by a physician assistant from the Suffolk Medical Examiner's office.

Suffolk County Police Homicide Squad detectives and the Occupational Safety and Health Administration (OSHA) are investigating the death.

Officers from the Suffolk County Police Emergency Service Section, as well as the county's Fire Rescue coordinators and public works department, and firefighters from the Middle Island, Selden, Setauket and Hagerman Fire Departments responded.

Police said the worker was "leveling out the bottom of a grave when the grave collapsed on him," trapping him under mounds of dirt. Firefighters from Brookhaven tech rescue team worked for hours to secure the hole by shoring up the sides to prevent further collapses and before any attempt of removing the male from the hole.
This article is a direct street report from our correspondent and has not been edited by the 1st Responder newsroom.