COVID Takes Another Fire Service Asset
By RON JEFFERS, New Jersey Editor | February 22, 2021 | NEW JERSEY
Story No. 022221101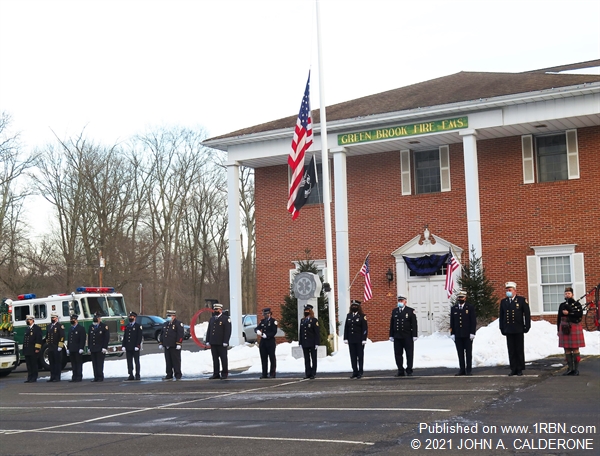 Photo by JOHN A. CALDERONEGreen Brook firefighters lined up in front of Fire Headquarters on the day of Jack de Rosset's funeral to honor his memory.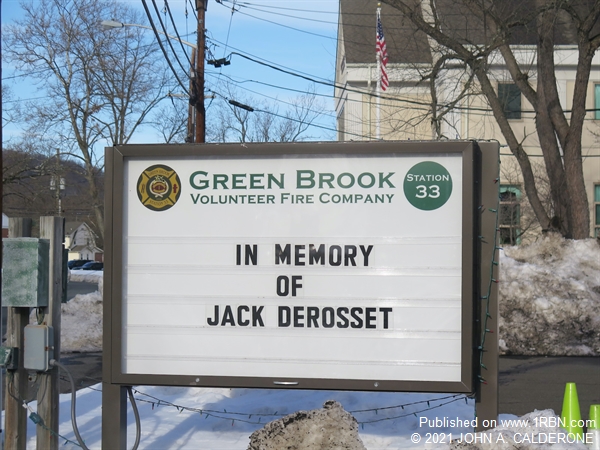 Photo by JOHN A. CALDERONE
He loved every aspect of the fire service. He was a volunteer firefighter, apparatus salesman, organized firematic flea markets and was co-owner of a store that features model railroad and fire apparatus items. In January, Jack de Rosset died after battling COVID-19.

Jack started out as a junior firefighter with the Green Brook V.F.D. while he was still in high school. He served as an active member for 35-years, and was a member of the Green Brook Exempt Firemen's Association.

He had a passion for fire apparatus. He collected apparatus models, photographs, and he would go on trips to photograph apparatus, himself. In addition, during his years he was a fire apparatus salesman for companies including General, HME, Smeal, Central, Toyne and Rosenbauer.

Many fire apparatus buffs and railroad fans share the same interests. For over 30-years, Jack was co-owner of The Model Railroad Shop on Vail Avenue, in Piscataway. The quaint old building is filled with scale model trains and accessories along with scale model fire apparatus and magazines related to both hobbies.

Green Brook was well known by firefighters and firematic collectors. Green Brook firefighters were the host of an annual firematic flea market in November, before the days of eBay. Organization leaders included Jack, who ran around with a clipboard making sure vendors got their correct tables and seeing that things were running properly. In the 1980's, the firehouse meeting hall was packed with people looking for that certain toy, helmet, apparatus parts, photos, tee shirt, and much more. It was a November reunion for many firefighters and collectors, knowing that this was the last meeting event before winter. It became so popular, that the vendor tables extended to the apparatus floor, downstairs.

Jack was also named an associate member of the New Jersey Metro Fire Photographers Association, for his loyal support of the group.

He is survived by his wife, Rita.

Editor of "Fire Apparatus Journal" magazine, John A. Calderone said of Jack de Rosset, "His advice was a critical factor when we were forming 'Fire Apparatus Journal'."

Another great contributor to the fire service will be long missed.

This article is a direct street report from our correspondent and has not been edited by the 1st Responder newsroom.