Victim Removed From Roof of 2 Alarm Fire in Reading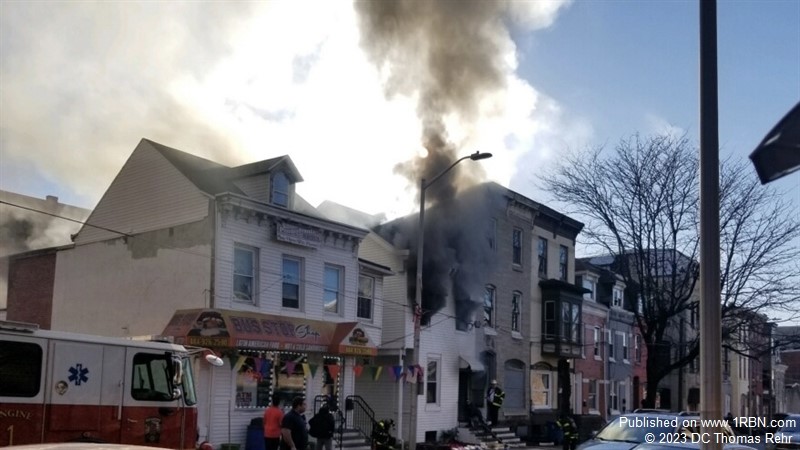 Photo by DC Thomas RehrMultiple call were received for smoke coming from a house across from the BARTA Bus Terminal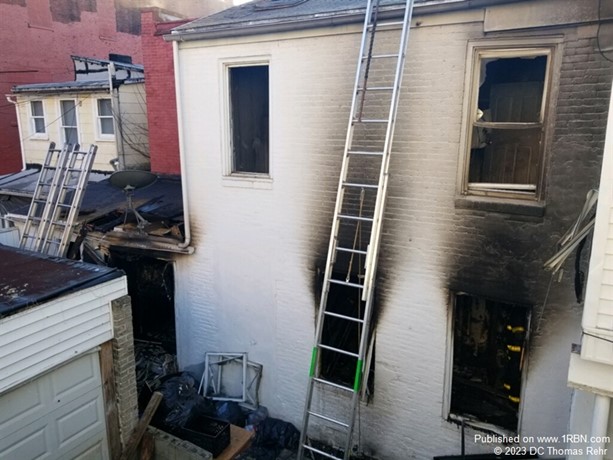 Photo by DC Thomas RehrThe bulk of the fire was located on the 1st floor towards rear of the building.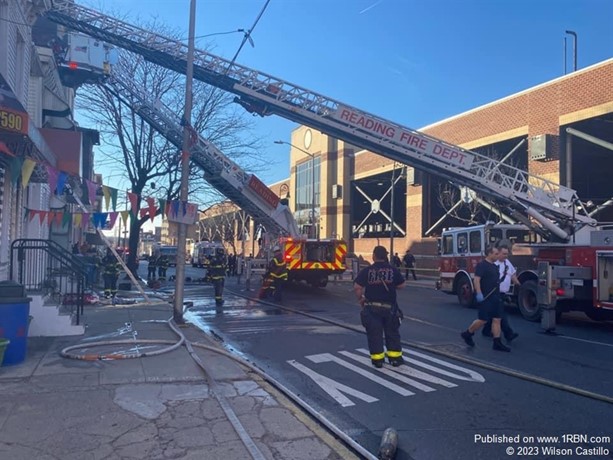 Photo by Wilson CastilloMultiple aerials were placed in service
This article is a direct street report from our correspondent and has not been edited by the 1st Responder newsroom.
At 15:38 Hours Box 103 was transmitted for several reports of smoke coming from a house at 734 Franklin St. Berks DES received several calls reporting a house on fire across from the BARTA Terminal with the occupants evacuating. As companies were en route the call was upgraded to entrapment as it was reported people were jumping out of windows and that someone was trapped in the rear of the building. Engine 1 just cleared a nearby medical call and arrived quickly with the Rescue with Car 8 who declared a working fire. 21(Lt. Kuhn) recognized that property was structurally unsound not long ago and advised all units to use caution. Car 1 took command and requested ground ladders to the rear for a victim on the 2nd floor roof. An 1 3/4" line was stretched to the front door as firefighters and medics threw ground ladders to the rear of the building to remove the victim. As the victim was being removed, firefighters inside the building pushed past the only hose line to get upstairs and search for anyone else that may have been trapped. As those firefighters reported fire extension to the 2nd floor and someone possibly trapped on the 3rd floor Car 1 Requested the 2nd alarm to the scene. With fire on the first floor knocked the initial handline pushed upstairs as a 2nd line was brought into the 1st floor. As the victim from the roof was safely on the ground, interior crews reported that all searches were negative. Truck companies worked on opening up windows to vent the smoke and high heat away from crews inside. With the 2nd alarm companies arriving their crews were sent inside to assist with overhaul. The fire was placed under control at 16:08 hours

A total of four people who were inside the house were evaluated by ems and were not transported. One firefighter suffered minor burns and was transported to the hospital. Once overhaul was completed and equipment was restored the final companies cleared the scene just prior to 17:00 hours. The incident was turned over to the Fire Marshal's Officer for investigation.