Fatal Fire Kills 1 and Critically Injures Another in Plymouth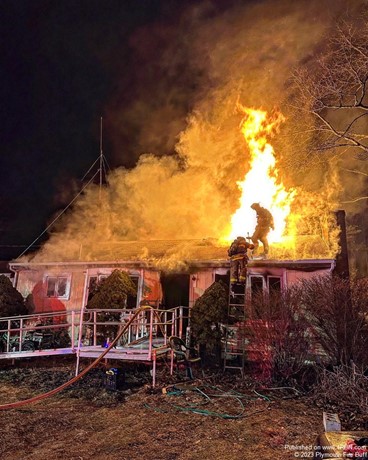 Photo by Plymouth Fire BuffFirefighters pull from the roof as 10ft flames erupt from the freshly cut vent hole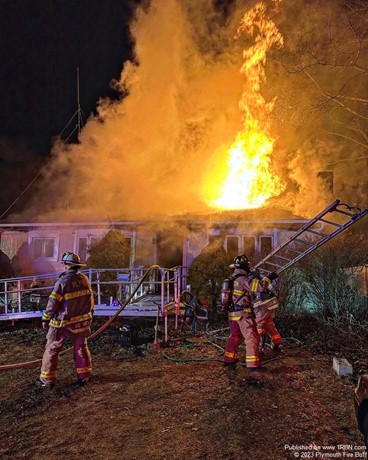 Photo by Plymouth Fire BuffCrews repositioning for a exterior attack on Side A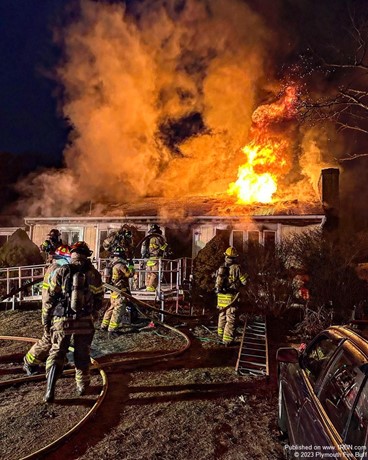 Photo by Plymouth Fire BuffCrews set up to put their 2 attack lines into operations on the exterior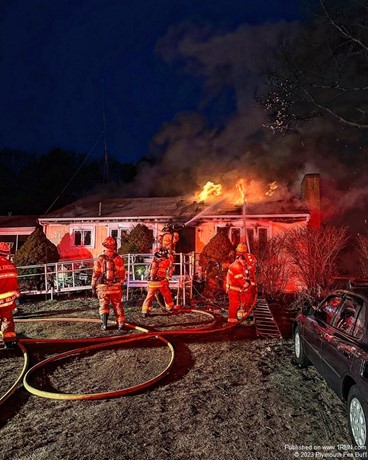 Photo by Plymouth Fire Buff2 lines in operation on the exterior on side 'A'.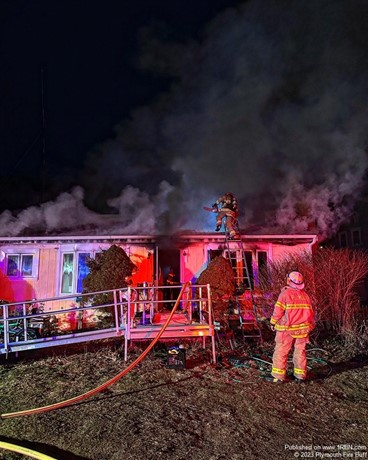 Photo by Plymouth Fire BuffLt. Sexton and FF Nadile climb to the roof to cut a vent hole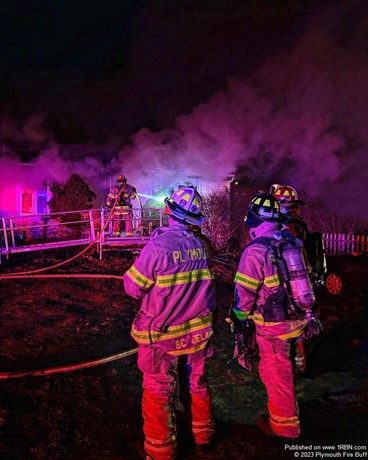 Photo by Plymouth Fire BuffBC Delappe giving assignments to the 5th arriving Engine company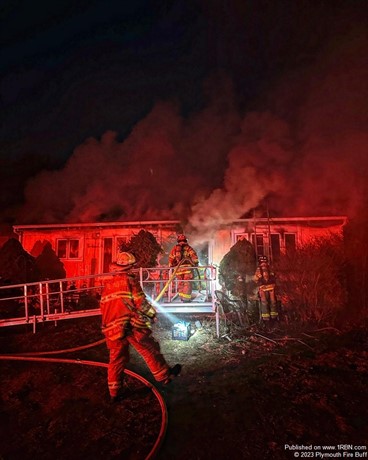 Photo by Plymouth Fire BuffHeavy smoke pushing from the A Side as crews make an aggressive interior attack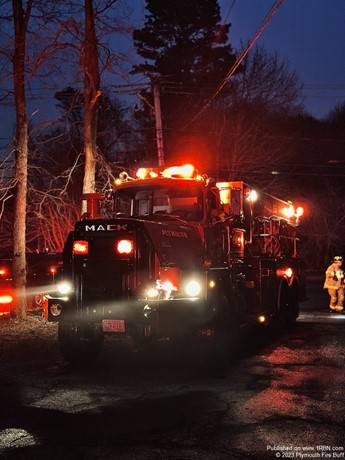 Photo by Plymouth Fire BuffTanker 1, Plymouth's oldest frontline Piece supplying water at this out of water district fire. Tanker 3 joined the fight later on
This article is a direct street report from our correspondent and has not been edited by the 1st Responder newsroom.
PLYMOUTH, MA - On the morning of February 10th at 5:24 A.M., Engines 3, 4 and 6, along with BC3 were dispatched to 41 Post N' Rail Ave. for a building fire. The call originated from Life Alert stating occupants were choking on smoke.

While en route, the occupants called stating that their house was full of smoke. Engine 6 laid in a two-inch line from Long Pond (rural water supply/out of water district) and signed off with fire showing. BC3 immediately struck a working fire and added Engine 5 to the assignment. E4 finished the lay out upon arrival and companies began stretching two lines. Companies also rescued one occupant upon arrival and requested two ambulances.

At 5:53 A.M., BC3 struck a second-alarm equivalent on Box 15, bringing Engine 8, Tanker 1 and Tanker 3 to the scene. Companies cut vent holes in the roof on the 'Alpha' side and had heavy fire in the attic. Companies pulled from interior operations to set up their lines on side 'A' and 'D'.

Companies on scene operated for several hours before the fire was fully brought under control. Recalled members and Carver/Bourne Fire covered the town during that time. The cause of the fire is under investigation.