Chesterfield performs ravine technical rescue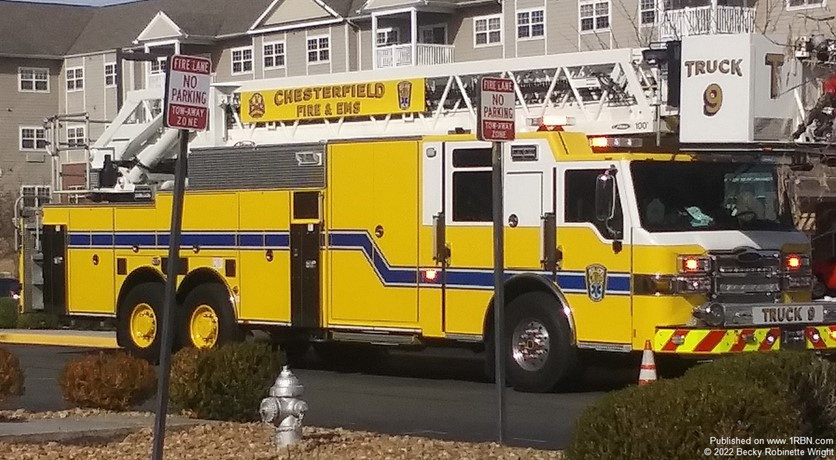 Photo by Becky Robinette WrightTruck 209 from Chesterfield Fire and EMS assisted with a difficult technical rescue.
This article is a direct street report from our correspondent and has not been edited by the 1st Responder newsroom.
CHESTERFIELD,VA-Tones dropped on Jan. 10 at 10:26 p.m., dispatching Chesterfield Fire and EMS Medic 202 for an unconscious patient, at Boulders Spring Parkway.

Medic 202 arrived on scene and found a police action in progress, with the patient in a deep ravine and access difficult. Additional resources were requested and Engine 209, then Truck 209 along with Battalion Chief 203 and Tech Rescue 203 were dispatched.

It all began when according to Chesterfield County Police Chief Jeffrey Katz, two suspects were attempting to steal some catalytic converters.

Chief Katz said that Captain Tim Kehoe, who was working off-duty employment, spotted a suspicious car in a parking lot and began to check it out when he heard the sound of an electric saw.

Captain Kehoe, called for back up. Soon additional officers along with Officer Krant, and Samson, his K9 partner arrived on scene.

Officers saw two suspects flee to a wood line.

One suspect fell 30 feet down a ravine. Officers called for assistance from Chesterfield Fire and EMS.

The medics,firefighters and the technical rescue team quickly organized and executed a rescue plan. Using a stokes basket lowered into the ravine, and Truck 209 as an anchor, the patient was placed in the stokes basket and removed safely from the ravine.

The medic unit then transported the patient to a hospital.

Units were then placed back in service and police continued their operation.