Mother & Baby Rescued Out of River by Hopewell Fire-Rescue and Police
By BENJAMIN GOMES, Correspondent | January 11, 2021 | VIRGINIA
Story No. 011421113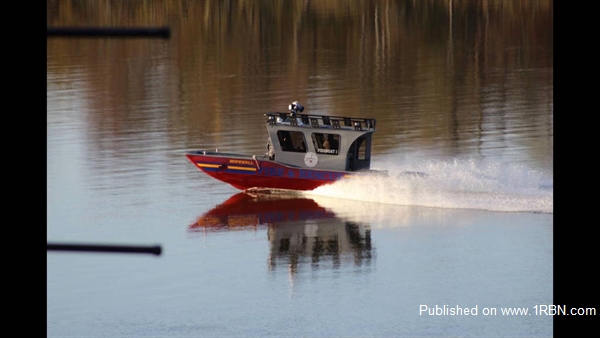 Photo by PROVIDEDStock photo of Hopewell Fire-Rescue Fireboat 1.
Hopewell, VA - On the morning of January 11th, a 9-1-1 call was placed to Hopewell Police Communications reporting a female with a baby in distress in the Appomattox River in Hopewell.

Hopewell Police arrived on scene and reported the same thing. Two detectives and a police officer entered the water without regard to their own safety to rescue the baby and then initiated CPR on the baby.

A call for service was entered for Hopewell Fire to respond as well. All units were at Station 1, which is only a few blocks from the river. This type of call put all Hopewell Police and Fire units to work, including administration staff.

While units headed to the river bank to assist with the baby, Quint 1 readied the Fireboat along with FM1 and Training 1. The Fireboat headed out into the Appomattox River, which was registered at around 47-degrees that morning, to locate the female. Fireboat 1 located the female in the river and navigated to her in about one-foot of water or less. Crews on the boat pulled the female inside and headed back to the marina.

During this time crews on scene were able to revive the baby, who was then transported to VCU Medical Center. The female from the river was handed off to another medic unit at the marina for transport to John Randolph Medical Center for evaluation.

Fire Chief Hunter stated, "I've never been more proud of what they've done because everybody did more than their share of it."

At the time this call came out, multiple executive command staff members from the Tri-Cities departments were at Hopewell Fire Station 1 filming for a fire safety video and witnessed the scrambling of multiple units at one time to respond efficiently and effectively to a stressful call.

The City of Hopewell Fire-Rescue would like to thank neighboring Colonial Heights Fire-EMS who sent over their brand new medic unit with a crew to assist in staffing the city until crews could decompress and put themselves back into service. The City of Hopewell Fire-Rescue is staffed with 2 Engines, 1 Quint, 2 Medic Units, and a Battalion Chief. Minimum staffing for the day is 13. On this morning yearly physicals were being done and luckily the department had a few extra hands on duty. Members of the department left their physicals and responded to the scene to assist in any way that they could be of service to the city.

Assistant City Manager Charles Dane thanked both Police and Fire for "your professionalism and dedication to the health and wellbeing of our citizens, which was clearly on display this morning. An event which could have been a horrible tragedy was possibly averted due to the quick actions of our Public Safety Personnel."
This article is a direct street report from our correspondent and has not been edited by the 1st Responder newsroom.