North Hunterdon Fire Alliance Celebrates 5 Years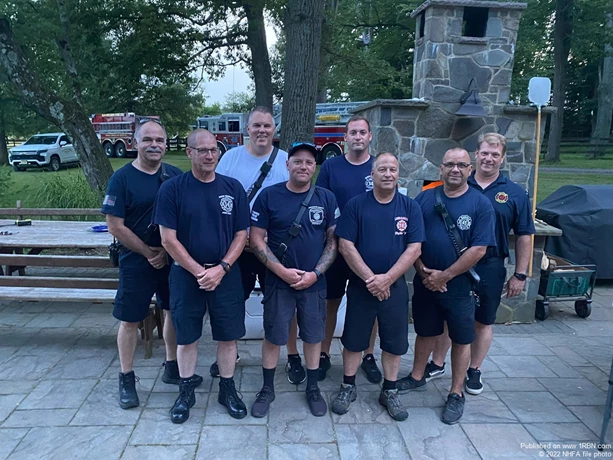 Photo by NHFA file photoCurrent and former Fire Chiefs from NHFA member agencies joined together to ride a Squad 51 shift to celebrate 5 years in service.
This article is a direct street report from our correspondent and has not been edited by the 1st Responder newsroom.
The North Hunterdon Fire Alliance (Station 51 Fire) celebrated 5 years of service to Hunterdon County, NJ on July 1st, 2022.

The Fire Alliance was founded as a mutual-aid working group between 5 fire departments, and was formerly known as the North Hunterdon Mutual Aid Group. Member agencies frequently train together and have developed standardized SOPs and SOGs known as "Best Practices" to ensure uniformity on the fire scene.

NHFA was further expanded to create the "Squad 51" staffing program. The Squad 51 program involves staffing a Squad on a rotating basis between the 5 departments. This staffed Squad unit is on duty from 1800hrs Saturday night until 0600hrs Sunday morning. This apparatus is staffed by volunteers that stay in house during the shift and provides exceptional response time and responds to any incident within the 5 districts. Squad 51 is alerted and responds in addition to, and not in place of, the local jurisdictions department.

The program began as a 10-week pilot program on July 1st of 2017, and has been continued every week since its beginning with extreme success. NHFA departments have also started staffing additional shifts, such as Friday nights and weekday daytime shifts, proving that a regionalized staffed service model can work. Squad 51 has run many notable calls, including several working structure fires, major motor vehicle accidents, an airplane crash, as well as numerous other gas leaks, alarms, and other calls for service.

The districts covered by the NHFA Station 51 program spans across parts of 10 municipalities which encompasses approximately 30,000 residents. During the first year of operation, Station 51 was staffed for about 1,100 hours. The program has led to numerous inquiries from across the State and region for areas who are considering a similar idea to combat lower volunteer membership and slow response times.

To celebrate 5 years in operation, the current and former NHFA Fire Chiefs of the 5 member agencies all staffed "Station 51" together.

The North Hunterdon Fire Alliance is made up of the following agencies: High Bridge Fire Department (Station 14), Lebanon Borough Fire Department (Station 18), Town of Clinton Fire Department (Station 45), Annandale Hose Company (Township of Clinton) (Station 46), Quakertown Fire Company (Franklin Township) (Station 91).