Limerick Fire Dept 9th Annual Youth Firefighter Camp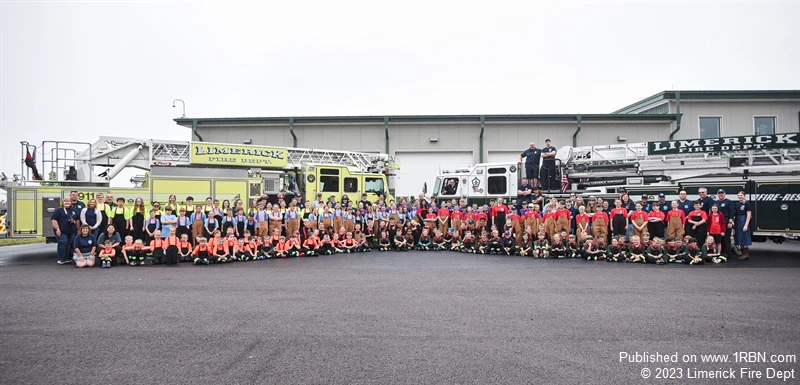 Photo by Limerick Fire DeptKids Fire Camp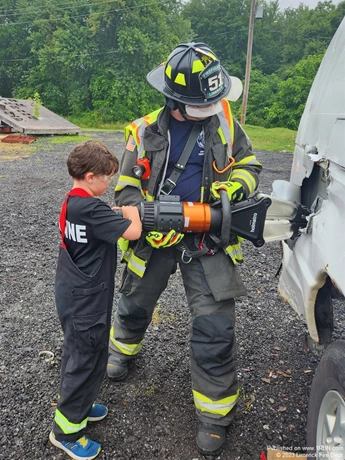 Photo by Limerick Fire Dept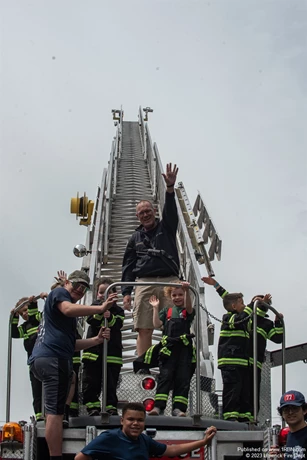 Photo by Limerick Fire Dept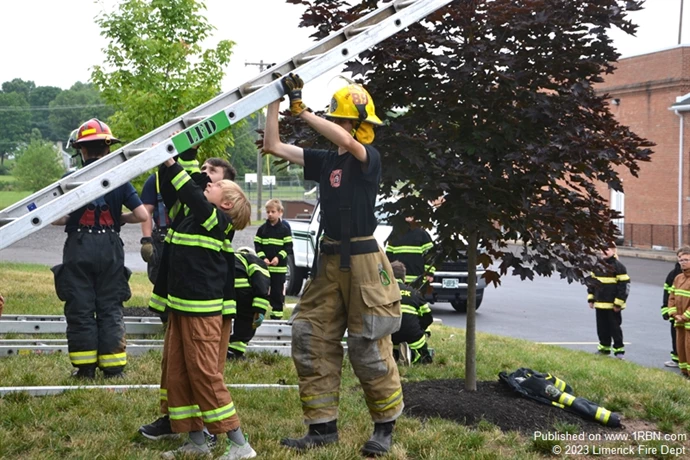 Photo by Limerick Fire Dept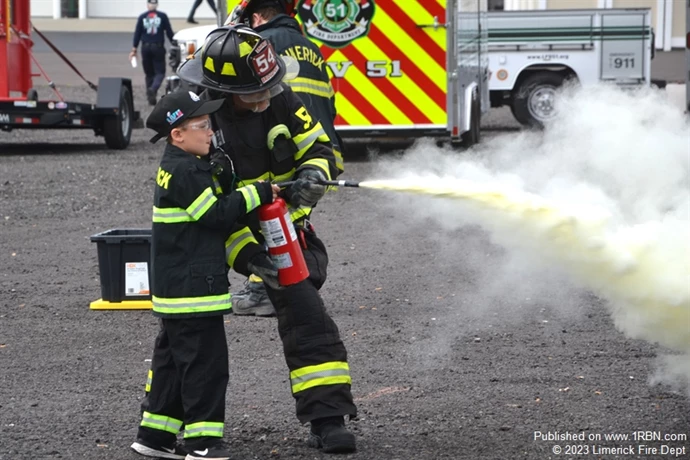 Photo by Limerick Fire Dept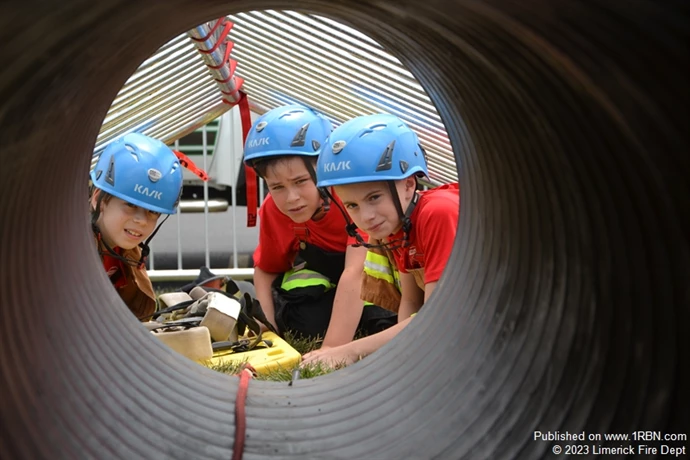 Photo by Limerick Fire Dept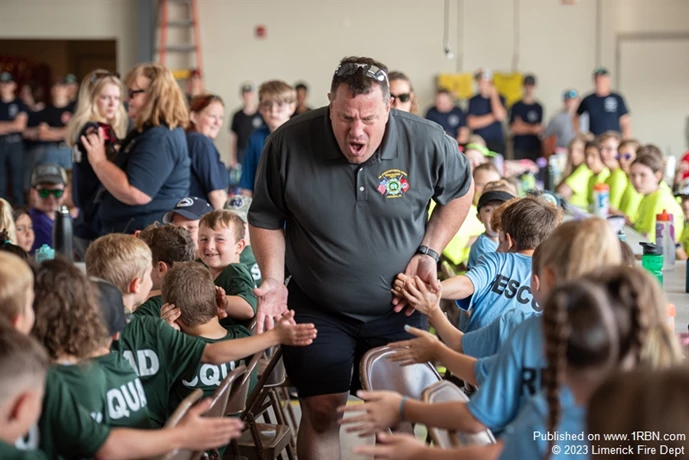 Photo by Limerick Fire Dept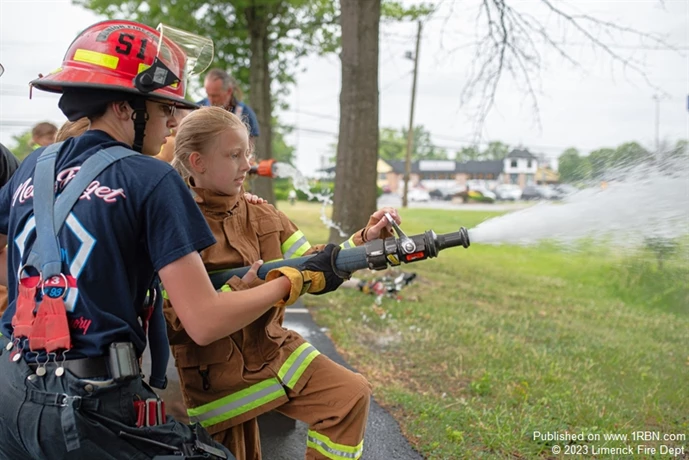 Photo by Limerick Fire Dept
This article is a direct street report from our correspondent and has not been edited by the 1st Responder newsroom.
The Limerick Fire Department hosted its 9th Annual Youth Firefighter Day Camp from June 19 to June 23.  Over 135 cadets, ages 6-13 participated in daily fire activities. Cadets were divided into seven groups: Field, Squad, Engine, Rescue, Ladder, Tower, and Tanker. Day 1: Cadets reviewed all the department apparatus and were issued turnout gear for the week. Mac and Dixie and their handlers from VMSC demonstrated their purposes as search and rescue dogs. Each day cadets built on the knowledge and skills they learned from the previous day and applied them to their activities. Day 2: Cadets learned about different types of ladders and how to carry, raise and lower the ground ladders. They learned how to establish a water supply from a fire hydrant and port-a-pond tanker operations. They used various attack hoses and nozzles and demonstrated flash flood awareness and water rescue techniques (Turn Around, Don't Drown). The two guests of the day were Pennsylvania State Police Troop K and the National Fire Sprinkler Association (PenJerDel Chapter), the latter demonstrating sprinkler activation with their fire trailer. Day 3: The day began with the cadets witnessing the Limerick Fire Department respond to a reported building fire in the township. Cadets learned about training foam and its specific purposes. A simulated confined space rescue, extinguished stove fires with fire extinguishers (using the PASS system), Trappe Ladder 68-2 to learn about aerial operations and saw an arson dog demonstration from K-9 Kindle and Norristown Chief Tim O'Donnell. Day 4: Cadets practiced hands-on skills in patient packaging, situational awareness, and home emergency meeting places. They also removed rings from firefighters' fingers using various household items, learned about the types and purposes of different fire extinguishers, tried out rescue tools, and joined the Fire Police in using barricades, cones, traffic signs, and flags for road closures and redirections. Day 5: Cadets learned about vehicle rescue scenarios, vehicle stabilization techniques, and the tools required. They also got wet using wedges to slow sprinkler head water flow. Cadets observed a car fire where firefighters arrived on the scene, deployed hoses, and extinguished the fire. The camp ended with a visit from Sparky and a pizza party! All cadets received a certificate of completion to take home.
Thank you to all the department members who helped make the camp possible and memorable. A special thanks to all the guests throughout the week and to crews from Trappe 68-2, Harleysville 89, Perkiomen 66, Liberty 63, Bridgeport 54, Upper Frederick 87, New Hanover 37, and the Limerick Township Fire Marshal who volunteered their time to assist with the fire camp.