WRIGHTS TOWNSHIP VOLUNTEER FIRE DEPARTMENT
By DAVID BUTCHER, Correspondent | June 08, 2020 | PENNSYLVANIA
Story No. 060820113

Photo by Dave Butcher/Engine 72 PhotographyWrights Township Volunteer Fire Dept Station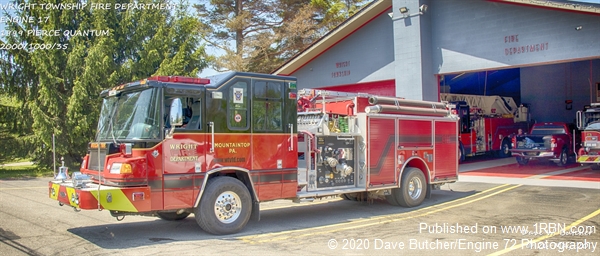 Photo by Dave Butcher/Engine 72 PhotographyEngine 189-1 1999 Pierce Quantum (2000/1000/35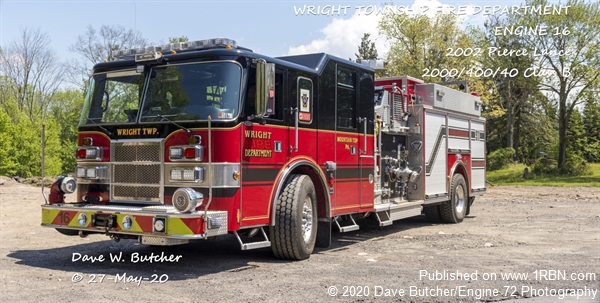 Photo by Dave Butcher/Engine 72 PhotographyEngine 189-2 2002 Pierce Lance (2000/500/40)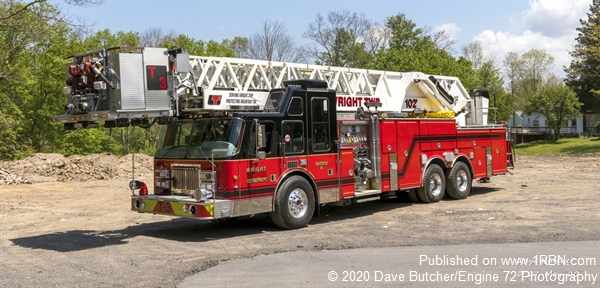 Photo by Dave Butcher/Engine 72 PhotographyLadder 189 1999 Simon Duplex/LTI (2000 GPM pump)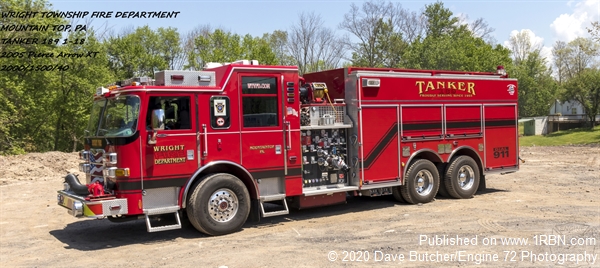 Photo by Dave Butcher/Engine 72 PhotographyTanker 189 2005 Pierce Arrow XT (2500/1500/40)
Photo by Dave Butcher/Engine 72 PhotographyFire Command 189
Located in Mountain Top, PA on a two-lane country road is Wrights Township Volunteer Fire Department. As I pulled up to their station Engine 189-1 was sitting on the ramp. Engine 189-1 (the official county designation) or Engine 1-17 to the members, is a 1999 Pierce Quantum with a 2000 GPM Pump, and a 1000 Water Tank, 35 Gallons of Foam. Engine 1-17 is their first due Structure Fire rig. It has seating for eight firefighters and has 2500 feet of LDH.
Inside the station is 189-2, 2-16 to the department, which is a 2002 Pierce Lance. Which is the Department's Rescue Engine, decked out with a Hale 2000 GPM Pump, with a 500-gallon water tank, and 40 gallons of Foam. The Engine seating for six firefighters and is equipped with a full compliment of Amkus Hydraulic Rescue Tools, Rescue Jacks, and Hand Tools for Rescue. It seats 6 and is loaded with 2000 feet of LDH. It is the second due on all fire calls.
Next up in their arsenal of equipment is Ladder 189, known as Tower 3, a 1995 Simon Duplex/LTI 95-foot tower ladder. It has a 2000 GPM Hale Pump, with seating for six firefighters. It is equipped with a full complement Amkus System and is equipped with 125 feet of ground ladders.
Next up is Tanker 189, known as Tanker 1-Tanker 18. It is a 2005 Pierce Arrow XT, with a 2500 Gallon Water Tank, 1250 GPM Pump, and a 40-gallon Foam Cell. The rig is versatile in its rolls it can either work as a Tanker or pack a nice punch at a structure fire with its remote deck gun, LDH, and cross lays. It is loaded for either structure fires or any other type of fire emergency. It has seating for six firefighters.
The department is rounded out with three brush units, a Fire Command Unit, and two utility vehicles. They also have a seven-member Fire-Police unit to help keep everyone safe on scene. Along with 30 volunteers, and eleven members training and going through the State Firefighting classes.
This article is a direct street report from our correspondent and has not been edited by the 1st Responder newsroom.