Jersey City FD Celebrates 150 Years of Service
January 01, 2022 | NEW JERSEY
Ron Jeffers, New Jersey Editor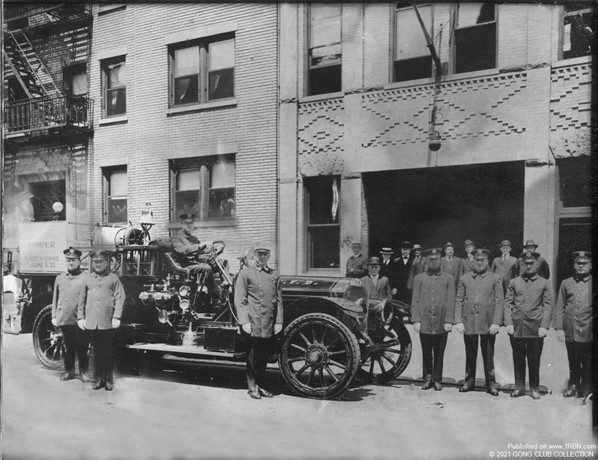 Photo by GONG CLUB COLLECTIONFirst due at City Hall from their Mercer Street firehouse, downtown Jersey City Engine Co. 3 members pose with their new American LaFrance pumper that went into service on June 9th, 1920. Engine Co. 3 was disbanded on September 16th, 1961.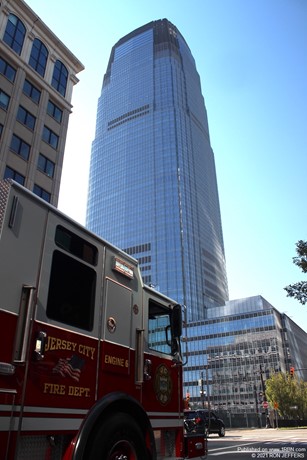 Photo by RON JEFFERSDowntown Engine Co. 6, in Jersey City, has been assigned a 2019 Pierce 2000-GPM three-stage pumper for the over 200 high rise buildings in the city. The three-stage pump will assist the operations at these tall buildings with water reaching the upper floors quicker, and to assist with operations in the event of a building pump failure as well as incidents in buildings under construction.
This article is a direct street report from our correspondent and has not been edited by the 1st Responder newsroom.
Jersey City is located in the heart of Northeastern New Jersey's urban industrial center. It has always been known as a tough, blue collar city along the Hudson River waterfront and a railroad center. The city has changed in many ways over the years. The current redevelopment of the waterfront has made this city one of the largest centers of banking and finance in the United States. There are now over 200 high rise structures consisting of residential, hotel and office space. This city is home to most of the state's tallest buildings, and a population approaching 300,000.

During 2021, the Fire Department celebrated 150-years of professional service to its residents and those who work and travel through the county seat. Events included a parade that led to the department's annual family picnic at Liberty State Park, an anniversary book published for its members, an anniversary shoulder patch, and other functions.

In 1871, the career fire department was formed that included 13 engine companies and 5 truck companies. Paid engineers, foremen, an inspector of horses, and even tillermen were elected to their positions, that year. A resolution by Commissioner Tilden was adopted that all of the companies of the volunteer fire department cease to exist on the striking of the fire alarm bells at 9 'o clock on the morning of June 6th.

During the 2021 celebration, Fire Headquarters came out with a monthly series of subjects, in general order form, of past department history, to honor those who have served before us.

Examples include the Black Tom explosion of 1916 that threw the metropolitan area into a panic, with numerous buildings damaged and six deaths, including 5th Precinct Patrolman James Dougherty. Black Tom was originally an island. The gap between the former island and the shore, about 150-feet wide, had been filled in to accommodate railroad tracks and a narrow road. After World War 1 began, large warehouses, a grain elevator, train tracks and 800-feet of piers were built. Black Tom became the most important point in America for the transfer of munitions and supplies to Allied vessels bound for Europe. With a weekend skeleton crew working, a fire was discovered near freight cars. Box 672 was transmitted at 12:30 a.m., July 30th. As Engine 8 and Battalion 5 arrived, the fire had extended to a warehouse and companies began to attack the flames. As the fire grew, box cars filled with shells began to explode. This was followed by a huge explosion at Barge 17 around 2:12 a.m., that registered 5.5 on the Richter Scale. The order reads that every fireman on the scene was blown into the air. Many lost hearing for a period of time. Chief of Department Roger Boyle ordered companies to pull back 300-feet, and he had several engine companies draft from the river. The water main leading to Black Tom was destroyed. Fire boats from the FDNY attacked the fire from the water. Only two city firemen were admitted to German Hospital and released on August 1st.

Suspicions were aroused that the war in Europe played a role. The U.S. entered the war and a long investigation determined that German saboteurs had rowed across the river from Manhattan and planted a "pencil bomb" in several locations at Black Tom.

Another G.O. informed current members of the Class of 1947. The department had struggled through WW II, undermanned. This year, 134 new firefighters joined the FDJC. On November 1, 1947, with new members, Engine Co.'s 11, 16, 27 and Truck Co.'s 11 and 12 were reorganized and returned to service.

The stockyards fire at the Foot of Sixth Street, in 1941, was also reported. The line-of-duty death of Chief Michael Burke at a fire on Mercer street in 1960.

Also covered was a downtown fire in 1891 that took the life of Chief of Department Henry Farrier, and the collision of Engine 3's steamer killing Stoker Daniel Dinan and one horse, responding to that fatal fire.

Another historic fire involved the S.S. El Estero ship fire on Easter Sunday, 1943. The ship was loaded by the U.S. Army stevedores with 1,365 tons of mixed munitions. City firefighters teamed up with U.S. Coast Guard fire boats and two FDNY boats ("Firefighter" and "John J. Harvey").

During the 1930's, the talented members of the Bright Street Shops assembled many pieces of firefighting apparatus at a considerable savings to taxpayers. Aerial ladder trucks and special units were assembled here. Tiller aerial ladder trucks were assembled using GMC tractors equipped with Buick motors. Only the aerial ladder raising mechanisms of older apparatus were used in the assembly of the ladder trucks. Aerial and extension ladders were manufactured in the shops. Special units, built on various chassis, included a high pressure truck, chemical wagons, searchlight, city service truck and salvage units.

During the 1960's, Mayor Thomas J. Whelan was described as a "fire buff at heart". He responded to every multiple-alarm fire in the city and had a full set of turn-out gear. There is a photo of Mayor Whelan on display at the Gong Club aboard an FDNY fire boat wearing his turn-out gear and white helmet.

In earlier days, Mayor Frank "I am the Law" Hague was known to roam the city at random, stopping at times to pull a fire alarm box and time the response of arriving companies.

The Gong Club fire buff crew, that operates an emergency canteen truck, was organized in 1951. The group had a converted delivery truck that was painted red; and, it was used as their first vehicle. It was quartered in the firehouse at 666 Sumit Avenue, with Engine Co. 7. On Christmas morning 1957, at a 2-alarm fire on Grove Street, Chief of Department Thomas Maloney presented Gong Club members with a gift-keys to the first floor of the Exempt Hall, 244 Bay Street, to house their canteen truck and hold meetings. The classic old building was once used as Fire Headquarters.

In 2021, after much hard work and dedication by Deputy Chief William McClintock and Firefighter Michael Somma, an anniversary book, "150 Years of Tradition Jersey City Fire Department 1871-2021", was published containing photos and stories of the department's glorious past to the present.

Under Chief of Department Steven J. McGill, the department has close to 700 uniformed members protecting this ever-growing city.

Currently, in front-line duty, the department operates with 16 engine companies, one squad company (rescue-pumper), 9 ladder companies (two tower ladders), one heavy rescue company, a Mask Service Unit, Safety Officer, one division (deputy chief), 4 battalions, one Field Training Officer (a battalion chief). In addition, line companies are responsible to man other units. This includes fire boats, a High Rise/Tunnel unit, haz-mat, foam tender and other specialized equipment.

In 2021, to remember past companies that were disbanded during the career department's history, spare apparatus that were designated in the 30 series for engines and 40 series for trucks, were renumbered. Engines received the numbers 3, 12, 16, 20, 21, 23. Ladders were re-designated with numbers 1, 5, 10 and 13. As a point of information, there was never a front-line Ladder 13.

"Despite all of the changes and advances of the past 150 years, one thing has not changed and has remained constant throughout; that is the courage, valor, readiness and devotion of the firefighters and fire officers who heroically serve and have served the citizenry of the City of Jersey City," Chief McGill wrote in the department's anniversary book.