East Orange Gets Their First Platform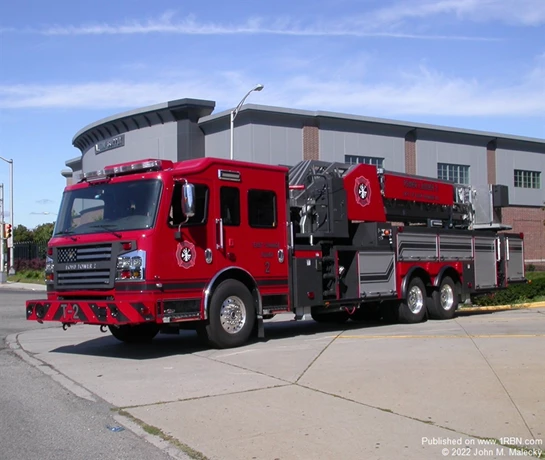 Photo by John M. MaleckyEast Orange Tower 2, 2021 Rosenbauer Commander 100-foot platform with 6 kw generator. It was sold by Defender Emergency Products.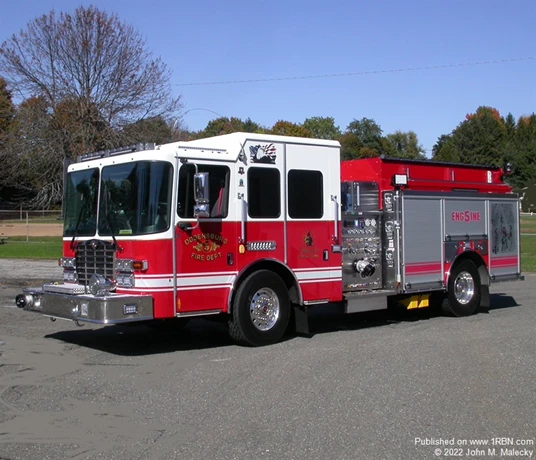 Photo by John M. MaleckyOgdensburg E-5, 2022 HME-Ahrens Fox 1871, 2000/500. It was sold by Emergency Equipment Sales & Service.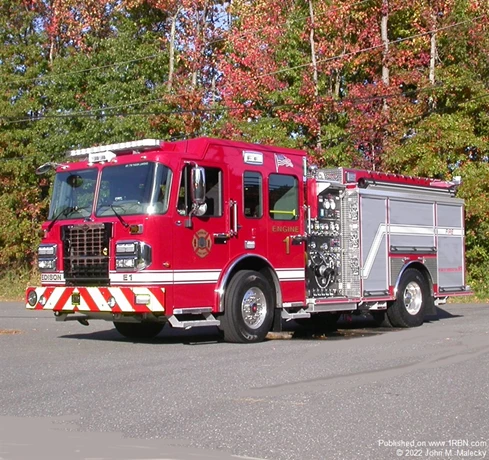 Photo by John M. MaleckyEdison Township, E-1, 2022 Spartan Metro Star 1500/750 with 6 kw generator. It was sold by Campbell Supply Co., LLC.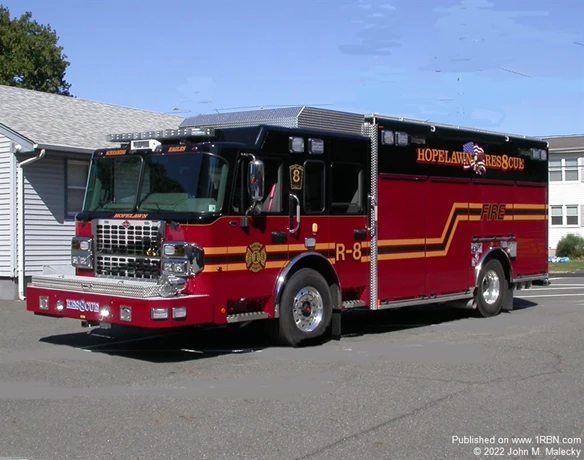 Photo by John M. MaleckyWoodbridge Township (Hopelawn) Rescue-8, 2022 Spartan Gladiator 35 kw, air cascade and 9,000 pound portable winch. It was sold by New Jersey Emergency Vehicles.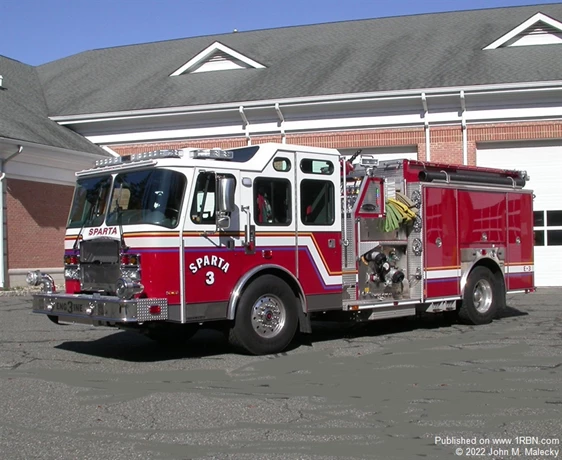 Photo by John M. MaleckySparta E-3, 2017 E-ONE Cyclone 2000/1030. It was sold by Absolute Fire Protection.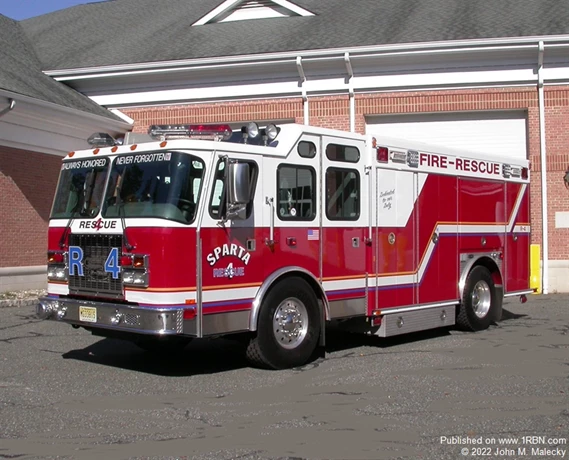 Photo by John M. MaleckySparta Rescue 4, 1998 E-ONE Cyclone, 20 kw, air cascade and 6 ton winch. It was sold by Absolute Fire Protection.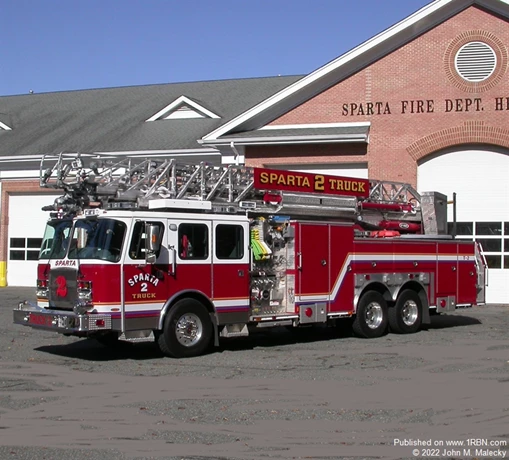 Photo by John M. MaleckySparta Truck 2, 2013 E-ONE Cyclone II, 2000/500/100-foot and 10 kw generator.
This article is a direct street report from our correspondent and has not been edited by the 1st Responder newsroom.
APPARATUS OF THE MONTH

By John M. Malecky January, 2023

EAST ORANGE GETS THEIR FIRST PLATFORM

The East Orange Fire Department recently placed in to service their first truck with a platform. It is a Rosenbauer Commander 100-foot mid-mount. Strictly a "city truck", it has no pump or water tank. It does have a 6 kw generator and roll up doors on the body. It is powered by a Cummins X15, 505 hp diesel engine. I would like to mention that I have been photographing fire apparatus for about 48 years and this started in East Orange in 1974. They were having an apparatus display of all of their rolling stock. It was at their training school, which was also Station 2. Back then they had three ladder companies that operated tractor-drawn American LaFrance's which had updated tractors pulling older trailers. They eventually went to rear mounts and now have a mid-mount platform. I should also mention that in all of my years of photographing, one of my favorite rigs was East Orange's 1971 American LaFrance rescue, which had a volume pump and water tank, plus an enclosed rescue body. It was a really beautiful truck. Subsequent rescues of theirs did not have a pump or tank. Another person instrumental in my photographing apparatus was a man named Dick Adelman. At that time, Dick was the battalion chief of research and development in the Memphis, TN Fire Department. Memphis had a fire department history book out and I wrote away to purchase one. Dick answered my request with the book and a slide of a Memphis squad truck with a shop built body. He told me he was from North Jersey originally and had many photos of Hudson County apparatus, but nothing up to date. He offered to send me slides of Memphis apparatus in trade for Hudson County apparatus photos. I accepted his proposal and began my mission throughout the 13 towns of the county. I found out later that he grew up in Fair Lawn (Bergen County), but had family in both Passaic and Essex Counties which includes East Orange. I got to meet him in person in 1981 at a buff convention in Indianapolis, Indiana and we photographed apparatus until it ended. He has since passed away, as has a number of apparatus buffs I met that day in East Orange. They will forever be a meaningful part of my memory!

Other apparatus featured in the photos are an HME-Ahrens Fox pumper for Ogdensburg (Sussex County) which features an 1871-W, MFD chassis, a Cummins L9, 450 hp diesel engine, Hale Qmax 2000-GPM pump, UPF 500-gallon water tank, Akron Apollo deck gun, roll-up doors and HiViz scene lighting. It also has a Lazy Susan turntable in a compartment, proving easy selection to nozzles and fittings. Their 1999 HEM/Central States pumper has one as well. (See Fire Equipment feature in this issue.) Next is a Spartan ER Metro Star pumper from Edison Township Division of Fire (Middlesex County), three units from Sparta (Sussex County) Engine 3's E-ONE Cyclone, Rescue 4's EONE Cyclone heavy rescue and Truck 2, an E-ONE Cyclone II with 100-foot ladder. Finally is a heavy rescue from Hopelawn in Woodbridge Township (Middlesex County), a Spartan Gladiator/Rescue 1. I want to recognize a friend from Hopelawn who was very dedicated and always helped me to get my photos. He was Bruce Turcott, Sr., who has since passed. Fortunately his son, Bruce Jr., has continued to help me out.

In dealer news, Fire & Safety Services has made the following Pierce deliveries: to Lower Township/District 2, Town Bank FC (Cape May County) a Velocity 100-foot PUC platform, to Glen Rock (Bergen County) an Enforcer pumper, to Mansfield Township (Burlington County) an Impel pumper and to Jefferson Township FC.1 (Morris County) an Enforcer pumper. Pierce orders include for Glassboro (Gloucester County), an Enforcer pumper, for the City of Brigantine a stock Enforcer 100-foot mid-mount platform, for Egg Harbor City an Enforcer 107-foot Ascendant aerial (both Atlantic County), for Cherry Hill District 13 (Camden County), a Velocity 100-foot rear mount ladder, for Piscataway Township District 4/North Stelton a Velocity pumper, for the City of Perth Amboy an Arrow XT pumper (both Middlesex County), for Flemington (Hunterdon County) an Enforcer 100-foot mid-mount platform and for Chester Township, joint with Chester Borough (Morris County) an Enforcer tanker/pumper. Also on order from Quakertown (Hunterdon County) is a Vengeant sandstorm brush truck on a Ford F-450 chassis.

VCI Emergency Vehicle Specialists has delivered the following Horton ambulances: a stunning 603 on a Ford F-550 4x4 chassis to the Highlands FAS (Monmouth County), a 603F on a Ford F-550 4x4 chassis to the Wildwood FD (Cape May County), and Monroe Township EMS (Gloucester County) received a remounted ambulance on a Ford E-450 chassis from Williamstown.

Campbell Supply Co., LLC received an order from the West Belmar FC, Wall Township District 1 (Monmouth County) to remount a 1999 Amtech special operations body onto a new Freightliner M2, 106 chassis. They are prepping for the Fairmount FC in Washington Township (Morris County) a Spartan ER pumper. Specs include a Gladiator chassis, Cummins X-12 500 hp diesel engine, Waterous 1500-GPM pump, 750-gallon water and 40 foam with One Touch CAFS.

Absolute Fire Protection reports that they have delivered to West Milford (Passaic County) an E-ONE Typhoon eMax pumper for Squad 2 and are prepping a Typhoon stainless steel pumper for Kinnelon (Morris County).

New Jersey Emergency Vehicles has delivered a P.L. Custom Medallion Type III ambulance to the Carneys Point EMS (Salem County). It is mounted on a Ford E-450 chassis.