Sussex County Neighbors; New Aerial Model for Spartan ER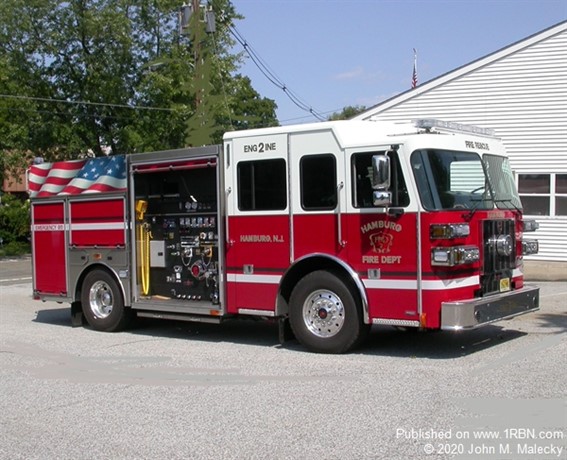 Photo by John M. MaleckyHamburg E-2, 2019 Sutphen Monarch 1500/500. It has a right side pump panel behind a roll-up compartment door.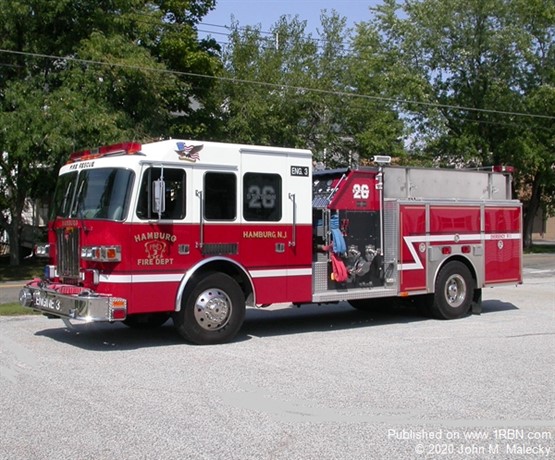 Photo by John M. MaleckyHamburg E-3, 1998 Sutphen Monarch 1250/750 with top-mount pump panel.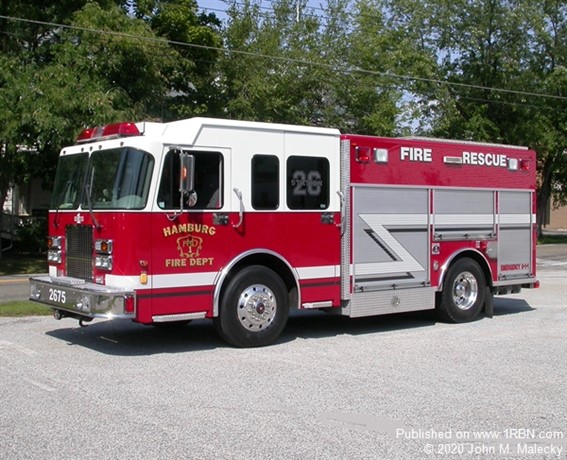 Photo by John M. MaleckyHamburg R-1, 2004 Spartan Advantage/Rescue 1 with 35 kw generator and air cascade unit. It was sold by New Jersey Emergency Vehicles.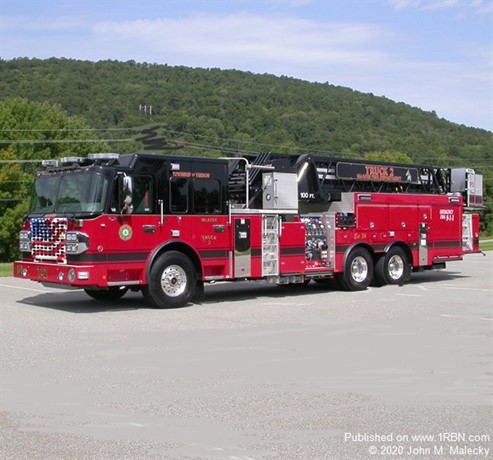 Photo by John M. MaleckyMcAfee Truck 2, 2019 Spartan Gladiator/Smeal 2000/300 with 100-foot platform and 10 kw generator. It was sold by Campbell Supply Co., LLC.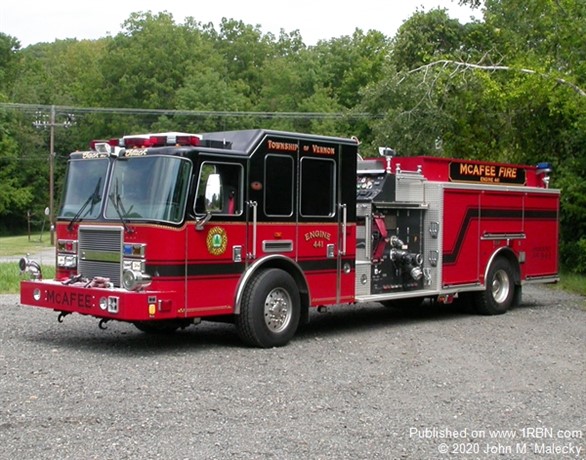 Photo by John M. MaleckyMcAfee E-1, 2009 KME Severe Service 1500/1000.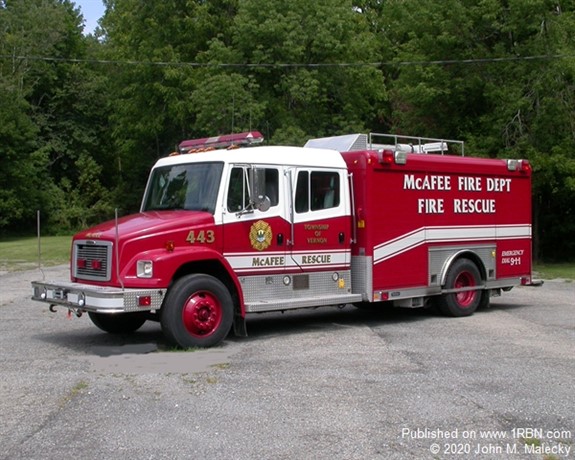 Photo by John M. MaleckyMcAfee Fire Rescue 3, 2000 Freightliner FL-70/Hackney with 25 kw generator, air cascade unit, Will Burt Night Scan and 4 ton winch.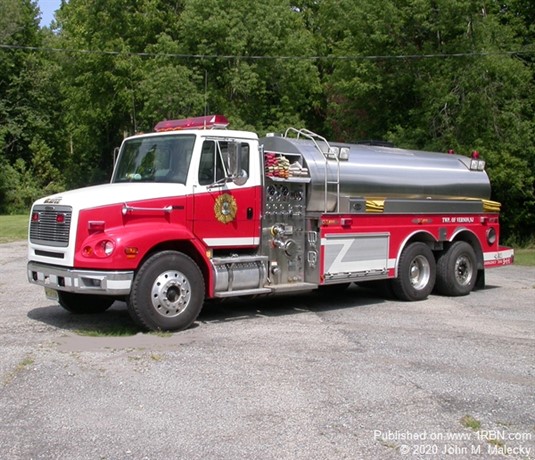 Photo by John M. MaleckyMcAfee T-2, 1998 Freightliner FL112/S & S 1250/3000 with two 12-inch and one 18-inch dumps.
This article is a direct street report from our correspondent and has not been edited by the 1st Responder newsroom.
APPARATUS OF THE MONTH

By John M. Malecky December, 2020


SUSSEX COUNTY NEIGHBORS
NEW AERIAL MODEL FOR SPARTAN ER


This month we travel to Sussex County to feature apparatus from the McAfee Fire Company in Vernon Township and the Borough of Hamburg. These two areas are rather close with a section of Hardyston Township passing between them. Hamburg is rather small while Vernon Township is very large with McAfee being one of the four fire companies within it. Hamburg is noted for the Gingerbread Castle, a 90-year-old kid's attraction and theme park which had been closed for many years but is now in the process of restoration. I remember my parents taking me there once when I was very young. Hamburg is a very small borough in which the borough hall is part of the building which houses the fire station. Up till now the last time I was able to photograph one of their apparatus was when they had an open cab 1965 Seagrave pumper. Back then the term "open cab" meant that there was no roof. Another term is semi cab. Today, since the advent of four door cabs, the term could also mean that it is a two door cab with open rear jump seat section. One may ask why have no roof. My late uncle was a Jersey City firefighter and I asked him why their apparatus had no roofs when I was a teenager. He told me that the chiefs wanted the drivers to be able to see all around themselves. In addition, aerial ladder trucks had no roofs in order to make it easier to spot the turntable for lining up a window. Anyway, Hamburg has three apparatus featured here. The newest is a short wheelbased Sutphen pumper with a right side pump panel behind a roll up door. It has a Command Light and an Akron deck gun. They also have a 1998 Sutphen pumper with top-mount pump panel. This pumper, in spite of its age, looks immaculate. Their other unit is a Spartan/Rescue 1 rescue truck with a 14.5-foot non-walk-in body. It has a large generator and an air cascade unit. As for McAfee, I first visited McAfee in 1977 when I heard about them having a black American LaFrance pumper with a Playboy Bunny logo on the doors. The story was as I heard it, the Playboy Club, which at the time was located at Great Gorge in McAfee, donated this 1948 ALF pumper with the agreement that it would be painted black and have the logo on it. When I finally got to McAfee, the black pumper was there but without the logo on it. The firefighter who was at the station played down the story that the pumper belonged to them but did not expand on the story I had heard. No big deal! However what was also at the station was a new Diamond Reo tilt cab/Thibault pumper with all rear discharges and a 900-gallon water tank. It was yellow. It was a rare find for apparatus photographers. In the station as well was a 500 Series American LaFrance service aerial, another rare find, however the tires were off of the rear axle and the truck therefore could not be photographed outside. Current apparatus featured includes a new Spartan/Smeal 100-foot mid-mount platform. It replaces a 1988 rear-mount aerial quint. Specs include a Gladiator MFD chassis, Cummins ISX 15, 600 hp diesel engine, Waterous CC100PL, 2000-GPM pump, UPF 300-gallon water tank, Harrison 10 kw generator, HiViz lighting, TFT Monsoon RC monitor and two 1 ¾-inch crosslays. Their other apparatus includes a 2009 KME Severe Service pumper, a 2000 Freightliner/Hackney rescue and a 1998 Freightliner/S & S tanker.

In dealer news, VCI Emergency Vehicle Specialists has made the following ambulance deliveries: a Horton 553 on a Ford E-450 chassis to the Wall Township Police EMS (Monmouth County), a Horton 553 stock remount on a Ford E-450 chassis to the Spotswood EMS (Middlesex County), and a Horton 453 remount onto a Ford E-450 chassis to the Blue Ridge Rescue Squad (Sussex County).

Campbell Supply Co., LLC has delivered a Spartan ER 93-foot platform to the Edison Division of Fire (Middlesex County). Specs include a Gladiator MFD chassis with five-inch raised roof cab, Cummins ISX, 565 hp diesel engine, and Harrison 10 kw generator. The platform has a 1000-pound dry payload and 500-pound when flowing 2,000-GPM unrestricted. Also delivered was a Danko mini pumper to Auburn in Oldmans Township, Salem County. Specs include a Ford F-550 4x4 crew cab chassis, 102-inch aluminum flat- bed body, Hale DSD 1000-GPM pump and 400-gallon water tank. East Windsor FC 2 (Mercer County) has ordered a Spartan ER Star pumper. Specs include a Gladiator EMFD chassis with 10-inch raised roof cab, Cummins ISX 15, 565 hp diesel engine, Waterous CSU, 1750-GPM pump, 1500-gallon water tank and Harrison 8 kw generator. Spartan ER has introduced the NXT 110 aerial ladder which has a dual rear axle chassis that competes with those of single axles as to cramp angle and turning radius. It also has a short outrigger spread. Contact the dealer for more information.

Absolute Fire Protection reports that they have inspected Plainsboro's refurbed E-ONE squad pumper (Middlesex County) and Ramsey Rescue Squad's E-ONE heavy rescue (Bergen County) which formerly served Teaneck. They will be receiving them shortly.

Fire & Safety Services reports the following Pierce orders: for Willingboro Township (Burlington County) a Velocity mid-mount tower; for Morristown (Morris County) a Saber pumper; for Ocean City (Cape May County) an Enforcer pumper as well as one for Scotch Plains (Union County). Pierce deliveries include an Arrow XT 100-foot mid-mount tower to Jersey City (Hudson County), an Enforcer pumper to Verona, an Arrow XT pumper to Nutley (both Essex County); an Enforcer pumper to the Neptune Fire District, Hamilton; an Impel pumper to the Keansburg FC.1 (both Monmouth County); an Arrow XT rear-mount platform to Somers Point (Atlantic County); and a Saber pumper to Upper Greenwood Lake Fire Co. 5 in West Milford (Passaic County).

New Jersey Emergency Vehicles has made the following P.L. Custom ambulance deliveries: a Classic Type 1 on a Ford F-550 chassis to the Haworth VAC (Bergen County) and two Medallions on Ford F-450 chassis in Monmouth County. One went to the Fairview FAS in Middletown Township and the other to the Township of Millstone Fire District 1.