UNITS FROM HUDSON AND PASSAIC COUNTIES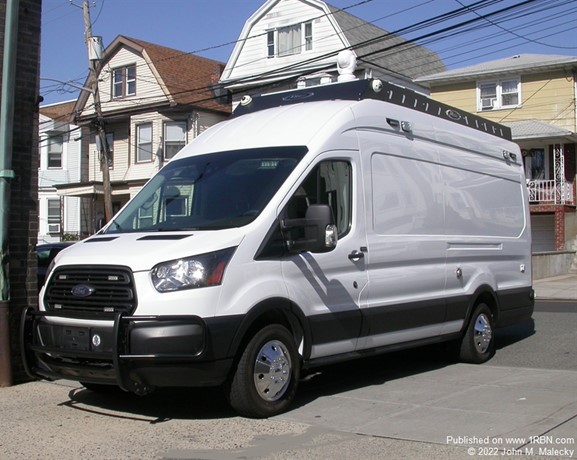 Photo by John M. MaleckyHarrison OEM, Field Communications, 2018 Ford Transit 350/Frontline. It was sold by Fire & Safety Services.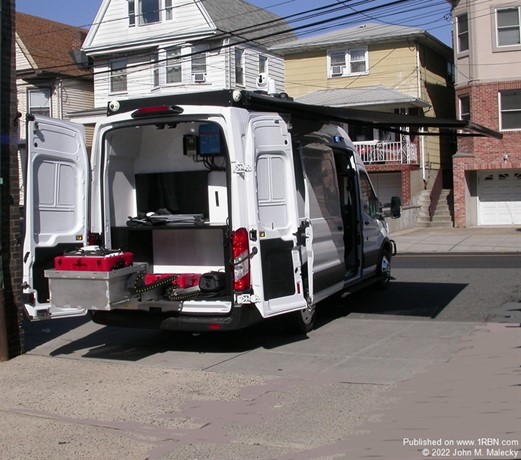 Photo by John M. MaleckyRight/rear of Harrison field comm shows slide-out with drone stored in box.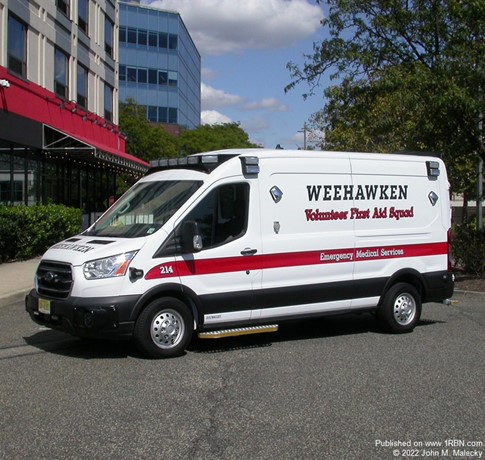 Photo by John M. MaleckyWeehawken VFAS A-214, 2020 Ford Transit 250/Malley AWD ambulance. It was sold by NJEV.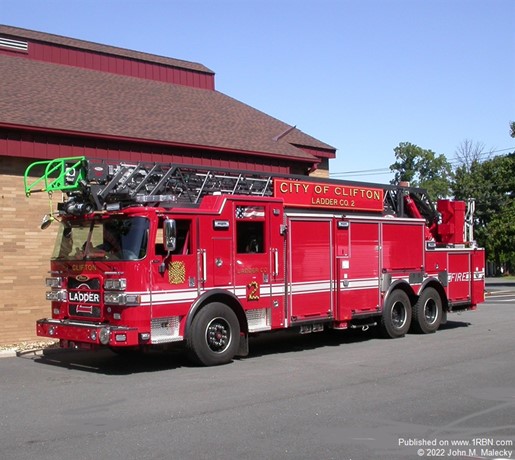 Photo by John M. MaleckyClifton L-2, 2022 Pierce Arrow XT 100-foot with 8 kw generator. It was sold by Fire & Safety Services.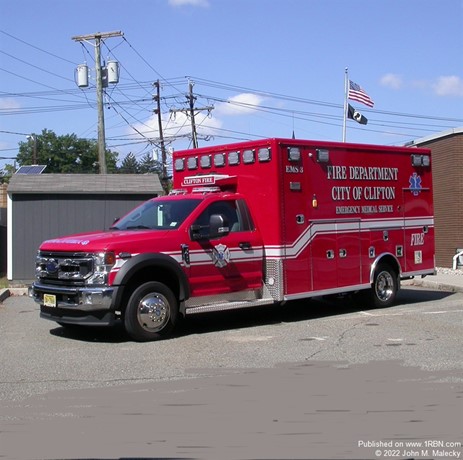 Photo by John M. MaleckyClifton EMS-3, 2021 Ford F-450/McCoy Miller MPV. It was sold by Firefighter One.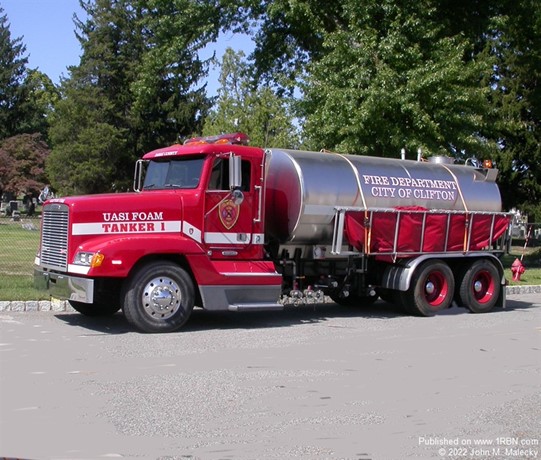 Photo by John M. MaleckyClifton UASI Foam Tanker, 1999 Freightliner FLD/USCO 3500-gallons of foam and foam transfer pump.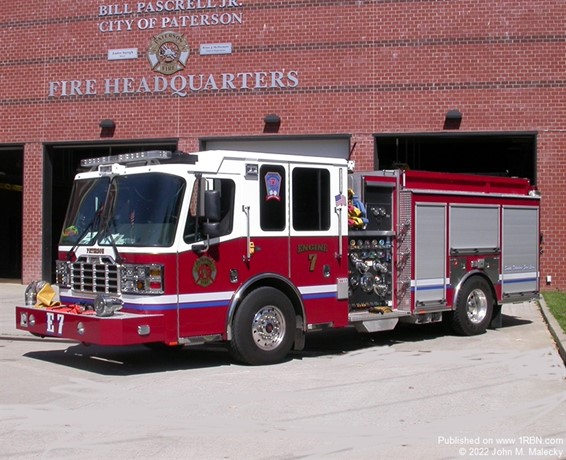 Photo by John M. MaleckyPaterson E-7, 2021, Ferrara Cinder, 1750/750. It was sold by Firefighter One.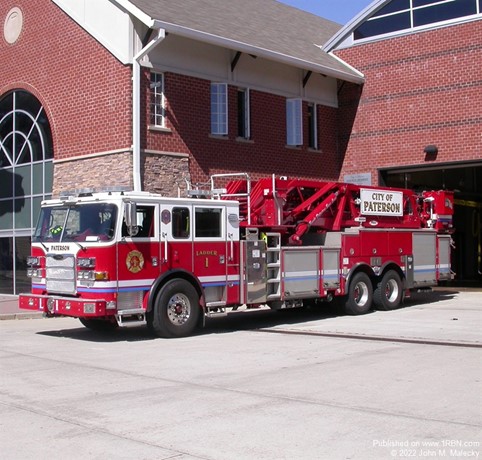 Photo by John M. MaleckyPaterson Truck-1, 2017 Pierce Arrow XT 95-foot with 10 kw generator. It was sold by Fire & Safety Services.
This article is a direct street report from our correspondent and has not been edited by the 1st Responder newsroom.
APPARATUS OF THE MONTH

By John M. Malecky December, 2022


UNITS FROM HUDSON AND PASSAIC COUNTIES

In this month's vehicles two were chosen from Hudson County, but neither of them are actually fire apparatus. The first is a field communications unit for the Harrison OEM. The idea about having it was born after a serious riot at the Red Bull Arena where soccer is played. It occurred at an international double header game between foreign countries. For some reason the command center at the arena had no idea what was going on. Hence this truck was purchased to enhance detection and control to try to prevent this from happening again. This truck is equipped to be a surveillance unit, as well as one setup for unified command which would involve different agencies. It also has a drone as part of its inventory. To be incognito, it is not lettered even though it has warning lights. It is a 2018 Ford Transit T-350 HR Extended designed by Frontline, a Pierce company, whose parent company is Oshkosh. It was a CRU 22 demo (Critical Response Unit). Some features and equipment include a 148-inch wheelbase, 3.7LB\V8 gasoline engine, 22-foot extended body length, high roof (six foot standing interior height), workstation console, upper storage cabinets, operators chairs, rear area separated from the operators area, VIP Premium Power System (developed in 2012 to replace on-board gasoline generators) which can provide up to 8 kw for vehicle operating systems and provides 3 kw of AC power from batteries to allow the vehicle to operate with the engine off, external "shore" power system, custom tubular aluminum roof rack for antenna mounts and awning support, self-supporting electric awning, custom aluminum slide-out platform (for a Fotokite drone with a thermal imaging camera) and HD roof top camera and four perimeter video cameras to provide 360 degree view of the scene. The next vehicle from Hudson County is a Type II ambulance from the Weehawken Volunteer First Aid Squad. It is built by Malley, an ambulance manufacturer from New Brunswick, Canada. Nearby RWJ Barnabas who operates the Jersey City Medical Center has a couple also. It is a couple of years old and had gotten caught up in the Covid fiasco, so it was only recently delivered. It is built on a Ford Transit 250 chassis with all-wheel-drive. Next we go to Passaic County; first to Clifton who placed in service a Pierce 100-foot rear-mount aerial. It replaces a mid-mount platform which in turn had replaced a Seagrave Apollo 105-foot rear-mount platform. From what I was told, the new truck has more storage space to accommodate additional tools and equipment. At Station 4 is a Type I ambulance, a McCoy Miller MPV on a Ford F-450 XLT chassis. At the same station is a UASI foam tanker, with a 3500-gallon concentrate Osco tank mounted on a 1999 Freightliner FLD chassis. It has a foam transfer pump. Next stop is Paterson for Engine 7 stationed at headquarters. It is a Ferrara Cinder pumper of which the city is replacing older apparatus with. Others are already in service and more are coming. While at headquarters, Tower 1 was there, as the crew was at a training session so the opportunity presented itself to photograph the truck. It is a Pierce 95-foot mid-mount platform, one-of-two that the city has.

In dealer news, besides the Malley ambulance for Weehawken, New Jersey Emergency Vehicles has delivered two P.L. Custom Classic Type 1 ambulances to Ewing Township (Mercer County). They are on Ford F-350 chassis. Also, the Flagtown FD in Hillsborough Township (Somerset County) received a special service truck built by Rescue 1. Specs include a Ford F-600 4x4 chassis, 193-inch wheelbase and 14-foot six-inch heavy duty aluminum body.

VCI Emergency Vehicle Specialists has made the following Horton ambulance deliveries: to Egg Harbor Township Ambulance Squad (Atlantic County), a 523 on a Ford E-450 chassis; to Westwood VAC (Bergen County) a 457 on a Ford F-450 4x4 chassis; to Lanoka Harbor EMS (Ocean County) a 553 remount on a Ford E-450 chassis and to Vineland EMS (Cumberland County) a remount onto a Ford F-550 4x4 chassis. Howell Township Police EMS received an AEV Trauma Hawk on a Ford F-550 4x4 chassis.

Emergency Equipment Sales & Service, LLC reports the following: an order from the Borough of Seaside Park (Ocean County) for an HME Ahrens-Fox Custom 1500-GPM stainless steel rescue pumper with a 1000-gallon water tank. Ambulance orders include an Excellance Type 1 on a Ford F-450 4x4 chassis for the Waldwick VAC in Bergen County. This unit is the EES/SoundOff Signal demonstrator which was featured at EMS World Expo in Orlando, Florida. The County of Gloucester ordered four more Excellance Type III Custom ambulances on Ford E-450 chassis for the Gloucester County EMS. Global Health EMS of Paterson (Passaic County) ordered two additional FR Conversions Type II ambulances based on a Dodge RAM Promaster 2500 van chassis. They have delivered an Excellance Type III Custom ambulance on a Ford E-450 chassis to the Gloucester County EMS. This is the eighth identical unit delivered to them thus far. Also delivered are three FR Conversion Type II ambulances on Dodge RAM Promaster 2500 van chassis, one each to Global Health EMS, Paterson, All Net Medical Transportation and Fast Care Medical Transportation both in Elmwood Park (Bergen County).

Fire & Safety Services reports the following Pierce orders, all are Enforcer pumpers as follows: two for Ewing Township in Mercer County (one each for Prospect Heights and one for West Trenton FC's), one each for the City of Passaic and Totowa (Passaic County), Town of Boonton (Morris County) and one for Indian Mills FC in Shamong Township (Burlington County). Pierce deliveries include two Enforcer pumpers to Lakewood Fire District 1 (Ocean County).

Absolute Fire Protection reports that the Bergen County Fire Academy has ordered an E-ONE pumper on an International two-door chassis for use as a training engine.