December, 2022, UPS, page 2
December 01, 2022 | NEW JERSEY
Ron Jeffers, New Jersey Editor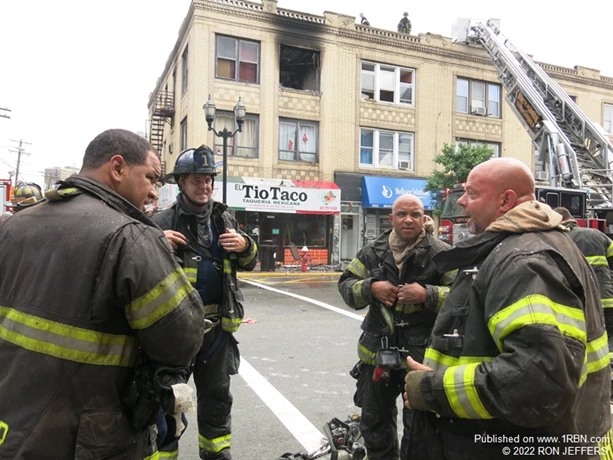 Photo by RON JEFFERSNorth Hudson Captain Pete Mancini, right, of Rescue Co. 1, takes a blow with his crew after operating at a Bergenline Avenue fire, West New York, in July. Captain Mancini was recently inducted into the Hudson County Sports Hall of Fame for his baseball talent.
This article is a direct street report from our correspondent and has not been edited by the 1st Responder newsroom.
DOWNS: Fire damaged a mixed use building on Bridge St. in Frenchtown on Sept. 29th. The Red Cross assisted apartment dwellers, officials said.

UPS: On Sept. 20th the Red Bank F.D. launched Marine 1. The vessel will be on call with a presence on the Navesink River for local and neighboring community emergency incidents. The 26-foot SeaArk fire boat was acquired from the NJ Forestry Department, this year. All of the work to get the craft into service was performed by the volunteer members. The work involved a new motor, controls, electrical system, fire pump and paint job. "We are humbled and thankful for the donations received that helped us to repair our newly acquired fire rescue boat," said Red Bank Fire Chief Nick Ferraro.

DOWNS: A car fire broke out inside of the Holland Tunnel on Oct. 2nd. There were no injuries according to the Port Authority. Eastbound lanes on the Jersey City side of the tunnel were briefly shut down to traffic.

UPS: John Casiero has been promoted to fire captain in West Orange.

DOWNS: A woman died as the result of a fire in a Maple Ave. dwelling in Pohatcong Twp., Oct. 5th, according to 69 News.

UPS: Recently promoted to battalion chief in Bayonne were John Andreychak and Tom Obiedzinski. New captains are James Stendardo, Ed Skowronski, Sean Boyle, William Rabbitt, David Korzun, Robert Baran, Michael Pelliccio, Leo Smith III and Ryan Lucas.

DOWNS: An October 10th explosion forced a dozen people out of their 11th Avenue homes in Paterson. Fire Chief Brian McDermott said the explosion may have been gas related. He added that there was a small fire that a neighbor put out with a garden hose. There were no injuries reported.

UPS: Paul Fuller has been promoted to fire chief in Brigantine.

DOWNS: Nine families were displaced as the result of a 3-alarm fire in a West Branch Ave. apartment complex in Pine Hill, Oct. 7th. The Pine Hill marshals office said the fire was caused by an improperly discarded cigarette on the balcony of an apartment.

UPS: In Hackensack, Anthony Riehl was promoted to deputy fire chief. Keith Rosazza has been promoted to fire captain.

DOWNS: Sixty-five residents were displaced as the result of a 4-alarm fire that spread through a Hamilton Ave. apartment building in Passaic on the morning of Oct. 14th. No injuries were reported by officials.

UPS: Newly promoted deputy fire chiefs in Elizabeth are Edgar Ruiz and Thomas Kelly.

DOWNS: A 2-alarm fire involving a Zion Rd. dwelling in Hillsborough, Oct. 6th, was found to be sparked by an electrical panel problem, officials said.

UPS: A new addition to the Bergen County Law & Public Safety Institute, in Mahwah, features a two-story training mall and a new four-story fire training building with nine propane simulators, a county spokesperson said.

DOWNS: Hackensack firefighters teamed up to extricate a victim that was "heavily entrapped" in a pickup truck that was struck by a passenger train at the Central Avenue crossing, on Oct. 15th, according to a department Facebook post. The victim was transported to HUMC.

UPS: New firefighters in Roselle are De Andre Jones, Daniel Meiert and Christopher Nix Johnson.

DOWNS: A 4-alarm fire destroyed a large home on Hillside Ave. in Upper Saddle River, near the New York state line, on Oct. 15th. Units from Rockland County, N.Y., assisted and numerous tankers were called in from various N.J. Departments. No occupants were home at the time of the fire, officials said. The 10,000-square-foot house was estimated to be worth more than $2.5 million, according to a report in "The Record."

UPS: On October 18th, Morristown firefighters forced open a locked door and pulled an unconscious woman from a burning Elm St. apartment, according to MorristownGreen.com. On the front lawn, firefighters applied CPR and revived her, Fire Chief Robert Flanagan said. The victim was taken to St. Barnabas M.C., in Livingston, for treatment of smoke inhalation, the chief said.

DOWNS: A 2-alarm fire at a Columbus Ave. apartment building in Phillipsburg, Oct. 16th, displaced 16 residents, officials said.

UPS: In October, Somerville officials and first responders assembled for a groundbreaking ceremony for the borough's new emergency services complex at Gaston Ave. and Cliff St. "The complex will put Somerville's police department and fire companies under one roof for the first time," said Mayor Dennis Sullivan.

DOWNS: A fire that apparently started in an abandoned Amherst Ave. home in East Orange, Oct. 19th, spread to three other dwellings, forcing residents to flee, according to WABC-TV.

UPS: The Teaneck Fire Department received $437,000 in federal funds to purchase portable radios.

DOWNS: Residents of a Ferndale Rd. home in Ocean City were displaced due to a fire that consumed the building, Oct. 18th. All residents got out safely and a pet dog was rescued by city firefighters, officials said.

UPS: A large deer that was trapped in a lagoon near Ship Court in Toms River was saved by members of the East Dover and Silverton fire companies that responded with their marine units on Oct. 18th, officials said. The deer was safely guided back to land near Cattus Island.

DOWNS: It took about two hours for Elizabeth firefighters to extinguish a large fire at the Highway Services towing company lot, Oct. 20th. Authorities believe about 35 cars were damaged, sending a huge column of black smoke over the neighborhood.

UPS: In October, Cheryl Asmussen, of Elmwood Park, was recognized by the Bergen County Fire Prevention Association as the 2022 Fire Inspector of the Year.

DOWNS: After extinguishing a fire in a Summer Ct. dwelling, Oct. 23rd, Trenton firefighters located the body of a deceased adult male on the first-floor. The Mercer County Homicide Task Force has opened an investigation to determine the cause of the fire and the cause of the victim's death, according to county Prosecutor Angelo Onofrio.

UPS: Due to the increase in call volume, Howell Township authorized the creation of the first full-time EMS unit that will operate through the police department. The unit is staffed by state certified EMTs, officials said. The first aid squads will continue to provide service to the community.

DOWNS: One resident at the Frank J. Budd Senior Living Center died and another injured due to a fire that occurred on Oct. 15th in Burlington City. The fire was quickly extinguished, but firefighters located a deceased resident inside the building, officials said.

UPS: Newark firefighters, in partnership with the American Red Cross, installed free smoke detectors at residences in the city's South Ward, Oct. 15th, officials said.

DOWNS: A child at a Lakewood yeshiva was airlifted to a regional trauma center after suffering serious burns to his legs, Oct. 27th. There was minor fire damage reported to the school and no other injuries reported. Investigators suspect the fire may have been set intentionally, according to "Shore News Network."

UPS: Little Silver recently created a Swiftwater Rescue Unit. It is a marine emergency response team composed of 12 members of the L.S.F.D. and L.S. Emergency Medical Services units. Each member is a certified water rescue technician. The unit was made possible with the donations of dry suits, emergency rescue flotation devices and a 14-foot INMAR Search & Rescue inflatable boat, according to "The Two River Times." The impact of Super Storm Sandy and intensifying weather-related events made the borough take steps to expand protection and services to its residents and neighboring municipalities.

DOWNS: Westwood Firefighter Kevin May, 29, suffered a cardiac incident after responding to a call on October 16th. The next morning, FF May experienced chest pains and difficulty breathing. He was taken to a local hospital. A procedure to insert a stent was performed and he was released from the hospital under a doctor's care, October 20th. On October 25th, FF May was found unresponsive at his home. CPR was initiated, and EMS was called, but efforts to revive him were unsuccessful, according to FirefighterCloseCalls.com. FF May served with the Westwood F.D. for 11-years.

UPS: In September, North Hudson Fire Captain Pete Mancini, of Rescue Co. 1, was inducted into the Hudson County Sports Hall of Fame for his baseball talent at Memorial High School, West New York. Mancini holds the distinction of having been drafted three times by major league organizations. He was named an all-county and second team all state player in his high school senior year. Drafted by the Boston Red Soxs, he opted to attend Seton Hall University instead. His collegiate career included being named the MVP of the Big East Tournament in his senior year. He was drafted by the Detroit Tigers while in college and finally the Baltimore Orioles. Following graduation, he spent a season in the Orioles organization. His coaching career included a stint at North Bergen High School.