A PUMPER AND A 'RADIO CAR' ON DISPLAY AT NEW PUBLIC SAFETY COMPLEX
December 01, 2023 | NEW JERSEY
Ron Jeffers, New Jersey Editor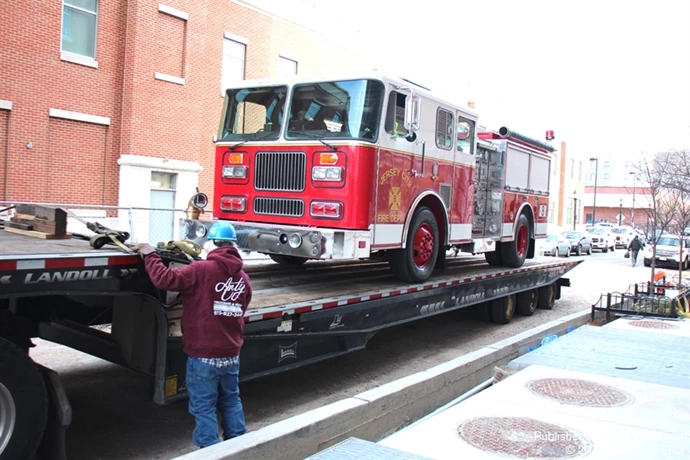 Photo by RON JEFFERSAfter being refurbished, Jersey City's 1996 Seagrave pumper was returned to the city to be placed on display in an exhibit and recruitment center on the ground floor of the city's new Public Safety Complex, last February.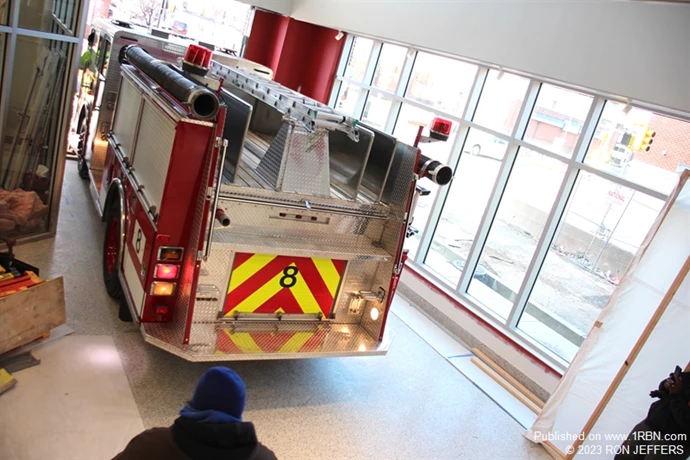 Photo by RON JEFFERSUnder its own power, the veteran FDJC pumper was gently backed into the new Public Safety Complex on MLK Drive.
This article is a direct street report from our correspondent and has not been edited by the 1st Responder newsroom.
This year, construction was completed on a new multi-story public safety building for Jersey City, located on MLK Drive. It is the new venue for police and fire headquarters offices. The city's radio communication system is also planned to be moved into this structure in the future. 
According to NJ.com, the city will lease the building from developer, Pennsylvania-based investment firm Brandywine, for the next 25 to 30-years. At the end of the lease, the city would purchase the building for $1.00.
The building's lobby includes what is described as an interactive exhibit. This includes a decommissioned black and white Ford Crow Vic. police car (still called radio cars, here) and a former FDJC engine. In addition, there is a CPR station and fingerprint station, where children can see what police officers and firefighters do on the job. 
At the back of the center, there is a classroom-like area that seats approximately 40 people. 
"The goal is to have community space that young people can come into and feel invited and comfortable, and they have that opportunity to see some of the things the police and fire department uses," Mayor Fulop said about the interactive exhibit and recruiting center.
The pumper that is on display is a 1996 Seagrave 1250-gpm apparatus that saw original duty with Engine Co. 11, in the Heights section of the city. In later years, it was reserve Engine 32, and well-worn.      
The rig had been covered up and sitting in a city yard for nearly two-years after being taken out of reserve duty. When the idea of a piece of fire apparatus be placed on display in the new public safety building, mechanics changed the fluids in the Seagrave, added new batteries, and the rig started right up.  
The apparatus was sent to Lembo Auto Body, in Newark, where it was refurbished for display purposes. 
On February 3rd, the veteran pumper was flatbed to the building from Lembo, where it was backed into the first-floor of the new complex, under its own power. It is located next to a spiral staircase and a sliding pole.
The new display engine sports department graphics for "Engine 8," which is the first-due company at the new headquarters.