Nov., 2020, UPS, page 2
By Ron Jeffers, New Jersey Editor | November 01, 2020 | NEW JERSEY
Story No. 092720115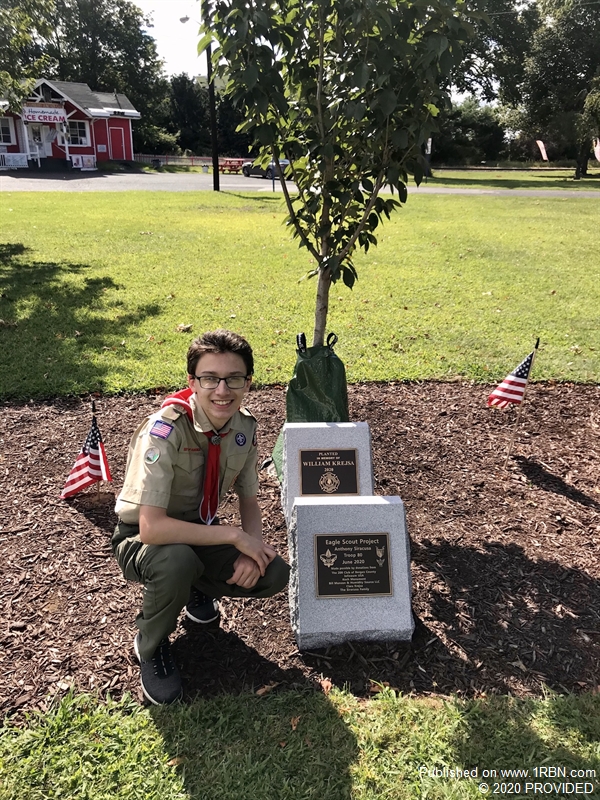 Photo by PROVIDEDEagle Scout Anthony Siracusa with the bronze plaque and tree representing his late grandfather, Hackensack Firefighter William Krejsa, at the city's memorial for deceased members.
DOWNS: A smoky fire in a Phillipsburg manufacturing plant on Sitgreaves St. took about two hours to control and left three firefighters with minor injuries, on Sept. 1st, Chief Rich Hay said in a news release.

UPS: In September, Carlstadt volunteer firefighter Jarrett Milligan was named Bergen County Veteran of the Week by the Veteran's Services of Bergen County. Milligan enlisted in the US Navy in 2000, serving six-years. He was a damage control man and left the Navy as a Petty Officer 2nd Class. Milligan is currently the Vice President of Environment Health Safety for the Northeast Region at Skanska. He has been a member of the Carlstadt Fire Department since 1998.

DOWNS: Newark Engine 18 was involved in an MVA at Seymore & Clinton av.'s, Sept. 3rd, that caused damage to the front bumper.

UPS: The owners of an 88-unit apartment building gutted by fire before leasing began, Aug. 21st., donated $18,000 to the Somerville volunteer firefighters for their efforts in keeping the huge blaze from spreading to a second building on the property. Abe Strulovich, a partner in A&A Somerville LLC, owner of Somerville PARC of Fairview Avenue, made the presentation to local officials on Sept. 9th. "When they expressed to us that they needed better equipment to properly handle mid-rise fires, we knew it was our duty to help them," Strulovich said.

DOWNS: At 8:47 p.m. on Sept. 3rd, Bayonne first responders were dispatched to Newark Bay, off Veteran's Stadium, for a report of a woman in the water. During a heavy rain storm police and fire units spotted a woman about 200-300 yards off shore, according to an O.E.M. Release. The fire department launched two marine units and made contact within minutes. The woman refused to be rescued and evaded rescuers. Two fire department swimmers went into the bay and attempted a rescue, but the woman remained combative. At about 10 p.m. firefighters were able to safely pull her aboard the vessel. She was taken to the 16th Street boat dock and then to a local hospital. Also assisting included the NYPD, NJ Regional Fireboat Task Force and Mc Cabe Ambulance.

UPS: Days after announcing that he and his family had been diagnosed with COVID-19, and have since beat it, Dwayne "The Rock" Johnson thanked members of Ridgefield Engine Co. 2 with pairs of his Project Rock Under Armour sneakers. The firefighters received the gift by way of Under Armour and the First Responder Children's Foundation, a New York nonprofit that provides financial support for children and families of first responders.

DOWNS: Four "squatters" jumped from second-floor windows prior to fire department arrival at a fire involving an abandon dwelling on South 6th St., Camden, Sept. 10th, according to Tap into Camden. The jumpers were not injured, officials said. The building was reported to be fortified so an extensive forcible entry effort was conducted.

UPS: The five-year effort to combine Hamilton Township's nine independent, tax levying fire districts into one unified fire department will be a reality on January 1, 2021, officials said. This will be a municipal fire department funded by local taxes. The plan calls for the Hamilton Township F.D. to operate six engine companies and two ladder companies with the current 133 sworn firefighters that are working in the township's current districts, and led by a Chief of Department, according to a NJ.com release.

DOWNS: Freehold Borough's La Cipollina Ristorante, on West Main St., was damaged by a fire that started in the kitchen, Sept. 13th. According to the owners Facebook post, they believed the fire was caused by a motor that malfunctioned near a water heater. "All clients eating in the restaurant and staff were safely evacuated from the restaurant while out brave kitchen staff contained the fire until Freehold's finest police and fire company arrived," owners Anthony Braica and Matthew Higgins wrote.

UPS: Newly appointed firefighters in Millburn are Brandon Densmore, Victor Carvajal and Amber Lueddeke

DOWNS: A 62-year-old woman died as the result of a 2-alarm fire that involved a Doremus St. home in Paterson, Sept. 16th. Two police officers noticed smoke coming from the building and entered to look for occupants, Director Jerry Speziale said. The officers discovered the woman in the smoke-filled dwelling and took her outside. She succumbed to her injuries at St. Joseph's Regional M.C.

UPS: Recent promotions within the Teaneck F.D. include John Dixon to battalion chief and Brian Taylor to captain. New lieutenants are: Alan Russ, Michael Tosney, Andrew Gonzalez, William Fischer and David Brown.

DOWNS: Fire heavily damaged the 12-unit condominium building on Stiles Ave., Maple Shade, on Sept. 17th. One person was hospitalized with minor injuries, officials said.

UPS: New fire lieutenants in Union are: Ed Collins, Frank Manzo, Helmut Krauth, William Votapek and Dan Roman.

DOWNS: A Garfield police officer lost her Van Winkle Ave. home in a multiple-alarm fire that killed her two cats and displaced five other families, Sept. 19th. Flames spread to two neighboring homes. P.O. Rebecca Schmidt is a 4-year member of the G.P.D. She worked as an EMT and a paramedic before joining the police department. Garfield PBA Local 46 has set up a Venmo account to raise funds for the family. Donations can be sent to the account, "GarfieldPBA-FoundationInc," according to "The Record."

UPS: Recent Paterson F.D. promotions include Mike Walker to battalion chief and John Candelo to captain. Firefighter Troy Ayers was appointed to serve as the department's coordinator of emergency management.

DOWNS: During a police pursuit in Paterson, Sept. 18th, the suspects turned on to Rosa Parks Blvd. and almost ran into a fire department rehab tent at the scene of a 3-alarm fire. Director Jerry Speziale said the car swerved toward the curb, narrowly missing the rehab area. The chase occurred as A&E's TV show "Live Rescue" was filming at the fire scene. The director did not comment on why the sedan was being pursued, but he confirmed that two suspects were in custody.

UPS: The Knights of the Inferno Firerfighter/Military Motorcycle Club's mother chapter will donate a 1996, 50-foot "TeleSqurt," apparatus from the Union Gardens Fire Company of Union Beach, to a fire department in Mexico.

DOWNS: A 2-alarm fire damaged two stores and six apartments on Main Ave., Passaic, Sept. 19th.

UPS: Roseland and Fort Lee firefighters who are regular participants in the Fight for Air Club, in New York City, have been chosen for the lung association's inaugural 2021 Fight for Air Club's firefighter calendar, to raise funds to support the vision of a world free of lung disease.

DOWNS: A 4-alarm fire consumed two Oak St. dwellings and damaged two others in Passaic, Sept. 26th. Forty people from 14 families were displaced.

This article is a direct street report from our correspondent and has not been edited by the 1st Responder newsroom.