A Hometown Hero Organizes Volunteers to Serve Community
November 01, 2022 | NEW JERSEY
Ron Jeffers, New Jersey Editor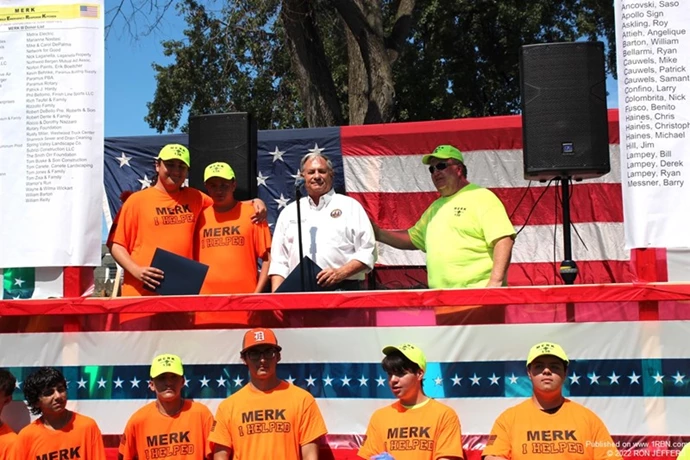 Photo by RON JEFFERSMobile Emergency Response Kitchen organizer Ed Hill, right, with Bergen County Executive James Tedesco III, who presented volunteers with appreciation awards, during the organization's wet down celebration in Paramus, September 10th.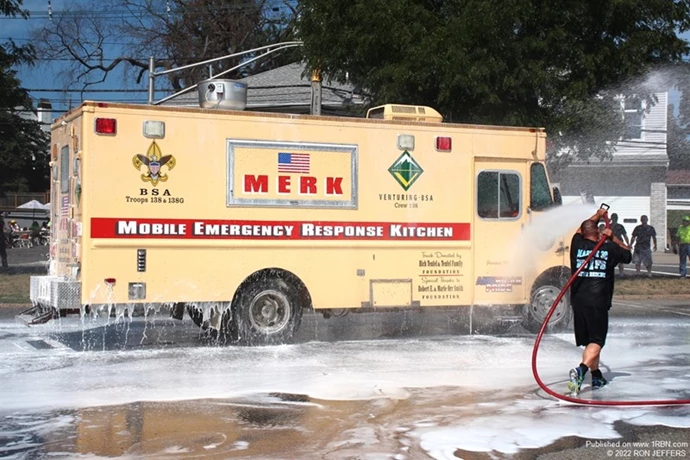 Photo by RON JEFFERSMERK's mobile kitchen was part of a traditional wet down celebration for a piece of emergency equipment going into service, September 10th.
This article is a direct street report from our correspondent and has not been edited by the 1st Responder newsroom.
Ed Hill is a project manager in commercial construction. He is very community oriented, and he wanted to bring back the sense of community with today's youth. Hill is a scouting volunteer, and his program functions as a venue for Boy Scouts, Venture Crew, Explorer Post and Cub Scouts in touch with their community.

With older vehicles, his program was organized in 2016. In the event of a natural disaster, large-scale incident, people displaced from their homes or at civic events, his crew will mobilize and feed first responders and victims.

Hill has created MERK: Mobile Emergency Response Kitchen. MERK is a volunteer organization which gives scouts and their parents and other adults a firsthand experience in helping others. Juveniles between the ages of 12-18 and adults participate.

The group has assembled a mobile kitchen, utilizing a 1985 GMC van, to use for emergency situations and civic events. Hill said the independent organization is totally funded by donations. The MERK works with the Office of Emergency Management to meet all of their qualifications and standards, he added.

Hill said their canteen truck started life as a Snap-On tool truck, and it later served as an emergency canteen unit in Wisconsin. A carpenter by trade, Hill said volunteers assembled the kitchen area inside of the truck which included scouts. The interior features such items as grills, warming oven, deep fat fryer, etc. It also carries a tent.

Hill was able to acquire many pieces of commercial cooking equipment. Upon being asked, "What are you going to do with all the equipment?" His answer, being a fan of "M*A*S*H, was MERK-Mobile Emergency Response Kitchen.

"This program engages youth in paying attention to the world around them while supporting those faced with circumstances of catastrophic proportions," is stated in the MERK brochure. It adds, "This allows the scouts and their parents/adults to see firsthand how their work will benefit others, while teaching teamwork, as they form lasting bonds with friends and families."

The organization has a run list of many events with an older, non-canteen-vehicle. This encompasses many civic events, with a few fire scenes. Hill and company are ready to respond to major fire and emergency scenes if needed, and summoned. According to Hill, the new canteen truck officially went into service on September 11th. Still new to assisting first responder units, he is seeking advice on how to respond. Bergen County Executive James Tedesco, an ex Chief of the Paramus Volunteer Fire Department, plans to assist him with this task. Currently for deployments, Hill has listed 201-419-8152.

On the afternoon of September 10th, the MERK vehicle was the center of a good old fashion fire service wet down along East Firehouse Lane in Paramus. Gene Faatz, owner of the Orange Lantern Saloon, provided space for an awards ceremony and his business was open for refreshments. Fire and rescue squad apparatus entered the lot and sprayed water on the new canteen truck.

During the wet down, a ceremony was held where scouts and civic leaders were recognized for their support of MERK. County Executive Tedesco praised Hill and his work to "help mold and shape the youth." In addition, Tedesco gave Hill a personal donation of $500 to help with the organizations expenses.

Ed Hill has been involved in scouting since 1966 when he joined the Paramus Cub Scout Pack 248. In 1989, he started as a Den Leader in Pack 250. His three grandchildren are currently active with the scouts. In 2021, Hill was recognized by New Jersey State Representative Josh Gottheimer with the Fifth District Hometown Hero Award.