October 2021, UPS, Pg. 2
October 01, 2021 | NEW JERSEY
Ron Jeffers, New Jersey Editor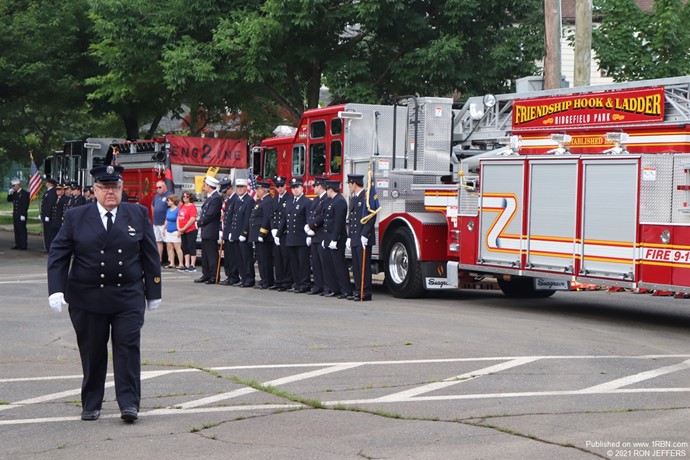 Photo by RON JEFFERSRidgefield Park Firefighter Donald Vorhees, of H & L Co. 1, receiving his 50-years service award in 2018. He has now retired from active duty and turned over his badge number to his grandson, FF Nick Arcivolo.
This article is a direct street report from our correspondent and has not been edited by the 1st Responder newsroom.
DOWNS: A 3-alarm fire destroyed a barn on Millstone River Rd. in Hillsborough, Aug. 14th. There were no injuries. Several horses that were in the barn were led to safety by property owners, officials said.

UPS: Four Trenton firefighters have received the American Legion Firefighter of the Year Team Award for their rescue of an unconscious resident within minutes of arriving at a dwelling fire on MLK Blvd., in 2020. Captain Vincent Przemieniecki and Firefighters Akiyse Watkins, Peter Mancini and Michael Szabo, of Rescue Co. 1, were presented with their award at the Trenton War Memorial, on Aug. 7th.

DOWNS: A 2-alarm fire in an industrial building on MLK Ave., in Morris Township, called in numerous mutual aid fire companies to assist, on Aug. 18th.

UPS: In August, the Ocean Beach V.F.C. received a new Safeboat 31 with a 500-GPM pump.

DOWNS: One firefighter was injured due to a fire involving a Fifth Avenue home in the Pine Lake section of Manchester, Apr. 18th. Two dogs and a pet bird were rescued by firefighters and appeared unharmed, officials said. The firefighter was treated and released from Community Medical Center.

UPS: Members and friends of the Maywood Fire Department celebrated retired Firefighter George Steger's 98th birthday with a party at the New Jersey Firemen's Home in Boonton, Aug. 15th. Steger was also chief of the former West New York Fire Department's auxiliary force.

DOWNS: A fire raced through a home on Zimmerman Ave. in Pennsauken, Aug. 23rd. Firefighters rescued one person from the burning building, officials said.

UPS: Jim Bantin has been promoted to Deputy Chief of the EMS Division of the Elizabeth Fire Department.

DOWNS: On Aug. 23rd, Hoboken Volunteer Ambulance Corps members took a patient down to an ambulance in a stair chair. They switched the patient to a stretcher and leaned the stair chair against the side of the ambulance to load the patient into the "bus". When they returned to get the stair chair, it was gone. The item is worth about $3,000, according to a Facebook post. Note: The stair chair was later recovered.

UPS: Englewood Fire Chief Erki Enerson commended the heroic actions of city Firefighter Brian Comitto and Police Officer John Mc Connel, who rescued three occupants of a burning Green Street dwelling, on the morning of Aug. 22nd. All three occupants were taken to a local hospital and treated for "varying injuries". The police officer sustained injuries and was treated at Englewood Hospital.

DOWNS: A tanker task force was called in to battle a dwelling fire on Sweet Hollow Rd., in Alexandria Twp., Aug. 21st.

UPS: The Absecon F.D. will celebrate a building dedication and housing on October 23rd at 544 New Jersey Ave., from 1 to 5 p.m. There will also be a parade starting at noon.

DOWNS: Kearny Firefighter Francis "Frankie" McAllister, 39, succumbed to cancer on Aug. 3rd. He was on the job for 5-years. His wife, Emily Dolaghan McAllister, is the daughter of retired Harrison Fire Chief Thomas Dolaghan. Firefighter McAllister was described by a colleague as "one of the nicest guys you would ever hope to know".

UPS: New Jersey's Task Force 1 was deployed on August 29th to the Gulf Coast to assist local agencies in the area hit by Hurricane Ida. A Type 3 US&R Team consisting of 45 members, in 35 technically skilled positions, and 10 ground support personnel left from Wall Township.

DOWNS: Keith Pinto, a 19-year-old lifeguard, was killed and 7 other people injured after they were struck by lightning along the beachfront in the South Seaside Park area of Berkeley Township, Aug. 30th. The victims who survived the strike suffered headaches, dizziness and hearing issues. They were taken to the hospital and treated, according to NBC Philadelphia.

UPS: On August 31st, Newark officials assembled on West Bigelow Street and broke ground for the construction of a new 100,000-square-foot building that will be used to train city police and fire personnel. Construction is expected to be compete by 2023.

DOWNS: A tractor-trailer carrying M&M chocolate candies caught fire on Meadowlands Parkway in Secaucus, Aug. 31st. Many yellow bags of peanut M&Ms covered the roadway.

UPS: New firefighters in Passaic are: B. Morales, B. Smyre, C. Hernandez, I. Figueroa, J. Concul, N. Gonzalez, R. Bonner and T. Womack.

DOWNS: A tractor-trailer crashed into a one-story commercial building on Cox St. in Roselle, Aug. 31st. Union and Elizabeth Special Operations teams were called in to work with local firefighters to shore up the building and make it safe temporarily, officials said.

UPS: Cliffside Park will receive $727,272 in Department of Homeland Security funds to acquire a new tower ladder and replace a 34-year-old unit.

DOWNS: During the heavy rain brought by Tropical Storm Ida, a man became struck beneath the Temple Street bridge, off of Presidential Blvd. in Paterson, Sept. 1st. How he ended up there was not immediately determined. Paterson firefighters cut a small survey hole and found the man alert and conscious, officials said. They then cut out a larger hole using jackhammers and other heavy equipment to extricate the victim. He was taken to St. Joseph's Regional Medical Center for treatment.

UPS: Rutherford will receive $238,095 in AFG funds to upgrade communications equipment.

DOWNS: During tropical storm Ida, the roof of the U.S. Postal Service Greater Newark Processing and Distribution Center, in Kearny, collapsed, injuring ten people, with seven being hospitalized. A UASI response was dispatched to the scene.

UPS: New firefighters in Jackson are Ben Rossi and Vincent Nicosia.

DOWNS: During Ida, two houses and a banquet hall burned to the ground on Knopf St. and Boesel Ave. Fire apparatus could not get to the scenes because of floor waters.

UPS: New firefighters in Lakewood are: Leiby Friedman, Shawn Strubeck, Mordy Goldstein, Dan Sanchez, Neil Lelievre, Mark Johnson and William Cook III.

DOWNS: In Gloucester County, Harrison Township was hit by a Tornado. Mayor Louis Manzo said about 125 homes were damaged and about 20 will be razed. Mullica Hill was also hit hard.

UPS: Newly promoted lieutenants in Belleville are: Michael Corino, Nicholas Galante, Chase Hamilton, Richard Hromoko and Cosmo Mauro.

DOWNS: Flames consumed the rear of a Line St. dwelling in Camden, Sept. 4th. One occupant was rescued according to Fire Officers Local 2578's Facebook page. This was the second dwelling fire of the day.

UPS: Ridgefield Park Volunteer Firefighter Donald Vorhees, of H & L Co. 1, has retired from active duty after 53-years of service. In July, he handed his grandson, Firefighter Nick Arciuolo, his badge number. FF Vorhees was described as one of the best aerial ladder operators in the company's history, according to the company's Facebook page.