October, 2022, UPS, page 2
October 01, 2022 | NEW JERSEY
Ron Jeffers, New Jersey Editor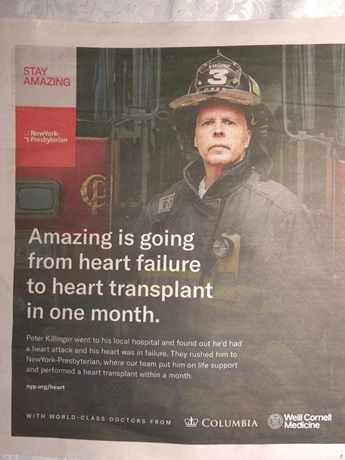 Photo by PROVIDEDAppearing in a recent full page spread in the New York Post, Cliffside Park Volunteer Firefighter Pete Killinger continues to serve his community after a heart transplant. He has maintained his position as department president, getting things done in the department he loves.
This article is a direct street report from our correspondent and has not been edited by the 1st Responder newsroom.
DOWNS: A 3-alarm fire involved one of the buildings at the Parsonage Hill Village complex on Parsonage Rd. in Edison, July 15th. Officials said there were no injuries.

UPS: When Hasbrouck Heights Police Officer Christopher Connors arrived to a reported dwelling fire on Baldwin Terrace, Aug. 1st, an 84-year-old family member pointed and reported a woman trapped on the second-floor, Sgt. John Behr said. P.O. Connors ran upstairs and carried the 65-year-old woman, who uses a wheel chair, down to safety. The victim was checked out by EMS personnel and appeared to be okay. Firefighters had the fire under control in less than 45-minutes.

DOWNS: It was reported that at least two residents of a Maple Terrace dwelling, in Wharton, were hospitalized as the result of a fire, July 7th. Several residents were treated at the scene for smoke inhalation, according to the Daily Voice.

UPS: Robert Bunten has been promoted to battalion chief in Perth Amboy. New fire captains are: Thomas Macri, Eric Lewis, Kevin Metz and Jay Fedor.

DOWNS: A plane caught fire at Linden Municipal Airport and the pilot was seriously burned, July 10th, according to officials. The fixed wing, single engine aircraft was involved in flames on the taxiway. The fire was quickly extinguished by personnel, according to reports. The pilot managed to escape, but suffered serious burns and was transported to St. Barnabas Burn Center.

UPS: Fritz G. Frage has been appointed to the position of Director of Public Safety in Newark. He will oversee the police and fire departments, O.E.M. and Homeland Security. Previously, Frage was with the NJ State Police for 24-years, completing his tenure as Commander of the Investigation Branch.

DOWNS: At least five people were injured and a dog burned by a fire at the Country Club Apartments, off of Route 35 in Eatontown, July 11th, according to officials.

UPS: On August 9th, Smoky Bear celebrated his 78th birthday.

DOWNS: A fire consumed a Normandy Heights Rd. mansion, in Morris Township on Aug. 5th, and took the lives of an elderly couple. Morris County Prosecutor Robert Carroll said the intensity of the flames prevented several attempts by firefighters to enter and search for victims.

UPS: The North Caldwell Volunteer Fire Department will celebrate a century of service with a community block party at 134 Gould Ave., September 24th, starting 1 p.m.

DOWNS: A tractor-trailer driver apparently suffered a medical emergency and died in a crash off Route 80 in Elmwood Park, Aug. 6th, according to officials. Motorists reported the tractor-trailer was weaving back and forth in front of them and then barreled off the highway, close to the Marcal plant, according to State Police Sgt. Alejandro Goez. The rig landed on Market St., below the highway, and burst into flames that engulfed the cab and sent embers flying across the area.

UPS: In August, Gremier Alemany was promoted to fire captain in Paterson.

DOWNS: Two people were killed and others injured after a bus overturned on the NJ Turnpike in Woodbridge, Aug. 10th, officials said. The collision also involved a pickup truck. The bus, which was carrying 20 people, went off the road and overturned on the ramp to the Thomas Edison Service Area.

UPS: New firefighters in Paterson are: Amanda Dakake, Kyle Turner, John Gonzalo, Jason Rivera, Eddie Quinones, Jared Dolak, Devin Anderson and Sean Oates.

DOWNS: A Newark fire captain was injured and transported to St. Barnabas Medical Center as the result of a three-alarm fire in a four-story apartment building at South 16th St. & Clinton Ave., Aug. 13th. The Red Cross assisted some 70 residents. Heavy fire raced through the top of the structure. The captain suffered severe burns to his hands, arms, neck and head, according to officials.

UPS: The Englewood Fire Department has secured $170,870 in AFG funds which will be used to strengthen the department's operations and safety.

DOWNS: As a man was being questioned by Teaneck police, he dove into the Hackensack River, Aug. 19th. Hackensack, Teaneck, Oradell, Lyndhurst and the Bergen County Regional SCUBA Task Force assisted police in removing the victim from the water without incident, according to a H.F.D. Facebook post.

UPS: Firefighters rescued several pets during a fire that involved a Cleary Pl. home in Fairfield, Aug. 17th. "Crews aggressively attacked the fire while simultaneously rescuing multiple pets," a F.F.D. statement said.

DOWNS: Four families were displaced as the result of a fire in a Broadway dwelling in Newark, Aug. 5th. Several firefighters were injured, according to reports.

UPS: In August, the Trenton Fire Department graduated members of the very first Junior Public Safety Academy for local teens. The class of thirteen learned that being a first responder means hard work and dedication. The program was created by Fire Director Kenneth Douglas and lead instructor Brian Roberts. The class members graduated with some of the same certifications as adult first responders in New Jersey, according to "The Trentonian."

DOWNS: A 46-year-old man sustained serious injuries when he jumped from a second-story window to escape a fire at his Essex Ave. home in Linden, Aug. 24th. He was transported to University Hospital in Newark with non-life-threatening injuries, officials said.

UPS: In West Orange, Matthew Kehoe and Gary Braus have been promoted to fire captain.

DOWNS: Six residents were displaced as the result of a 3-alarm fire at Wyoming Villas, on Millburn Ave. in Millburn, Aug. 22nd. The entire 40-unit complex was evacuated by first responders. Two firefighters and one police officer were treated at the scene for minor injuries, officials said.

UPS: In August, a contingent of Maywood firefighters, along with their antique Ahrens Fox pumper, celebrated retired Firefighter George Steger's 99th birthday at the New Jersey Firemen's Home in Boonton.

DOWNS: A fire broke out at The Rockleigh on Paris Ave., Rockleigh, Aug. 25th, during a wedding ceremony. The fire appeared to have started in the boiler room and extended to the second-floor, according to fire officials. Guests at the wedding party were safely evacuated, along with all employees.

UPS: The Hoboken Fire Department has received $38,304 in AFG funds to procure the staff and equipment necessary to continue effectively protecting the community, said Congressman Sires.

DOWNS: Two firefighters suffered minor injuries while battling a fire in a Prospect St. dwelling in Westfield, Aug. 25th, Fire Chief Michael Duelks said. Three residents, and their pets, were displaced.

UPS: In August, Richard Mulligan was promoted to fire captain in Jersey City.

DOWNS: Two women were killed as the result of a fast-moving fire on Hamburg Turnpike in Bloomingdale, Aug. 30th, officials said.

UPS: In Long Branch, Tim Phillips has been promoted to fire lieutenant and Keith Binford a new firefighter.

DOWNS: Paterson firefighters were busy battling two overnight multiple-alarm fires on the evening of Aug. 31st and the morning of Sept. 1st. The first occurred on East 32nd St. and the second on Marhall St. A total of 11 families were displaced leaving 30 people temporarily homeless, officials said.

UPS: Jersey City firefighters rescued two window washers that were stranded when strong winds "twisted" their scaffolding 16 stories above Essex St., Aug. 30th. Firefighters managed to pull the workers through a window that had been broken by the scaffolding as it twisted in the winds, according to WABC-TV.

DOWNS: Four people died and eight others injured when a shuttle van with a dozen passengers flipped over along the Palisades Interstate Parkway in Englewood Cliffs, Sept. 2nd. Emergency crews had to extricate victims, officials said.

UPS: The South Old Bridge Fire Company will recognize their 75th anniversary with a celebration on Oct. 8th at Old Bridge High School. There will be a dedication for the new Engine 327, followed by family activities and fire prevention demonstrations.

DOWNS: A 3-alarm fire involving two three-story mixed occupancy buildings on Bergen Ave., Jersey City, displaced 21 adults and 7 children, according to an OEM official. Seven firefighters were taken to the hospital for non-life-threatening conditions on a humid Sept. 4th afternoon.

UPS: On Sept. 1st, Paterson Mayor Andre Sayegh and Fire Chief Brian McDermott honored firefighters for the rescue of 8 people from a malfunctioned Ferris wheel at the Passaic County Fair, a month earlier. First Battalion Chief Frank Liscio and members of Rescue Co. 2, Engine Co. 6, Ladder Co. 1, Car 9, EMS 4 and 6 were cited for their actions.

DOWNS: Sussex County officials were investigating the cause of a fire that involved several vehicles in an employee parking lot on Wild Turkey Way, Aug, 28th. Hardyston firefighters arrived to find numerous vehicles engulfed in flames. Hamburg and McAfee fire units also assisted.

UPS: Cliffside Park Firefighter Pete Killinger is back serving his community after a heart transplant. A full page photo of Killinger appeared in the August 30th New York Post, sponsored by New York Presbyterian and Columbia Weill Cornell Medicine. Always a gentleman, Killinger continues in his position as department president, running meetings and getting things done.