SEPT., 2023, UPS, page 2
September 01, 2023 | NEW JERSEY
Ron Jeffers, New Jersey Editor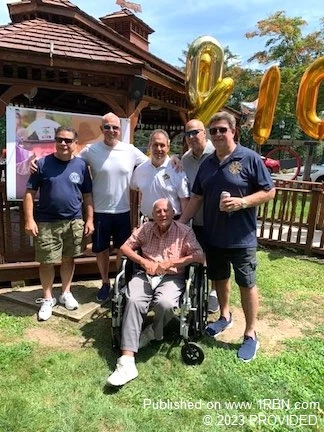 Photo by PROVIDEDFormer West New York firefighters attend George Steger's 100th birthday party at the NJ Firemen's home in Boonton, August 5th. Steger is a retired Maywood volunteer firefighter, and he was the last auxuliary fire chief in West New York. A true gentleman.
This article is a direct street report from our correspondent and has not been edited by the 1st Responder newsroom.
UPS: Justin Basile and Jon Kiniery have been promoted to fire captain in Bayonne.
DOWNS: Fire damaged at least six trailers and two buildings at the Vassar Ave. UPS facility in Lakewood, June 28th. Explosions could be heard as black smoke billowed from the roof, according to The Lakewood Scoop. Workers were evacuated from the facility. 
UPS: In Wildwood, Ryan Troiano was promoted to fire captain. David Bannon was named fire official. 
DOWNS: A fire at the Claridge House condominium complex in Verona, July 3rd, sent one person to the hospital for smoke inhalation and displaced dozens of residents. Officials said there was smoke on the upper floors of the 12-story building, and they found flames on the 10th floor hallway storage area. Floors 7 through 12 were evacuated due to the fire and smoke.  
UPS: Carmen Giordino has been promoted to fire lieutenant in Cranford. 
DOWNS: While responding to an alarm on June 16th, Bogota Engine 3 was involved in a MVA on Dunn Ave.  According to their Facebook post, an auto entered the intersection without stopping at the stop sign, causing the collision. Engine 3 went off the road and struck a vehicle in a residential driveway, pushing it into a house. There were no reported injuries. After an investigation, the driver of the auto was arrested and charged with driving while intoxicated and issued several MV summons. 
UPS: John Gura has been promoted to fire captain in Westfield. 
DOWNS: With temperatures in the 90's, four firefighters were taken to the hospital with heat exhaustion, July 21st, due to a multiple-alarm fire at a Union Ave. dwelling in Passaic. They were later released. About 11 residents were displaced, officials said. 
UPS: New firefighters in Wildwood are William Gaskill and Hunter John. 
DOWNS: Two Atlantic City firehouses have been closed after lead dust was found inside the buildings, according to CBS News-Philadelphia. During renovations, the lead dust was discovered in Stations 3 and 6. Chief Scott Evans said both fire companies were moved to different firehouses. It was also noted that medical evaluations would be conducted for all firefighters potentially exposed to the lead dust. 
UPS: Samuel Scher has been appointed to the Cranford Fire Department. 
DOWNS: More than 20 families were displaced due to a fire at the Bey Lea apartment complex in Toms River, July 15th. 
UPS: Ken Moller has been appointed as firefighter in Hanover Township.
DOWNS: A fire consumed a historical Sussex County barn housing numerous family heirlooms, according to the Daily Voice. The Branchville Hose Company and over a dozen mutual aid units battled the fire on July 15th.  
UPS: New firefighters in Bayonne are Benjamin Barsolona, Brandon Gomez, Leo Nardone and Diana Gomez. 
DOWNS: A section of a two-story apartment building was reduced to rubble after an explosion, July 21st, in Newark. Six people were reported injured and taken to area hospitals. One woman suffered from serious burns, and a total of 31 residents displaced. The South Pine Lane building is managed by the city housing authority. An investigation into the cause of the explosion was underway, according to Public Safety Director Fritz Frage. 
UPS: The Port Authority of NY & NJ is celebrating their 50th anniversary of the organization of the Tunnel & Bridge Agents. They staff the emergency garages and communication desks at the Holland and Lincoln Tunnels and the George Washington Bridge. In addition, they also staff the communications desks at Staten Island bridges. 
DOWNS: A fire destroyed a two-story dwelling in Manchester Twp., July 24th on Lake Tree Ct., officials said. Firefighters arrived and discovered that parts of the first and second floors of the home had collapsed into the basement. Investigators deemed it unsafe to continue an investigation of the fire until daylight. When the investigation continued, July 25th, a man's body was located within the collapsed area of the building. Investigators determined that the fire started on the front porch near improperly discarded smoking material and deemed the fire accidental, prosecutors said.  
UPS: New firefighters in Westfield are Ben Fishman & Joe Stulec.  
DOWNS: Three Newark firefighters were injured when their rig was involved in a hit-and-run crash near the Prudential Center at Mulberry and Lafayette St.'s, July 30th. According to a report by WABC-TV, the crash caused Engine 5 to overturn and the driver of the auto fled the scene, leaving his two passengers behind. The news source said the driver later checked in at Trinitas Hospital, in Elizabeth, for treatment of his injuries. The passengers were taken to University Hospital. The firefighters were said to have non-life-threatening injuries. 
UPS: A woman was rescued after getting stuck in a well of a home in Salem County, July 31st. According to KYW-TV, she was stuck in the mud for about an hour inside the well. The Reliance Fire Company worked to quickly to pull the victim out, according to Chief Brian Facemyer. The fire company covers Woodstown and Pilesgrove. The company received mutual aid from the Pennsville Fire Company and a technical rescue team from New Castle County.
DOWNS: A fire in a Coriell Dr. dwelling in Bridgewater, July 21st, began near a location where lithium-ion batteries were being charged, according to the Bridgewater Patch. Fire units from Finderne and Martinsville extinguished the fire. 
UPS: Recently, the Hillcrest and Southside firehouses in Paterson received protective rubber flooring on their bay floors.  
DOWNS: A fire in a Buttonwood Dr. dwelling in the Lanoka Harbor section of Lacey Twp. left four people dead, Aug. 1st. According to WABC-TV, the fire was ruled accidental. First responders rescued a 67-year-old woman from the back of the home. Firefighters learned that there were four other people still inside and, as they tried to rescue them, the roof collapsed forcing firefighters to evacuate. 
UPS: In August, firefighters from the Maywood Volunteer FD, West New York FD and the North Hudson Regional FD gathered at the NJ Firemen's Home, in Boonton, to celebrate George Steger's 100th birthday. Steger is a retired Maywood firefighter and he was the last auxiliary fire chief in West New York. 
DOWNS: On August 6th, Palisades Park fire units were dispatched to a smoke condition in a Harriet Avenue dwelling. A later radio transmission reported a BBQ in a bathtub!