Rolling Stock From Essex County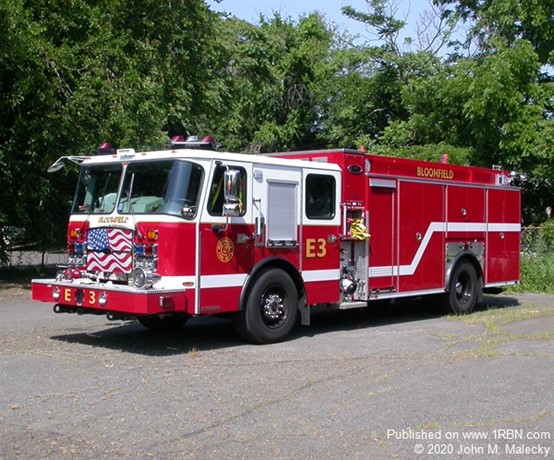 Photo by John M. MaleckyBloomfield E-3, 2020 E-ONE Typhoon, eMax 1500/750. It was sold by Absolute Fire Protection.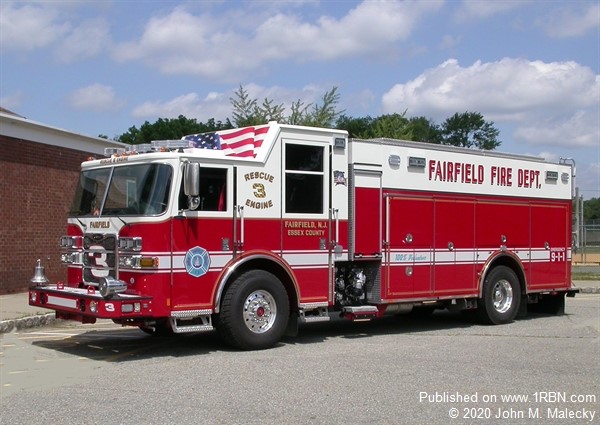 Photo by John M. MaleckyFairfield RE-3, 2020 Pierce Arrow XT, PUC 1500/800/50B, 20 kw and 9,000 pound portable winch. It was sold by Fire & Safety Services.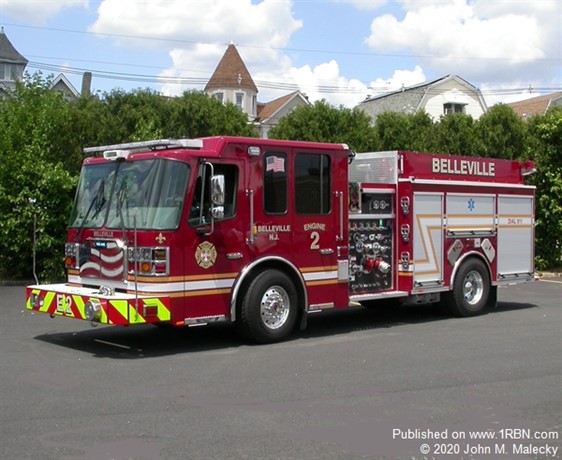 Photo by John M. MaleckyBelleville E-2, 2020 Ferrara Cinder 2000/750. It was sold by Firefighter 1.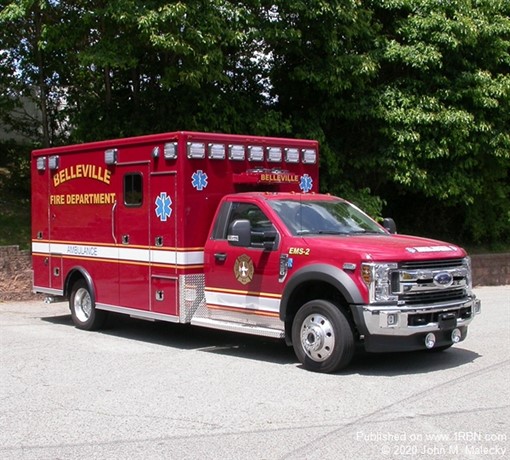 Photo by John M. MaleckyBelleville EMS-2, 2019 Ford F-450/McCoy Miller, 170. It was sold by Firefighter 1.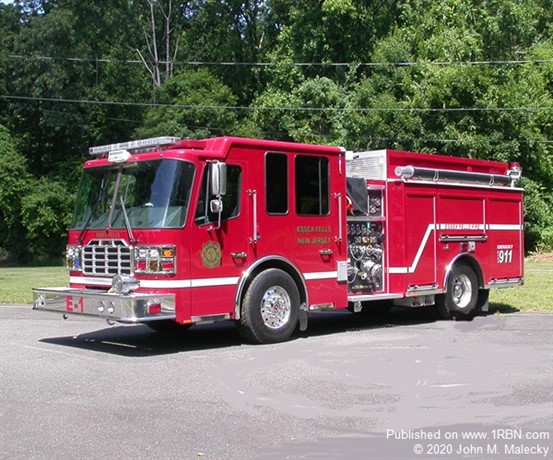 Photo by John M. MaleckyEssex Fells E-1, 2020 Ferrara Cinder 1750/1000. It was sold by Firefighter 1.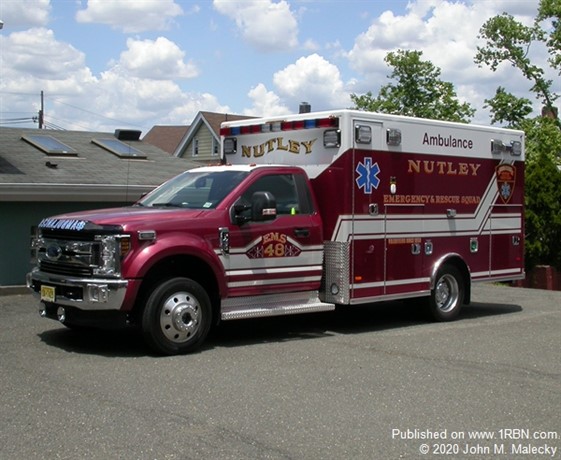 Photo by John M. MaleckyNutley Emergency & Rescue Squad EMS-48, 2020 Ford F-450/P.L. Custom Classic. It was sold by New Jersey Emergency Vehicles.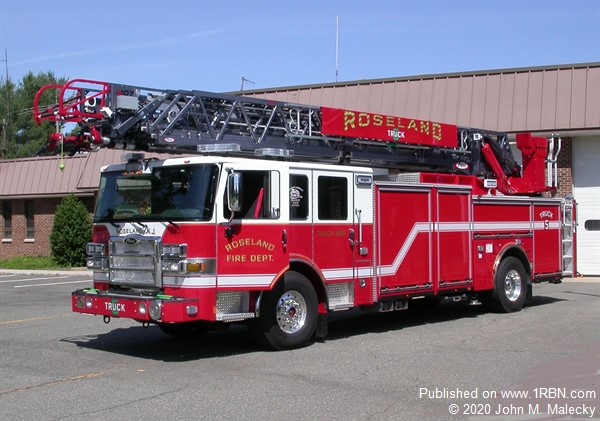 Photo by John M. MaleckyRoseland T-665, 2018 Pierce Enforcer, 107-foot Ascendant aerial with a 6 kw generator. It was sold by Fire & Safety Services.
This article is a direct street report from our correspondent and has not been edited by the 1st Responder newsroom.
APPARATUS OF THE MONTH

By John M. Malecky September, 2020

SOME ROLLING STOCK FROM ESSEX COUNTY

This month we have some apparatus and ambulances from Essex County. There are still some that there wasn't enough room for, but they will appear in subsequent issues. Of the ones appearing today, one is Engine 3 of the Bloomfield Fire Department, an E-ONE Typhoon rescue pumper. It shares quarters with a rescue truck that is usually operated by the volunteer ranks. The engine has rescue tools and equipment that is used for the most common calls that they get. The rescue truck is used for fireground support as well. Another photo is of a Pierce Arrow XT PUC pumper from Fairfield, which doubles as their rescue truck. Belleville has two units in this display. One is a Ferrara pumper and the other a McCoy Miller ambulance, both sold by the same dealer. Essex Fells also has a Ferrara Cinder pumper shown here. A P.L. Custom ambulance from the Nutley Ambulance & Rescue Squad is also featured. The column wraps up with a Ferrara pumper form Essex Fells and a traditional rear-mount aerial built by Pierce for Roseland. When I say "traditional", I mean it has no pump or water tank, somewhat like a "city" truck would be in most departments. This one has an Ascendant aerial. It replaced a rear-mount platform, which is not a common practice. With most departments it is the other way around. When asked about this the driver said it was a decision by the membership and that was enough for me.

In dealer news, Absolute Fire Protection received an order from Plainsboro (Middlesex County) for an E-ONE Cyclone long, stainless steel hosebed pumper. It will have a Hale Qmax XS 2250-GPM pump, 700-gallon water and 20-gallon foam tanks.

Defender Emergency Products received an order from the Middle Township Fire District 1 (Cape May Courthouse) for their second Rosenbauer. Their first was a Cobra rear-mount tower ladder (Cape May County). This one will be a top-mount EXT pumper. Specs include a Rosenbauer 70-inch Commander cab with eight-inch raised roof, barrier free cab entry doors, Cummins L9, 450 hp diesel engine, Whelen lighting package, Weldon Vmux System, Rosenbauer hot dipped galvanized frame rails, Waterous CSUC20, 1500-GPM pump, 1000-gallon water tank, and Pneumax CAFS System. They have delivered to the McCabe Ambulance Service in Bayonne (Hudson County) another Medix ambulance. It is Model RP90EX, Type III on a Ford E-350 chassis with full Whelen lighting package, inverter and a Stryker stretcher mounting system. They have received an order from Valley Medical transportation in Fairfield (Essex County) for a Medix SR148WD, Type II ambulance on a Ford 250 MR RWD van chassis with a 3.5L Eco boost gas engine, Vanner inverter Whelen lighting package and a Ferno Washington Stat Trac cot mounting system.

Fire & Safety Services reports the following Pierce orders: for the Pennington Road FC in Ewing Township (Mercer County) an Enforcer pumper; for Gloucester Fire District 4 (on behalf of District 2, Chews Landing), an Enforcer PUC pumper; for Stafford Township, an Enforcer PUC 107-foot Ascendant ladder and for Point Pleasant Beach a Velocity pumper (both Ocean County). Pierce deliveries include an Arrow XT 100-foot mid-mount platform each to Bayonne (Hudson County) and Morris Plains (Morris County) and a Velocity 100-foot rear-mount platform to Hawthorne (Passaic County).

VCI Emergency Vehicle Specialists reports the following ambulance deliveries. Two are remounts. One is to the Egg Harbor Township EMS (Atlantic County) and is a 2019 Horton 453 on a Ford E-350 chassis. The other is to the Budd Lake FA & RS Station 27 (Morris County) and is a 2018 Braun on a Ford F-550 4x4 chassis. The East Rutherford FD Emergency Squad (Bergen County) took delivery of a 2019 Horton 553 on a Ford E-450 chassis. The Buena Vista Township EMS (Atlantic County) ordered a 2019 Horton 553 remounted stock ambulance.

First Priority Emergency Vehicles apparatus division received an order from the Green Bank VFC in Burlington County. Specs include an International HV607, four-door tandem axle chassis with four SCBA seats, Waterous CX 1500-GPM single-stage pump, Watrerous Aquis Class "A" foam system, four-inch LDH discharge with four-inch valve, three-inch deck gun discharge with TFT Extenda-Gun, rear belly pan mounted booster reel, KME Eliminator low-profile pump panel, 3000-gallon poly water tank with a 30-gallon integral foam tank, Eliminator body built by 3/16 inch aluminum with ROM roll-up doors, driver's side portable tank storage inside high side compartments, officer's side low side compartments with ground ladders above, storage for five SCBA cylinders in the wheel wells, 10-inch square electric rear dump valve with stainless steel swivel and extension and (two) three-inch full flow rear direct tank fills.

Firefighter 1 has delivered to the City of North Wildwood (Cape May County) a Ferrara HD 107-foot quint on an Inferno chassis. It has a Hale Qmax 2000-GPM pump and 500-gallon water tank.