A Special Inspection Day for a Junior Firefighter
By Ron Jeffers, New Jersey Editor | August 01, 2021 | NEW JERSEY
Story No. 070921105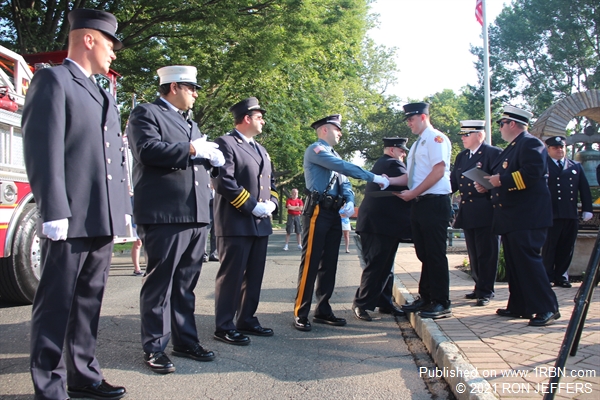 Photo by RON JEFFERSRidgefield Park Junior Firefighter Nick Arciuolo (white shirt) presents Police Officer Steve Fernandez with a village life saving award, during the fire department's annual Independence Day inspection, held this year on July 5th.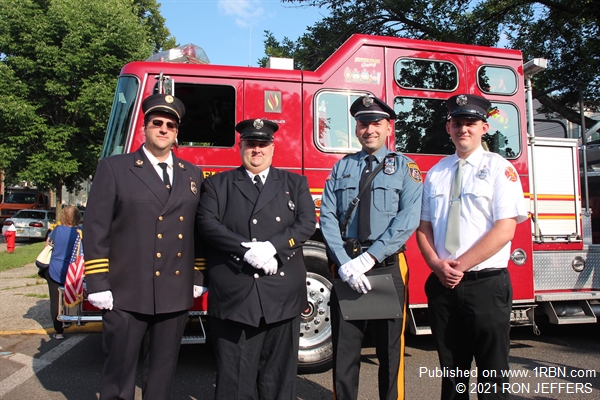 Photo by RON JEFFERS(L to R): Ridgefield Park Ex-Chief Peter Arciuolo, Firefighter Brian Nevins, Police Officer Steve Fernandez and Junior Firefighter Nick Arciuolo. Nevins and Fernandez received life saving awards during the fire department ceremony.
On July 5th, this year's recognized Independence Day holiday, the Ridgefield Park Fire Department held its annual inspection and awards ceremony at the Memorial Bell on Euclid Avenue. After an absence, due to COVID-19 last year, firefighters, village officials, families and friends gathered once again to keep the tradition alive.

The inspection of apparatus and equipment was suspended, this year. Instead, the mayor and commissioners made the rounds to all six fire companies, parked on the street, where members displayed firefighting and life-saving equipment and explained their usages. Also, the cost of such vital equipment to protect local residents.

The ceremony was very special this year, with life-saving awards presented to first responders who saved the life of one of their own.

Chief of Department John Antola, Jr., read the details of the incident to the assembly. On March 14th, the Fire Department was dispatched to a reported dumpster fire in a lot off of Mt. Vernon St. First arriving Engine 3 reported a pile of trash burning in the rear of a restaurant. While stretching in, Firefighter Brian Dolch and Junior Firefighter Nick Arciuolo heard a hissing sound coming from the seat of the fire. In seconds, a large explosion occurred, and critically injured the junior member.

It was later discovered that two Co 2 bottles, used for beverage dispensing, had been placed at a storage box and the fire apparently caused one to explode.

Firefighter Dolch called out a "mayday," reporting a firefighter down. First Lt. Dave Zilante then dragged the junior member away from the scene for medical assistance. Assistant Chief James VanDer Tulip radioed in a "mayday' to headquarters, asking for ALS and BLS units respond to the scene with a "rush".

Medical attention, including a leg tourniquet, was applied by Police Officer Steve Fernandez, Firefighter Brian Nevins, and a member of the Teaneck Ambulance Corps, along with the junior's father, Ex-Chief Peter Arciuolo.

The first responders actions are credited with saving the life of Junior Firefighter Nick Arciuolo.

Firefighter Arciuolo is still recovering from his injuries, but he stood tall at the Fire Department event, alongside of his Engine Co. 3 members. He recently graduated high school. According to his father, he loves being a firefighter.

Firefighter Arciuolo presented life saving awards to Police Officer Steve Fernandez and Firefighter Brian Nevins. Unit Citations were presented to Assistant Chief James VanDer Tulip, Ex-Chief Peter Arciuolo, First Lt. Dave Zilante and Firefighter Brian Dolch.

Upon completion of the ceremony, firefighters removed their uniform coats, on this warm morning, and took a break before proudly marching in the village's 127th Independence Day parade.

This article is a direct street report from our correspondent and has not been edited by the 1st Responder newsroom.