Manalapan Gets First Ascendant Mid-mount In NJ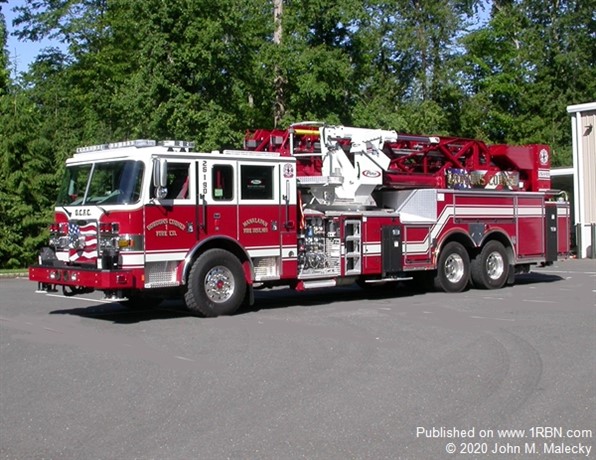 Photo by John M. MaleckyManalapan L-26-1-90, 2020 Pierce Arrow XT 2000/300 with 100-foot Ascendant mid-mount platform. It was the first delivered in NJ. Sold by Fire & Safety Services.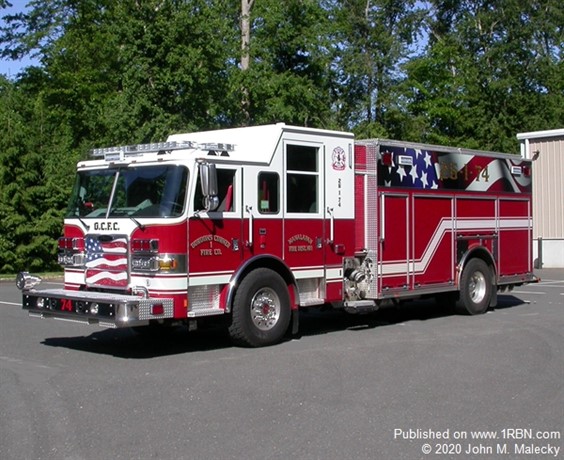 Photo by John M. MaleckyManalapan E-26-1-74, 2016 Pierce Arrow XT PUC, 1500/750/50B and 10 kw generator. It has all right side discharges. It acts as a back-up rescue also. It was sold by Fire & Safety Services.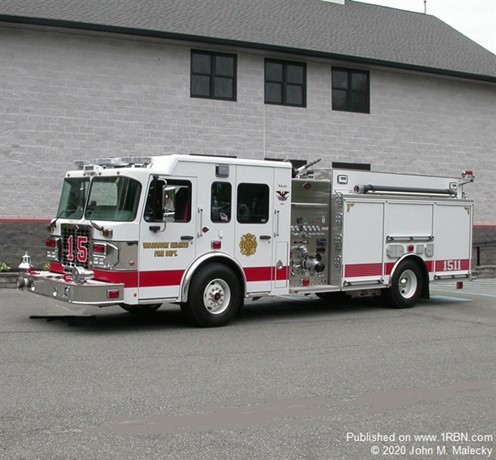 Photo by John M. MaleckyWoodbury Heights E-511, 2020 Spartan ER, Metro Star, 1500/1000 and 6 kw generator. It was sold by Campbell Supply Co. LLC.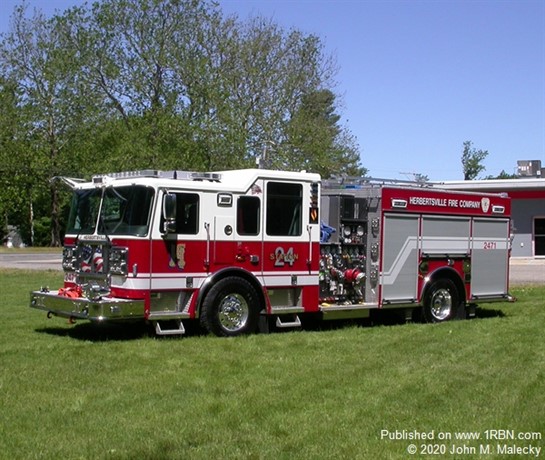 Photo by John M. MaleckyBrick Township, Herbertsville, FC, E-2471, 2019 Seagrave Marauder, 2000/500/20A and 8 kw generator. It was sold by Seagrave Sales & Service.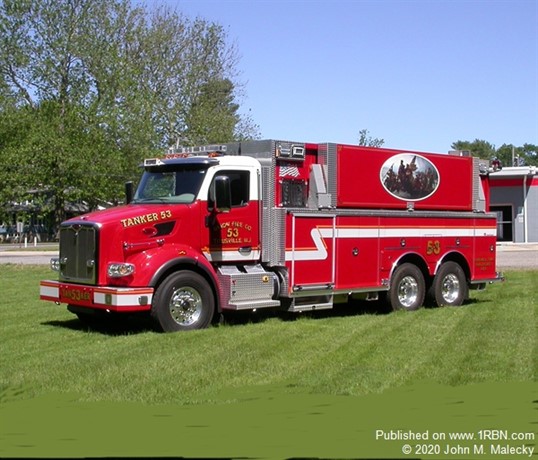 Photo by John M. MaleckyHopewell Township, Union FC, Titusville T-53, 2020 Peterbilt 567/Rosenbauer, 1500/3700. It has a mural depicting Washington Crossing the Delaware. It was sold by Defender Emergency Products.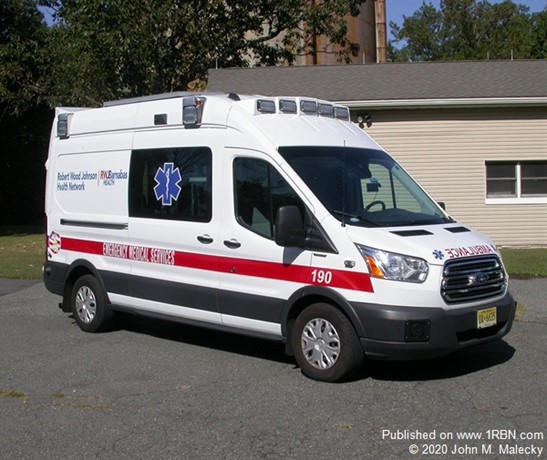 Photo by John M. MaleckyRWJ Barnabas EMS A-190, 2018 Ford Transit/AEV Trauma Hawk assigned to South Orange. It is one of several sold by VCI Emergency Vehicles Specialists.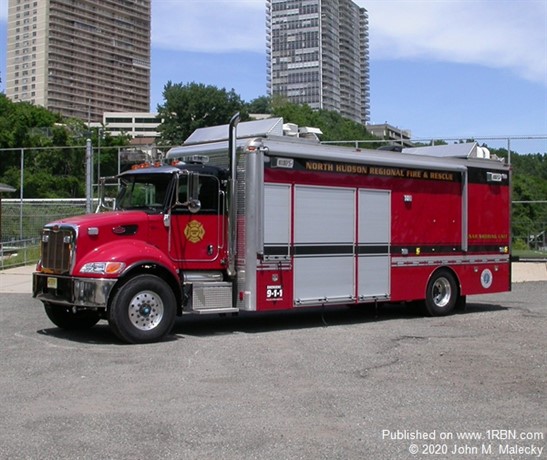 Photo by John M. MaleckyNorth Hudson Regional Fire Rescue USAR shoring unit, 2013 Peterbilt 348/LDV (a Pierce Company).
This article is a direct street report from our correspondent and has not been edited by the 1st Responder newsroom.
APPARATUS OF THE MONTH

By John M. Malecky August, 2020


MANALAPAN GETS FIRST ASCENDANT MIDMOUNT IN NJ

The state's first Pierce Ascendant mid-mount tower is at the Gordons Corner Fire Company in Manalapan Township in Monmouth County. It is mounted on a 2020 Pierce Arrow XT chassis and has a 2000-GPM pump, 300-gallon water tank and 100-foot five section platform. There are many Ascendant aerial ladders and platforms in the state, but not in mid-mount design. It replaces a Pierce platform of rear-mount design. Other photos in this month's column feature a 2016 Pierce Arrow XT PUC pumper also for Gordons Corner. It has a 1500-GPM pump with all right side discharges, a 750-gallon water tank and a 10 kw generator. It is equipped to be a back-up rescue. Next is a Spartan ER pumper for the Borough of Woodbury Heights in Gloucester County. Specs include a Metro Star chassis, Cummins L9, 450 hp diesel engine, Hale Qmax, single-stage 1500-GPM pump, UPF 1000-gallon water tank, Will Burt NS23-600 light tower, 10 kw Harrison generator, Whelen scene lighting, six-inch front intake, five-inch rear intake, 1 ¾-inch front bumper line, pre-connects off of the rear, an Akron Apollo HiRiser deck gun and ROM roll-up compartment doors. Next is a Seagrave Marauder pumper for the Herbertsville Fire Company in Brick Township (Ocean County). It has a 2000-GPM Waterous CSU model pump, Foam Pro 2002 system, 500-gallon water and 20-gallon Class "A foam tank. A TFT Hurricane deck gun is included. Next is a pumper/tanker for the Union Fire Company in Titusville which is in Hopewell Township (Mercer County). It is a Perterbilt 567/Rosenbauer with a 1500-GPM Hale DSD pump and 3700-gallon UPF water tank. Features include a 10-inch dump valve, Zico racks, one for flexible hard suction hose sections on the driver's side and the other for a 3,000-gallon Husky portable tank on the officer's side. It also has a mural depicting Washington crossing the Delaware. I have not ever photographed the tanker that it is replacing, but I understand that there is a similar mural on the rear of that vehicle. Next we feature an AEV Trauma Hawk Type II ambulance which is part of a fleet sold to the Robert Wood Johnson EMS. This one is stationed with a paid crew at the South Orange Fire Department's substation in Essex County. Finally we feature a USAR Shoring Unit quartered at the headquarters of the North Hudson Regional Fire Rescue in West New York (Hudson County). It has a Peterbilt 348 chassis and an LDV (a Pierce company) body.

In Dealer news, Firefighter 1 has delivered two Ferrara rescue trucks that had been on order. One was to the Monmouth County OEM on a Cinder chassis with an extruded aluminum body. The other went to the City of Wildwood (Cape May County) and is on an Ultra chassis with an extruded aluminum body.

Absolute Fire Protection has received an order from the Manitou Park FC in Berkeley Township (Ocean County) for two E-ONE VM-8 mini pumpers on Ford F-550 chassis.

VCI Emergency Vehicle Specialists reports on the following ambulance orders: Vineland EMS (Cumberland County) and Sea Isle City (Cape May County), both orders a Horton 553 on a Ford F-450 chassis. Bristol-Myers Squib in Princeton (Mercer County) ordered a Horton 623 on a Ford F-550 4x4 chassis and Cooper University Hospital in Camden (Camden County) ordered two AEV T-350 Transits.

Fire & Safety Services reports the following Pierce deliveries: to Hamilton Township District 9 (Groveville FC) in Mercer County, an Enforcer pumper and Lakewood Fire District 1 received a Skeeter wildland Type 5 brush truck on a Ford F-550 chassis (first Skeeter in NJ). Pierce orders include an Arrow XT pumper for Kearny (Hudson County) and an Enforcer heavy duty rescue pumper for the Oceanview FC in Dennis Township (Cape May County).

Blaze Emergency Equipment has delivered a Sutphen pumper to the Cheesequake FD in Old Bridge Township (Middlesex County). Specs include a Monarch chassis with 73-inch cab, 10-inch raised roof, six seats, Hale Qmax 2000-GPM pump, 750-gallon water tank, Whelen scene lighting, 292-cubic-feet of compartment space and a Brigade 360 camera.

New Jersey Emergency Vehicles has delivered the P.L. Custom Medallion Type III ambulance on a Ford E-450 chassis to Medford Township (Burlington County) that they were prepping last month. Other P.L. Custom deliveries include a Medallion on a Ford E-450 chassis to Franklin Township (Warren County) and a Classic Type 1 on a Ford F-350 chassis to Mountainside Rescue Squad (Union County).