July, 2021, UPS, page 2
By Ron Jeffers, New Jersey Editor | July 01, 2021 | NEW JERSEY
Story No. 060721104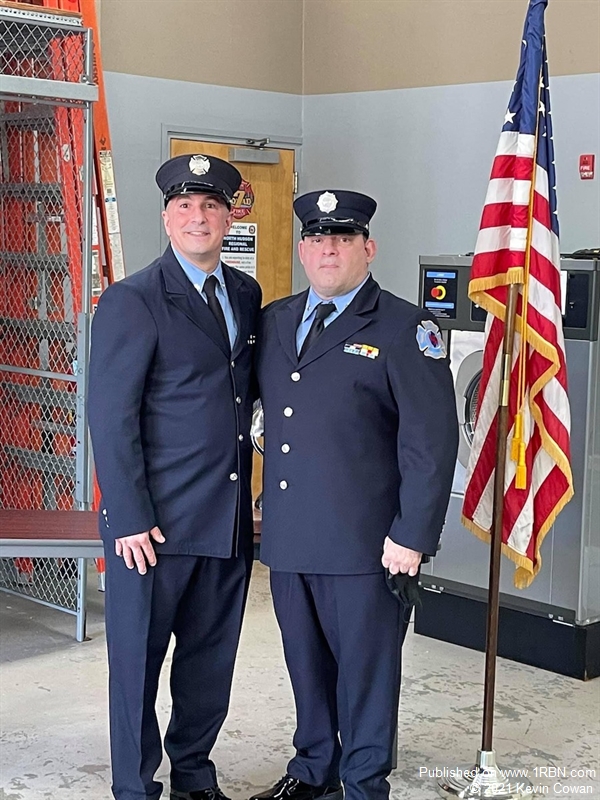 Photo by Kevin CowanNewly promoted fire captains in North Hudson are Mike Mitarotonda, (L) and Jose Izquierdo.
DOWNS: Ridgewood firefighters found the body of a 66-year-old woman in the first floor living room of her North Pleasant Ave. home, on the morning of April 26th. She had apparently left something unattended in her kitchen where the fire started and was overcome by smoke, according to "The Daily Voice." The woman's four cats also perished.

UPS: During a primary search of a burning Brace Ave. home in Perth Amboy, June 2nd, firefighters found a male resident in cardiac arrest. Firefighters removed the man from the building and performed CPR on the front porch. The victim regained a pulse by the time he was placed into an ambulance, according to authorities.

DOWNS: Members of Fair Lawn Engine 4's hose team encountered heavy smoke due to burning tires and auto parts as they entered the front of a Fair Lawn Ave. mechanic shop, April 24th. Firefighters tried to force entry to a rear door but the top of the door was blocked by a loft/storage shelf and there was heavy clutter in the doorway, officials said.

UPS: In April, the Verona Fire Department recognized Firefighter Rick Neale for his 40-years of volunteer service to the community. During his 40-years, Neale has served as lieutenant, captain, treasurer, ran the Color Guard and has been active in the annual Santa Sunday event. In addition, he has participated in fire prevention activities. He is currently the fire official for the Fire Prevention Bureau.

DOWNS: One firefighter was hospitalized after operating at a fire in an Old Mountain Rd. dwelling in Clinton, which was set back far off the road on steep terrain, April 20th. Seven-hundred feet of LDH was dropped to reach the fully involved building. A total of four firefighters were evaluated at the scene with one hospitalized and later released, authorities said.

UPS: Michael Thomasey has been promoted to fire captain in Hackensack. New lieutenants are John Parisik and Michael Martinelli.

DOWNS: A man was seriously injured on May 1st when a fire ignited on a docked boat that then broke free from its moorings and floated down the harbor, in Wildwood, officials said. Fire units responded to Otten's Harbor at Dock St. where a 40-foot vessel was heavily involved in fire. A burn victim was treated by paramedics and later airlifted to Jefferson University Hospital Burn Center.

UPS: Recent promotions within the Asbury Park Fire Department include Chris Barkalow to battalion chief, Carney Conklin to captain and Tee Gates to fire official.

DOWNS: Firefighters from several departments operated at a fire in a Route 50 dwelling in Seaville, April 30th. Firefighters assisted several bystanders that were helping to rescue four children and one adult from a second-floor window of the fire apartment. Cut off by flames, it was the occupant's only means of egress, officials said. The adult was transported to Temple University Hospital Burn Center via helicopter. The four children were treated and released to a guardian by EMS personnel. One firefighter was transported to a local hospital with minor injuries.

UPS: New firefighter/EMTs in Asbury Park are Bett Mc Coy, Joe Annunziata, Rich Gabriel and Nicole Golden.

DOWNS: A fire on Jackson Ave. in Wayne, May 3rd, killed three people that were trapped in the 1 ½ story wood-frame structure, officials said. A neighbor said she heard an explosion and found the house in flames.

UPS: Middletown firefighters assisted in the rescue of an injured hiker trapped in the Hartshorne Woods in the Locust section of the township, May 1st, spokesman Dennis Fowler reported. Firefighters were dispatched to "provide technical rescue skills" and help with bringing the injured victim to safety. They were joined by Rumson First Aid Squad members.

DOWNS: A May 4th fire caused extensive damage to a bathroom in Meenies Elementary School, in Vineland. The damage was expected to keep the students out of their classrooms until May 17th, officials said. The cause of the fire was under investigation, according to Fire Director Richard Franchetta.

UPS: Newly promoted fire captains in Rahway are Andy Marchia and Chris Hammel.

DOWNS: Jersey City police and firefighters responded to a small fire and a disturbance at 18 Virginia Ave., May 6th, and found a 60-year-old woman in critical condition on the first floor. She later died at JCMC. Authorities were searching for the woman's 29-year-old son. They believe he was responsible for the murder, and that he also started a fire in the apartment.

UPS: Lacey resident Nick De Benedetto, 12, with help from his friend Daniel Toner and his cousin Olivia Tramontano, raised $1,170 for first responders by setting up a lemonade stand in De Benedetto's front yard, two days in May. The donations were split between the Lacey Twp. Underwater Rescue & Recovery Team, the Lanoka Harbor F.D. and the Lanoka Harbor EMS.

DOWNS: According to Belleville officials, three firefighters were assisting with a return transport of a resident into her home when the rear deck of the house collapsed, May 10th. A total of seven people were injured, but officials said none of the injuries were life-threatening.

UPS: The Somerville Firemen's Museum has re-opened its doors, in a restored 1888 firehouse at 15 North Doughty Ave., with new exhibits and recently found memorabilia. It is open every Saturday from 10 a.m. to noon, or by appointment. Donations are welcome. Their email address is sfdno3@aol.com .

DOWNS: A Woodbine dwelling, on Adams Ave., suffered "significant damage," as the result of a fire on May 9th.

UPS: An old fashion rescue was executed by firefighters in Hopatcong as they rescued a cat that was stuck 35-feet up in a tree, on Musconetcong Ave., May 9th, officials said. Firefighters used an aerial ladder and returned the pet to its owner.

DOWNS: Eight people were displaced following a fire in an aging apartment building on Main St., Phillipsburg, and spread to two adjoining apartment buildings, May 10th, officials said.

UPS: Chad Miller is Ridgewood's new firefighter.

DOWNS: A 56-year-old Hillside man died after a gasoline container exploded as he was pouring it into a backyard fire pit on May 10th, officials said.

UPS: Newark firefighters rescued the driver of an auto that went 20-feet down an embankment, after a collision with a truck on Route 78, May 18th. Firefighters took about an hour to free the man trapped in his vehicle. The victim suffered severe head trauma with multiple cuts. He was taken to University Hospital, officials said. "I commend the Newark firefighters for their selfless bravery and diligence in rescuing this victim," said Public Safety Director Brian O' Hara. "Had it not been for their tireless efforts to extricate the victim, this incident could have resulted in a tragedy."

DOWNS: Anthony Citro, 41, was accused of setting fire to his Denville home after murdering his mother and leaving her inside, on May 17th, officials said. When police arrived, they found Citro outside the house with blood on his clothes, as smoke was showing from the Chestnut Hill Dr. East dwelling. Citro was charged with murder, arson and weapons-related offenses, according to a joint statement from the Morris County Prosecutor's Office, Morris County Sheriff's Office and the Denville P.D.

UPS: An Allamuchy resident called the fire department for help when it was discovered that a sleeping fawn was underneath a parked car, on May 21st. Assistant Chief Rick Lomanaco pulled the baby deer from underneath the vehicle and placed it at a nearby deck for its mother to find, the department said.

DOWNS: Firefighters located an unresponsive man on the third-floor of a burning South Avenue dwelling in Bridgeton, May 21st, and removed him from the building. He was pronounced dead after he was taken out of the structure, Fire Chief Todd Bowen reported.

UPS: The Fire Science Department at New Jersey City University (NJCU) and the New Jersey Division of Fire Safety (NJDFS) have announced that NJCU now formally recognizes the level of training and education that firefighters receive while obtaining specific certifications issued by the NJDFS and will offer college credits for these certifications when firefighters pursue a degree in Fire Science. NJCU offers the only bachelor's degree in Fire Science in New Jersey and is ranked as one of the top Fire Science programs in the nation by Best Colleges and Affordable Schools. For more information, visit njcu.edu/fire .

DOWNS: An elderly man was trapped after a fast-moving fire involved his East 23rd St. home in Paterson, May 16th, resulting in his death. The roof in the rear of the dwelling collapsed, officials said.

UPS: New firefighters in Union Township are: H. Esteves, T. Jones, K. Costello, D. Di Fabrizio, J. Sullivan, C. Mendoza-Ryals, N. Wright, F. Popola, A. Primavera, C. Hubinger, M. Pierce, M. Esty, J. Siniscal, M. Policastro and T. Veloso-Lima.

DOWNS: Five people were injured as the result of a group home fire on Hickory La., in Medford Twp., officials said. Neighbors said a caretaker did all she could to get as many people out to safety. One person suffered serious injuries, it was reported.

UPS: In May, Rochelle Park dispatcher La Falce was recognized by the mayor and township officials for his "outstanding service" during a house fire.

DOWNS: A three-alarm fire involved the Colgate Paper Stock Recyclable facility in New Brunswick, May 17th.

UPS: Hoboken EMT Thomas Molta reported that on May 28, 1971, the Hoboken Volunteer Ambulance Corps answered its first call. At approximately 1900 hours, the squad was dispatched to a General Alarm fire at Pier 5 for fire stand by duty. The squad has responded to over 250,000 calls for aid, since.

DOWNS: Two Toms River residents escaped their burning Orchard Court townhouse, May 20th, but their two pet dogs and one cat died in the fire, officials said.

UPS: Toms River Co. 1 (Station 25) celebrated its 125th anniversary serving the community with a parade and block party, in June.

DOWNS: On May 13th, one of the buildings at the Royal Timbers' apartment complex, on Wild Oaks Court, was involved in fire. Fire units from Ship Bottom, Harvey Cedars and Beach Haven operated at the scene, officials said. Several families were displaced.

UPS: Firefighters rescued several residents from a fire at the Grande Condominiums, on Natalie Rd. in Delran, May 27th, officials said. Occupants were on their third-floor balconies in the front and back of the building. Officials say at least one person had jumped from a balcony, and that victim was taken to the hospital and expected to recover. Firefighters used ladders to rescue the residents.

DOWNS: Burlington County officials reported that one person was killed as the result of a dwelling fire on Broad St. in Florence, May 29th.

UPS: A two-year-old boy was rescued from an upstairs bedroom during a fire involving a mixed occupancy building on Main St., Hackettstown, on June 1st. According to the Warren Hunterdon Daily Voice, a local police officer located the child on a bed and carried him outside to safety. Firefighters confined the fire to the attic area. The first floor contains the FrutiMex storage facility, which suffered minor water damage. The two apartments above were deemed uninhabitable. The cause of the fire and the unattended child were under investigation.

DOWNS: A 75-year-old woman was killed in a mobile home fire off of Roosevelt Ave. in Carteret, May 31st. The mobile home was engulfed in flames when firefighters arrived, and they found the deceased woman inside, officials said.

UPS: On June 3rd, members of Teaneck's 4th Platoon rescued 22 ducklings trapped in a catch basin in the Stop & Shop parking lot, as per the T.F.D. Facebook page.

DOWNS: A Newark firefighter suffered second-degree burns to his ears and neck while operating at a 2-alarm fire in the rectory of St. Lucy's Church on 7th Avenue, May 31st, officials said. Police, on patrol, called in the fire. One officer entering the smoke-filled structure to evacuate ten people. Officials said firefighters found a fire in a sun porch area in the rear of the structure which extended to the second floor and roof.

UPS: A ground breaking ceremony was held at the Bergen County Law & Public Safety Institute in Mahwah, June 4th, for a $16 million construction project to modernize the police and firefighting training grounds. The project includes construction of three buildings, a five- story commercial structure with a theater and mall, a two-story strip mall and a two-story home. Officials said the goal is to simulate real-world situations, such as fires and active shooter incidents.

DOWNS: Two Bayonne firefighters suffered injuries during a fire that involved dwellings on W. 27th St., May 26th. A total of 13 occupants were displaced, officials said. Both firefighters were treated and released from the hospital.

UPS: New fire captains in North Hudson are Mike Mitarotonda and Jose Izquierdo.
This article is a direct street report from our correspondent and has not been edited by the 1st Responder newsroom.