July, 2020, UPS page 2
By Ron Jeffers, New Jersey Editor | July 01, 2020 | NEW JERSEY
Story No. 060120118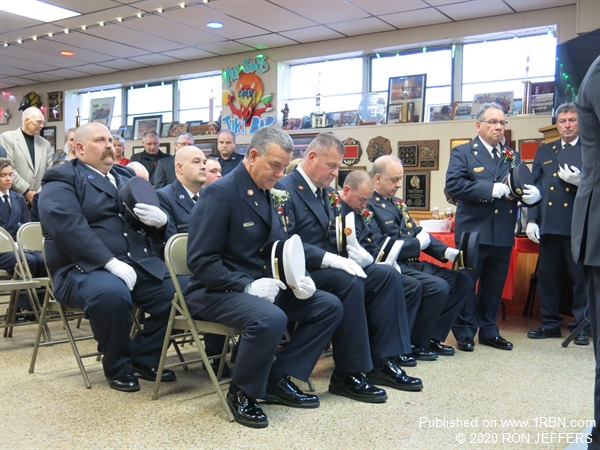 Photo by RON JEFFERSWallington ex-Fire Chief and NJSEA EMT David Pinto, standing at right, during a January 4th WFD ceremony, died from complications from the coronavirus.
DOWNS: A Newark fire captain and two firefighters were taken to University Hospital after they were injured operating at a fire in a 4-story mixed use building on South Orange Ave., Apr. 28th, authorities said. Three families were displaced.

UPS: A team of Port Authority police officers and tunnel & bridge agents teamed up to save the life of a 52-year-old driver, Apr. 26th, who suffered a medical episode outside of the Lincoln Tunnel. P.O. Krystal Armenti answered a call of a disabled vehicle at the Kennedy Blvd. on-ramp, at the Union City-North Bergen line, and found the driver unresponsive, officials said. Arementi broke the window and pulled the driver out and began compressions, as P.O. Dana Fuller and TBS Keith O'Halloran and David Brierty arrived. The victim had turned blue, wasn't breathing and had no pulse, as O'Halloran did the second round. Brierty, Fuller and Lt. Victor Talamini assisted with a bag mask and defibrillator. The driver's pulse and color quickly returned and the victim began to move his hands. The victim was transported to Hoboken University Medical Center, where he reportedly was sitting up and talking, a short time later. Two weeks earlier, P.O. Armenti and TBA Brierty and O'Halloran resuscitated a worker who had suffered a seizure while working on the roof of the Port Authority Administration Building.

DOWNS: A 33-year-old mother of three has been charged with setting fire to her Hillsborough apartment, Apr. 20th, and fleeing before first responders arrived, according to Somerset County Prosecutor Michael Robertson. Jacklyn McLoughlin was tracked down in Perth Amboy and arrested three days later.

UPS: Passaic firefighters rescued a 4-year-old girl and her mother from a burning Dayton Ave. apartment building on April 27th, officials said. Firefighter Ricardo Figueroa climbed a ground ladder and carried the girl down, with help from Deputy Chief Chris Di Bella, Mayor Lora said. Firefighter Ruby Alfaro assisted the mother into the bucket of Ladder 1's tower and taken to safety. The two victims were treated for smoke inhalation. All other residents of approximately 30 apartments got out safely, according to the mayor. The fire involved a third-floor apartment.

DOWNS: An early-morning fire, on May 1st, severely damaged a popular bar, in the Ridgeway section of Manchester on County Road 547. It took firefighters from the area several hours to extinguish the fire in Alba's Pub.

UPS: Shortly after Passaic firefighters rescued a mother and child from a burning Dayton Ave. apartment building, Apr. 27th, city firefighters were part of a virtual promotional ceremony. Robert Munier was promoted to battalion chief. Promoted to captain were Damien Picipski, Jacob Hrywniak and James Kovbacs. The new lieutenant is Mark Masthj.

DOWNS: During a rain storm with high winds on April 30th, Ridgefield fire units were dispatched to a wires down call with a possible car fire, off of Hudson Avenue near Metro Fuel. Companies arrived and found two cars on fire with live wires down in a lot near Parkway Toyota. Fire suppression was delayed until the power could be secured by PSE&G. Once the power was off, firefighters went to work knocking down fire in 21 vehicles. Firefighters also doused nearby oil tankers to prevent them from igniting while they awaited the arrival of the power company. There were no injuries reported. The cars were tightly packed into a section of the parking lot and were completely burned, leaving only charred shells of the vehicles, officials said.

UPS: Ernie Troiano III was promoted to fire chief in Wildwood, April 22nd. He is a third generation firefighter.

DOWNS: Heavy winds were partly to blame in the spread of a dwelling fire on Harrisonville Rd., in Mullica Hill, April 30th. The building was heavily involved when firefighters arrived. All occupants were accounted for, officials said.

UPS: A Jersey City firefighter rescued a disabled woman from a burning Palisade Ave. dwelling on April 30th, officials said. Firefighter Denis Galvin entered the two-story home after a silhouette of a person was spotted in a hallway, city spokeswoman Kimberly Wallace-Scalcione said. In thick smoke, Galvin reached the burned and disoriented woman, picking her up, and carried her out to safety. Captain Justin Savino and Firefighter Mike O'Rielly advanced a charged hose line into the building to knock down the flames. The victim was taken to nearby Christ Hospital for treatment of hand and facial burns and suspected respiratory burns.

DOWNS: Person/s unknown set three fires, two hours apart, at the same housing complex in Englewood, on the evening of April 3rd. One of the incidents, at the Tryon Gardens apartments, involved a fire that was set to discarded furniture next to a dumpster, Deputy Police Chief Gregory Halstead said. Firefighters extinguished that fire, which charred one of the buildings and slightly melted the siding. A group of men or boys were seen running from the scene, the deputy chief added.

UPS: Atlantic City police and firefighters teamed up to rescue five ducklings from a sewer drain, near Brigantine Blvd., April 30th, officials said. The ducklings were taken to Funny Farm Rescue to be cared for.

DOWNS: Firefighters battled a fire in a pallet yard on Old York Rd. in Bordentown, May 8th, for several hours.

UPS: Firefighter/EMT Bryam Castano was sworn in as a career member of the Madison Fire Department, May 4th.

DOWNS: A fire involved a two-story apartment building at the Pleasant Bay Apartments in Long Branch, May 22nd. All residents got out safely, officials said.

UPS: New probationary firefighters were sworn in at Jersey City Fire Headquarters on April 28th. They are Steven Bratton, Glenn Rosario, De Siree Hillis and Jan Dayleg.

DOWNS: Fire damaged several units at the Dickerson Manor condominiums in Mahwah, May 8th. All occupants escaped the flames, officials said. Mutual aid fire units came from Bergen County and Rockland County, N.Y., and operated at the scene.

UPS: First responders in Camden County will be using a strong beam of light in their safety efforts during the coronavirus crisis. In May, county officials distributed ultraviolet light systems that can decontaminate emergency vehicles and equipment. The devices emit electromagnetic radiation over several minutes to kill the coronavirus, officials said. It was noted that the devices do not replace routine cleaning. The lights were obtained by the county's Office of Emergency Management.

DOWNS: A pet dog died as the result of a dwelling fire on Jupitor St. in Clark, May 4th. Fire Chief Frank Cerasa said there was heavy fire on two floors when units arrived. The homeowner made it out to safety. Chief Cerasa said his crew brought the dog out and police Chief Pedro Matos performed CPR on the animal, but it did not survive.

UPS: All American Restoration of Freehold has been donating several days a week to give complimentary coronavirus disinfecting to first responder fleets around Monmouth County.

DOWNS: A grave digger was pinned up to his knees when a plot collapsed on him at the Hillside Cemetery in Lyndhurst, May 5th. Firefighters freed the 59-year-old victim and he was taken to Hackensack University Medical Center after complaining of chest and back pains, officials said.

UPS: Members of North Hudson Marine 1 rescued a deer that was trapped near a Hudson River drainage pipe in the area of 1700 Harbor Blvd., Weehawken, May 6th. The deer was guided out of the basin tunnel into the main waterway and was snared and taken back to land by the fire boat crew. The Humane Society and township Humane Officer Geoff Santini were on the scene. After the exhausted deer regained its strength and energy, police assisted firefighters in bringing the deer to a wooded area and released. Santini credited North Hudson Deputy Fire Chief Anthony Venezia with helping pull the deer off of the rocks on the coast line and then over a gate.

DOWNS: Flames tore through six dwelling along Beach St. in Paterson and displaced 59 residents, May 9th. Five houses were destroyed, according to reports. There were no injuries according to Public Safety Director Jerry Speziale.

UPS: Two Point Pleasant Beach High School students have made PPB Fire Company history by becoming the first and youngest two firefighters to graduate from the Waretown Fire Academy and obtain full Fire 1, Fire 2 and Haz Mat certifications. This was accomplished by Noah Ramos and Dominick Storio while still in high school. They completed 290 hours of classes and drills. They attended the fire academy three days a week.

DOWNS: On May 17th, Bayonne firefighters responded to 18 East 16th St. and found heavy fire showing from a two-story dwelling. Two residents were rescued and transported to Bayonne Medical Center. A third occupant, who had been trapped on the first floor, was removed and taken to BMC, where she was confirmed deceased, according to Deputy Chief William Bartos.

UPS: Hanover Township Fire District 3 (Cedar Knolls) recently purchased the second CPR Lucas Device to enable both ambulances to carry the life-saving equipment. The acquisition was funded in large by a $10,500 donation from Barclays employees, according to Morris County Focus. The company wasted no time in connecting with Fire Chief Chad Di Giorgio with an offer to fund raise through employee and corporate donations to contribute the $10,500 toward the purchase.

DOWNS: A Grove Street dwelling fire in North Plainfield, May 16th, sent two occupants to the hospital. They were initially listed as one in stable condition and one was critical but stable, officials said.

UPS: Ridgefield residents who are police officers, firefighters, EMTs, teachers, nurses and doctors woke up on the morning of May 14th to find a sign on their front lawn placed by person or persons unknown. The signs read: "Thank you police, firefighters, EMTs, teachers, nurses, doctors for all you do!"

DOWNS: The NJ Forest Fire Service battled a 100-acre forest fire, off of Route 539, in Manchester Twp., May 17th.

UPS: The South Orange F.D. recently received a donation of 4,500 medical masks from Kaixuan Lu, a doctor at the Atlantic Spine Center. The department needed 900 of the masks, so the other 3,600 were split evenly and donated to the S.O.P.D., S.O. Rescue Squad, Livingston F.D. and West Orange O.E.M. South Orange Fire Chief Daniel Sullivan shared the masks, since personal protective equipment has become hard to acquire during the COVID-19 pandemic.

DOWNS: First responders recovered the body of a despondent man, in his 60's, who jumped into Mill Creek from the Route 95 bridge in Ridgefield Park, May 18th, officials said. NJ State Police found his abandoned car on the highway and alerted local authorities. Ridgefield Park members pulled the man's body from the creek, off of Bergen Turnpike, and he was pronounced dead a short time later.

UPS: Four new per diem firefighters have been hired by the Upper Freehold Township Committee to work for the Hope Fire Company that serves Upper Freehold and Allentown. They are: Tyler Gallagher, Nicholas Brown, Michael Ott and Jonathan Caruso.

DOWNS: In May, Paterson firefighters went to the old Meyers Brothers Department Store building, on Main St., as part of an early plan for an annual memorial service. Firefighter John Nicosia, of Engine Co. 4, lost his life battling a huge fire there in 1991. They discovered that a memorial erected on what is left of the building to honor Firefighter Nicosia had been stolen, according to "Tap into Paterson."

UPS: Jersey City firefighters rescued four people from a Monticello Ave. apartment building fire, May 22nd, officials said. The fire was located on the first floor and it was quickly contained. Four occupants from one of the apartments were disoriented and in distress, and they were evacuated by firefighters, city spokeswoman Kimberly Wallace-Scalcione said.

DOWNS: A fire destroyed a historic revolutionary war-era two-story barn on Ridge Rd. in South Brunswick, May 19th. The barn was part of the Longbridge farm, which housed George Washington's troops during the Revolutionary War. The South Brunswick fire marshal determined that the fire was caused by an electrical wire that fell on the barn after a tree branch struck it.

UPS: Nutley's newly appointed firefighter is Michael Diacheysn.

DOWNS: A squatter jumped from a window of a burning, vacant home on East Powell St., Millville, on May 22nd. Arriving units found the squatter, who had jumped from the first-floor, suffering from lacerations and smoke inhalation, officials said.

UPS: Newly promoted deputy fire chiefs in New Brunswick are Darren Van De Mark and William Borke.

DOWNS: On May 20th, a body was found floating in the Passaic River near North Arlington Fire Co. 1's firehouse, officials said.

UPS: Haas Hearya has been promoted to fire captain in New Brunswick.

DOWNS: A River Terrace home in Toms River was severely damaged due to a fire on May 15th. There were no immediate reports of injuries, officials said. All six Toms River fire companies responded to the scene.

UPS: Newly promoted fire lieutenants in New Brunswick are: Jarrett Dechert, Peter Ohliger and Jake Bornheimer.

DOWNS: In May, NJ Forest Fire Service members battled a large forest fire in Winslow Twp. at the Winslow Wildlife Management Area. Some 2,100 acres burned, with strong winds helping the spread of flames, officials said.

UPS: Trenton FMBA Locals 6 and 206 provided more than 1,000 meals, on May 22nd, to local residents to start the Memorial Day weekend. With the state easing some coronavirus restrictions, firefighters felt it was time to "let off a bit of steam," while maintaining proper social distancing practices. "While nothing seems 'normal' right now, we wanted to remind our neighbors that one thing that definitely hasn't changed is our commitment to them," said Wayne Wolk, President of FMBA Local 206. The food was served from a catering truck owned by city Fire Captain Robert Buzzette, that was parked in a downtown parking lot.

DOWNS: One person was killed and seven others injured during a 2-alarm fire in a three-story OMD on Magazine St., Newark, on May 22nd. Residents were forced to jump from windows, officials said. Two victims were reported in critical condition.

UPS: Audra Carter was sworn in as the first female battalion chief in the 171-year history of the Hoboken Fire Department, on May 28th.

DOWNS: On May 24th, Elmwood Park firefighters pulled the body of a 17-year-old boy from the Passaic River after a fisherman spotted him tangled in debris against an abutment of the Broadway (Route 4) bridge, Bergen County Prosecutor Mark Musella reported. An autopsy by the Bergen County Medical Examiner's office found no trauma to the body or any other indications that the boy's death was suspicious, Musella said.

UPS: In Hoboken, Joshua Pineiro was promoted to fire captain, May 28th.

DOWNS: A 3-alarm fire leveled one dwelling and damaged two others on Maple Ave., North Plainfield, May 27th. It was reported that the fire broke out in a house under construction and extended to exposures. The families of the exposure buildings got out safely. Later on, a 26-year-old North Plainfield man was charged with aggravated arson and aggravated assault, the Somerset County Prosecutor's Office said. Jonathan Davies was seen watching the fire, and he was seen entering and leaving the property multiple times, authorities said.

UPS: Recently, the New Jersey Knights of Fire, parent chapter, delivered donated food to the New Jersey Firemen's Home in Boonton.

DOWNS: Wallington ex-fire chief and New Jersey Sports Exposition Authority EMT David Pinto has passed away due to complications from the coronavirus. He was the third medical member of the NJSEA to die from COVID-19 complications. Chief Pinto was an experienced medical worker in the field of entertainment and sports EMS. In addition, he was Wallington fire chief in 2001, and he also served as a Board of Education member. "Dave was an expert at what he did, but never looking for that 'atta boy,'" Deputy Fire Chief Chris Sinisi said on Facebook. "He loved what he did and he did it well."
This article is a direct street report from our correspondent and has not been edited by the 1st Responder newsroom.