July, 2023, UPS, page 2
July 01, 2023 | NEW JERSEY
Ron Jeffers, New Jersey Editor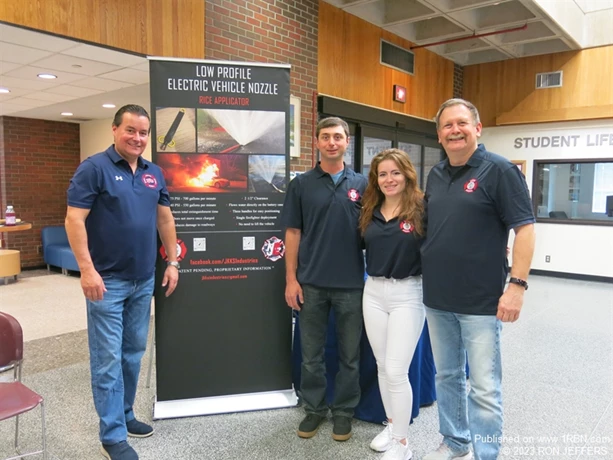 Photo by RON JEFFERSNewly retired Paramus Police Chief and Volunteer Firefighter Kenneth Ehrenberg, right, with his Rice Nozzle Applicator team at the recent NJ Fire Safety Institute Firefighter Health, Safety and Tactics Seminar at Middlesex College. The retired chief has plenty of projects to keep him busy.
This article is a direct street report from our correspondent and has not been edited by the 1st Responder newsroom.
DOWNS: A 59-year-old Berkeley resident died in a Tortola St. dwelling, May 10th, that started when he was smoking while sitting on a recliner, authorities said. Firefighters located the victim on the floor of the single-family home, according to NJ.com. He was taken to an area hospital where he died.
UPS: Hackensack Firefighters John Davis and Mike O'Reilly received the Firefighter of the Year Valor Award from the Bergen County American Legion Department of New Jersey for their actions at 64 Prospect Ave. resulting in saving multiple occupants trapped on fire escapes. 
DOWNS: A fire that involved the abandoned MLK school on Dr. Martin Luther King Jr. Blvd., in Trenton, went to 5-alarms before it was brought under control, May 15th. Homes on Evans Ave. sustained damage as well, according to Mid Jersey News. One firefighter was taken to a local hospital with a BLS type injury.
UPS: Newly promoted battalion chiefs in Passaic are James Kovacs, Damien Pilipski and Jacob Hrywnlak.  
DOWNS: A 3-alarm fire at a condo complex on Gregorys Way in Voorhees spread to eight units, May 13th, according to WTXF-TV. All residents self-extricated and one firefighter sustained a minor injury.
UPS: Recently promoted to the rank of provisional fire captain in Passaic were Steven Nienstedt and Robert Niessen.
DOWNS: A fire involving a motel, on Spring St. in Elizabeth, displaced 55 people, May 13th. The fire went to 5-alarms and two firefighters suffered minor injuries, according to News 12. A puppy was given oxygen at the scene. 
UPS: Newly promoted fire lieutenants in Passaic are Lenin Gomez and Michael Zagorski. 
DOWNS: A multiple alarm fire at the Fox Meadow apartment complex in Maple Shade left a 12-year-old boy dead and five others injured, May 7th. Police said the boy's mother and 7-year-old sister were listed in critical condition. Three others that were injured were stable. The rows of apartments are connected. The Red Cross said the fire displaced 62 people. 
UPS: Clifton's firehouse at First St. & Madison Avenue has re-opened after suffering damage by floodwaters from the remnants of Hurricane Ida, in 2021. Engine 1 had been re-located to Ladder 3's quarters. 
DOWNS: Multiple manhole explosions rocked East Orange, in the area of Summit St. & North Munn Ave., April 28th. Vehicles caught fire and thick smoke covered the neighborhood, according to WNBC-TV. 
UPS: Wade J. Houlihan has been promoted to fire chief in Cherry Hill.  
DOWNS: A fire in a Whitehead Rd. warehouse burned for hours in Hamilton Township, May 18th. A nearby worker said there were explosions plus flames were shooting up into the air. The warehouse belongs to a company that buys out liquidated items, then stores them and resells them, according to a KYW-TV report. 
UPS: In Cherry Hill, Timothy McGeady has been promoted to Assistant Fire Chief. New battalion chiefs are William J. Riess and Raymond M. Reis.
DOWNS: Firefighters battled a multi-alarm fire in a commercial building on Progress Rd. in South Brunswick, May 17th. Over 200 firefighters operated at the scene, according to Mid Jersey News. Firefighters used heavy equipment to pull the contents of the warehouse apart in order to get to the deep-seated flames. 
UPS: Christopher M. Passer has been promoted to fire captain in Cherry Hill. Thomas I. McGovern was promoted to fire lieutenant. 
DOWNS: A fire destroyed a Bedminster florist shop on Tuttle Ave., April 29th, and damaged two other structures, according to the Basking Ridge Patch. 
UPS: Inspired by his father serving as a Paramus volunteer firefighter, Kenneth Ehrenberg joined the fire department's Company 4 when he was 18. At 22, he joined the Paramus Police Department. He rose through the ranks of both departments. He was a volunteer fire chief, and served the last 10 1/2-years as the Borough's police chief.  He is also instrumental with the Rice Nozzle Applicator for electric vehicle fires. In May, he retired from the police department after a total of 37-years of service. He will continue to serve his community as a volunteer firefighter, and he is also involved in many other projects.