Apparatus from Essex County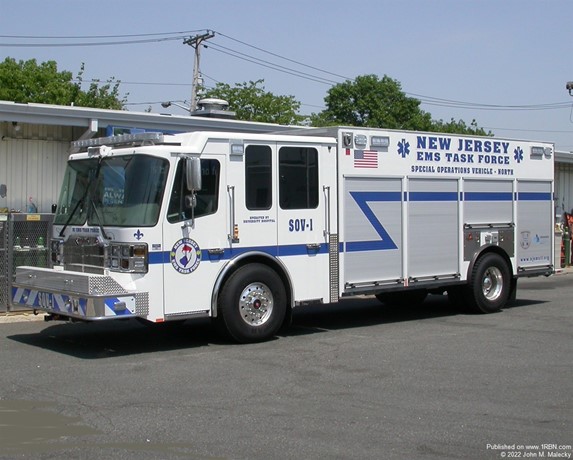 Photo by John M. MaleckyNJ EMS Task Force SOV-1, 2020 Ferrara Cinder with 6.6 kw generator. One-of-two purchased. This one assigned to Newark. They were sold by Firefighter One.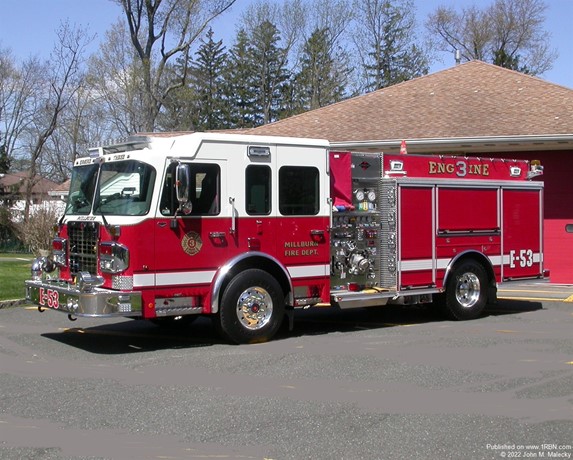 Photo by John M. MaleckyMillburn E-53, 2021 Spartan ER Metro Star 1500/500/20A/40B and 6 kw generator. It was sold by Campbell Supply Co., LLC.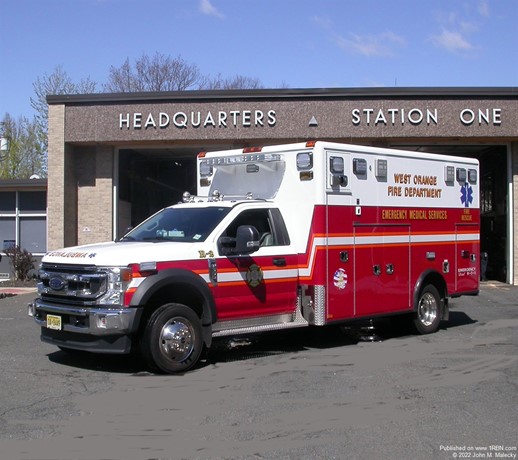 Photo by John M. MaleckyWest Orange R-2, 2021 Ford F-450XLT, 4x4/Horton 603. It was sold by VCI Emergency Vehicle Specialists.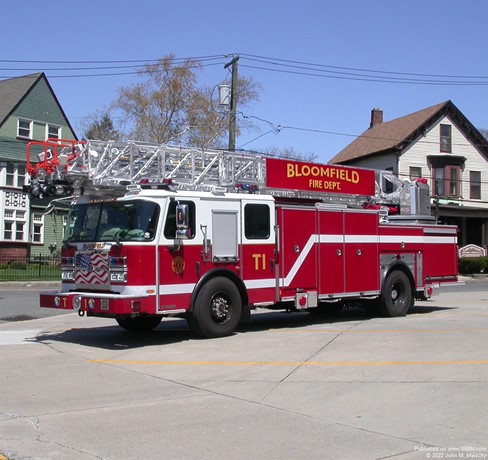 Photo by John M. MaleckyBloomfield Truck 1, 2022 E-ONE Typhoon 100-foot with 6 kw generator. It was sold by Absolute Fire Protection.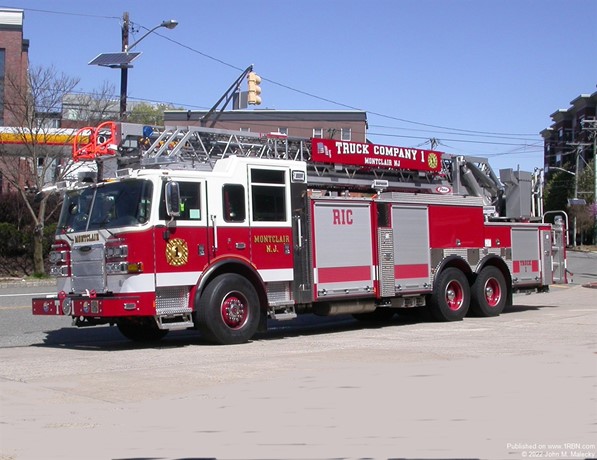 Photo by John M. MaleckyMontclair Truck 1, 2021 Pierce Arrow XT 105-foot with 2.2 kw portable generator. It was sold by Fire & Safety Services.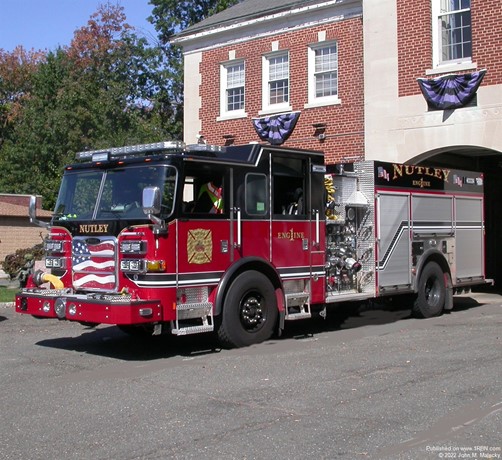 Photo by John M. MaleckyNutley E-1, 2020 Pierce Arrow XT 1500/750. It was sold by Fire & Safety Services.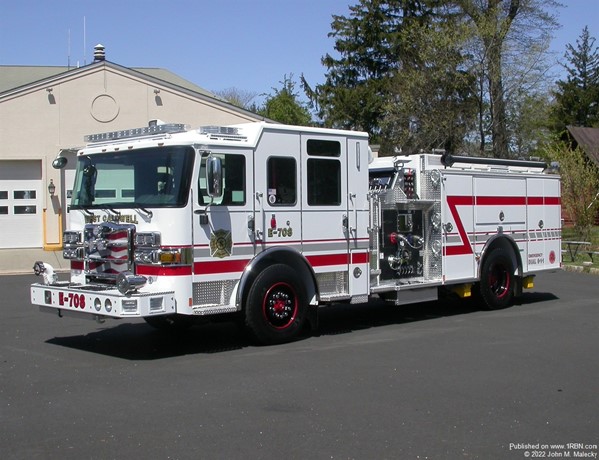 Photo by John M. MaleckyWest Caldwell E-708, 2022 Pierce Enforcer 1500/750. It was sold by Fire & Safety Services.
This article is a direct street report from our correspondent and has not been edited by the 1st Responder newsroom.
APPARATUS OF THE MONTH

By John M. Malecky June, 2022

APPARATUS FROM ESSEX COUNTY

It's been a year since we last brought you a selection of trucks from Essex County. The year has gone fast and so has the addition of more trucks. This month's photos feature a Ferrara rescue assigned to University Hospital in Newark. It is one-of-two that were purchased for the NJEMS Task Force. Next is a new Spartan ER pumper for Millburn Township and a Horton ambulance for the West Orange FD EMS. The WOFD took over ambulance service awhile back and they run out of the former first aid squad building on a side street between State Route 10 and I-280 (Mount Pleasant Place). Next are two rear-mounts. One is an E-ONE 100-foot from Bloomfield and the other a 105-footer from Montclair on a Pierce chassis. This one however is not an Ascendant model. Finally is a Pierce Arrow XT pumper from Nutley and an Enforcer pumper from West Caldwell.

In dealer news, there was a miscommunication in last month's Campbell Supply report. The two EVI hazmat trucks for the Middlesex County OEM were deliveries, not orders. Also, they have received an order from Bayonne (Hudson County) for a Spartan ER Extreme Duty Star pumper on a Metro Star chassis with a 21-inch severe duty front bumper, 167-inch wheelbase and 120-inch raised roof cab. Other specs include a Cummins ISL 9, 400 hp diesel engine, Wateous CMUC20, 1500-GPM pump, 500-gallon water tank, high strength aluminum body, right side ladder storage, ER Smart Storage with SCBA storage and Whelen scene lighting.

Fire & Safety Services reports the following Pierce deliveries: to Chester Township (Morris County) a Velocity mid-mount tower and to Allamuchy (Warren County) a Velocity PUC heavy duty rescue. Pierce orders include in Sussex County, an Enforcer pumper each for Sparta and Pochuck Valley (Vernon Township); in Morris County, an Enforcer pumper and an Enforcer Encore medium duty rescue for the Long Hill FC in Stirling; an Enforcer pumper each for Tabernacle (Burlington County) and Vineland (Cumberland County), and an Enforcer PUC pumper each for Iselin FC in Woodbridge Township (Middlesex County) and Carney's Point (Salem County).

VCI Emergency Vehicle Specialists has made the following Horton ambulance deliveries: to the Morris County OEM, two 457's on Ford F-450 4x4 chassis with crew cabs; a 553 each on a Ford E-450 chassis to the South Orange Rescue Squad in Essex County and the Margate City FD (Atlantic County); a 553 remount on a Ford E-450 chassis to the Mt. Laurel EMS (Burlington County); a 457 on a Ford F-550 4x4 chassis to the Barnegat Light FAS (Ocean County) and a 603 on a Ford F-550 4x4 chassis to the Tri Boro VAC in Park Ridge (Bergen County).

Blaze Emergency Equipment received an order from the Pennsville Fire & Rescue in Pennsville Township (Salem County) for a Sutphen SLR108 quint. Specs include four section rear-mount ladder, 3-1 safety factor, full stainless steel body, Hale Qmax single-stage 1500-GPM pump, 50-gallon water tank, four reconnects, four discharges, Cummins X12, 500 hp diesel engine, six seat cab, Firecom 5100D intercom system, 24-inch extended front bumper, full blackout package including Alcoa Durablack wheels, 216-feet of ground ladders including (two) 35-foot two-section ladders, 6 kw Smart Power generator and one cord reel.