June, 2022, UPS, page 2
June 01, 2022 | NEW JERSEY
Ron Jeffers, New Jersey Editor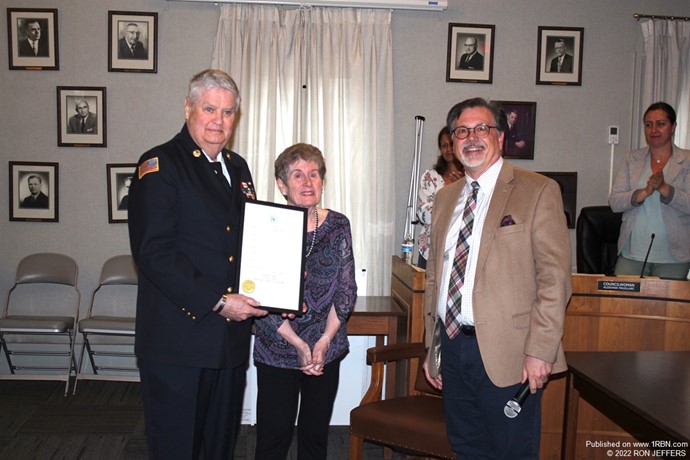 Photo by RON JEFFERSIn April, the River Edge Mayor and Council recognized Ex-Fire Chief Richard Berry, a retired FBI agent, for his 54-years of dedicated service to the volunteer fire department and the community.
This article is a direct street report from our correspondent and has not been edited by the 1st Responder newsroom.
DOWNS: A 56-year-old man was critically burned in a high rise fire at The Elms in Secaucus, April 8th, Hudson County Prosecutor Esther Suarez said. The man was located in a 4th floor apartment and removed by firefighters. He was transported to Hudson Regional Hospital and then transferred to the West Chester Medical Center Burn Unit.

UPS: The Wood-Ridge Fire Department will be celebrating 125-years of service on Saturday, July 9th, at 85 Humboldt Street, between 1 p.m. and 5 p.m.

DOWNS: A 76-year-old East Orange man was killed in a fire at his Hawthorne Ave. home, on the morning of April 11th. His body was found on the first-floor of the dwelling, acting Essex County Prosecutor Theodore Stephens II said.

UPS: The Northvale Fire Association is celebrating its 125th anniversary at Hogans Field, starting at 5 p.m. on June 25th.

DOWNS: The walkway along the first level of the Travelodge on Route 46, in Parsippany, collapsed and caused damage to several balconies, April 19th. No injuries were reported. Parsippany Rescue & Recovery, Fire District 5, local OEM and EMS, and the Red Cross responded to the scene.

UPS: The South Amboy V.F.D. has donated an engine, recently replaced by a new model, to the Bluff Springs, Alabama, V.F.D. Local firefighters discovered that the small Alabama department needed a replacement apparatus, and, with city officials approval, the rig was sent to that department in April, according to TAP into Raritan Bay.

DOWNS: A small Citation CJ3 jet went off a runway at Essex County Airport, April 17th, but no one was injured. It was not able to touch down at the correct moment due to strong crosswinds, according to a preliminary investigation by Fairfield police. As police arrived, three men were attempting to get out of the plane.

UPS: Matthew Kearney has been appointed to the Teaneck Fire Department.

DOWNS: Fire destroyed a row of six NJ Transit buses located in a storage yard off of Tonnelle Ave., North Bergen, April 20th. A huge column of smoke was seen for miles and attracted news helicopters. The buses were decommissioned and in storage, according to a NJ Transit spokesperson.

UPS: On April 15th, six juveniles were stuck in an industrial elevator, at Trampoling Park in Willow Brook Plaza, Wayne. Rescue 5, along with Companies 1 and 2, responded. After an hour of numerous attempts to reset the elevator by the fire department and elevator mechanic, and with the temperature rising in the car, the decision was made to remove the six by rope rescue. The Special Response Team was activated and two firefighters had to rappel down the elevator shaft and rescue the kids, one by one using a "High Angle Rescue" system. Firefighters Mike Leonard and Anthony Gabriel, of the Special Response Team, descended down to the elevator car. Firefighters rigged each teen to a harness and brought them up to safety. They all went home following a medical evaluation, according to officials.

DOWNS: A 22-year-old man was killed and a 62-year-old man injured as the result of a 3-alarm fire on Egbert St. in Pemberton, April 20th, according to state police.

UPS: As part of Bergen County O.E.M.'s ongoing mission to provide first responders with equipment necessary to perform their tasks, ballistic resistant vests and helmets were distributed to career fire and EMS units, with a ceremony at Hackensack Fire Headquarters, in April. Paid for by the NJ State Homeland Security Grant funding, the equipment will be used as added protection when responding to incidents such as active shooters, small improvised explosive devices, vehicle ramming and other mass casualty incidents.

DOWNS: On April 22nd at 7:15 p.m., New Milford police responded to a call of a male who went swimming in Hard Castle Pond, near Dorchester La., and did not resurface, according to a NMPD release. The New Milford Fire Department and O.E.M. personnel responded as well as water search and rescue teams from the Bergen County O.E.M. and local fire departments. Around 10 p.m., search teams located a male under the water who was deceased. He was identified as a local 18-year-old male. The death is under investigation.

UPS: Peter Rocco has been promoted to fire captain in Hackensack. Daniel Riley was promoted to lieutenant.

DOWNS: In Winslow Township, the Cedar Brook volunteer fire house was shut down temporarily in April, according to WTXF-TV. The local fire chief says a firefighter shortage is to blame. The company has served the community since 1925. "The community is growing," said Township Fire Chief Mark Rigberg. "We're not able to maintain the status or service delivery that we should be." Calls handled by this unit are now going to be served by the Township's five other firehouses.

UPS: Jason Weimann has been promoted to fire lieutenant in Teaneck.

DOWNS: A Trenton firefighter was wounded when he was struck by a stray bullet at the Calhoun Street firehouse. Police said two bullets pierced the back of the firehouse. One bullet struck the firefighter who was in the weight room. A second bullet went through the wall and into the kitchen, but did not hit anyone. Officials said the firefighter was taken to a local hospital with a graze wound.

UPS: At the April general membership meeting of the NJ & NY Volunteer Firemen's Association, the members celebrated the 97th birthday of Hillsdale Firefighter Frank Gluckler, who is still active in the organization.

DOWNS: A fire spread through several units of a Hart Drive apartment complex in West Orange, April 24th.

UPS: Rescue crews freed a man who fell into a septic tank in Mount Laurel, April 27th, according to TV 10 Philadelphia. First responders were seen on video from Sky Force 10 stabilizing a trench and lifting the man out on a backboard. The victim was transported to a local hospital.

DOWNS: The Lebanon Borough Fire Department was dispatched to a dwelling fire with entrapment in the Union Gap Village in Union Township (Hunterdon County), on the morning of May 1st. Firefighters were met with a heavy fire condition and multiple people trapped, according to reports. Three residents were rescued and transported to hospitals. Two were flown by helicopter.

UPS: On April 25th, the River Edge Mayor and Council recognized Ex-Fire Chief, and retired FBI agent, Richard Berry for 54-years of dedicated service to the community. He has also been part of the local O.E.M. and a mentor for firefighters.