Pumpers Built for Quick Delivery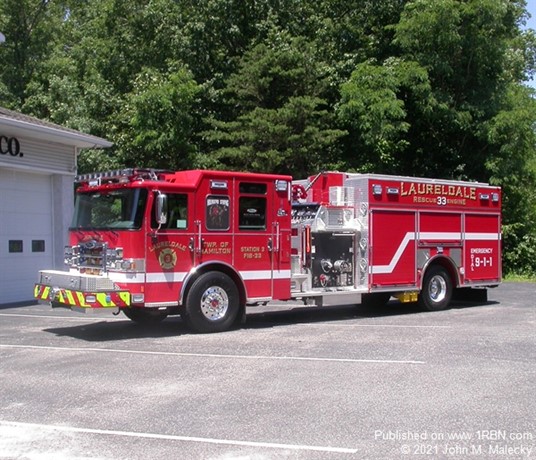 Photo by John M. MaleckyLaureldale RE-33, 2018 Pierce Enforcer 2000/100020 with 10 kw generator and 9,000 pound portable winch. It was sold by Fire & Safety Services.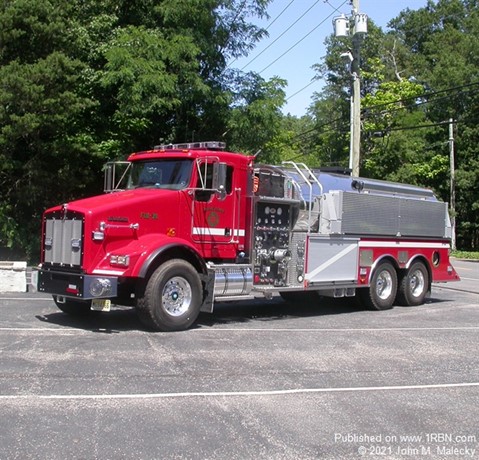 Photo by John M. MaleckyLaureldale F-18-39, 2012 Kenworth T-800/U.S. Tanker 500/3500.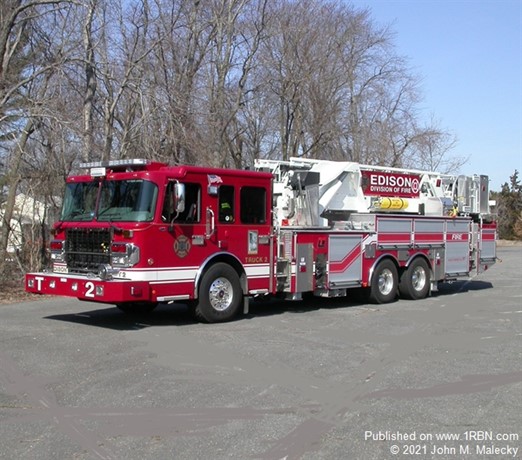 Photo by John M. MaleckyEdison Township Truck 2, 2019 Spartan Gladiator/LTC 93-foot. It has a 10 kw generator. It was sold by Campbell Supply Co., LLC.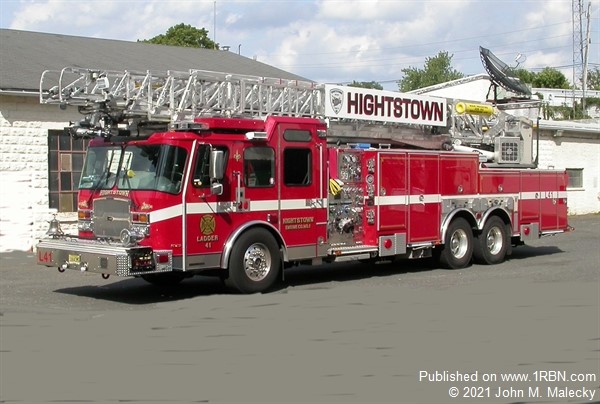 Photo by John M. MaleckyHightstown L-41, 2016 E-ONE Cyclone, 2000 270/30, 137-feet. It has a 10 kw generator. It was sold by Absolute Fire Protection.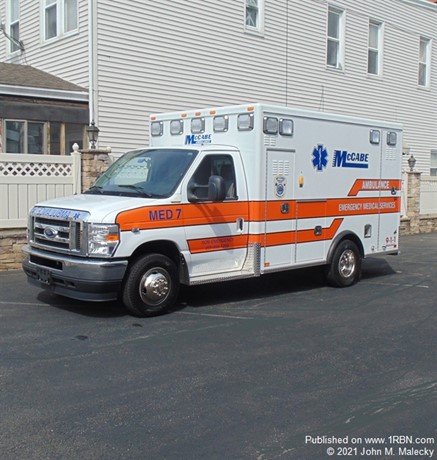 Photo by John M. MaleckyMcCabe Ambulance of Bayonne, Med-7, 2020 Ford E-350/AEV Fleethawk. It was sold by VCI Emergency Vehicle Specialists.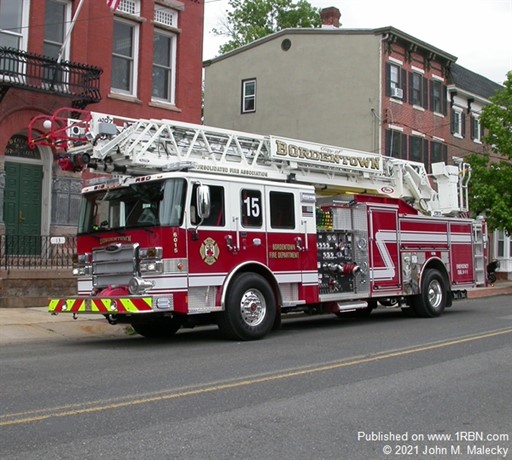 Photo by John M. MaleckyBordentown City L-6015, 2018 Pierce Pierce Enforcer 2000/500/107-foot Ascendant aerial. It has a 6 kw generator. It was sold by Fire & Safety Services.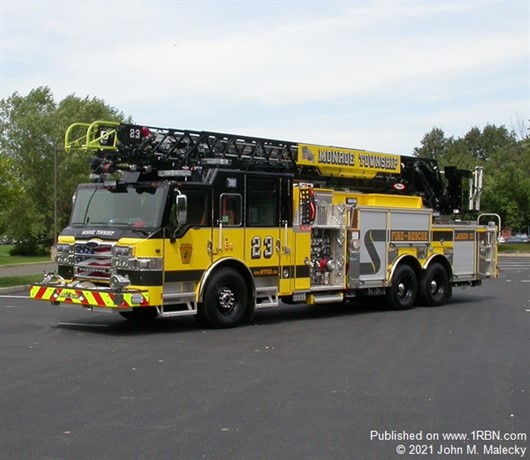 Photo by John M. MaleckyMonroe Township (Middlesex County) L-23, 2019 Pierce Velocity 2000/500/30/107-foot Ascendant aerial. It has an 8 kw generator. It was sold by Fire & Safety Services.
This article is a direct street report from our correspondent and has not been edited by the 1st Responder newsroom.
APPARATUS OF THE MONTH

By John M. Malecky June, 2021


PUMPERS BUILT FOR QUICK DELIVERY

Through the years there have been fire departments both paid and volunteer who have been financially wealthy as well as financially hurting! In order to help these poorer departments many manufacturers have introduced to the market a number of pumpers in particular that would be called "entry level", meaning built with limited features and options. Some would be demos but in some cases demos were built with a number of options to be both attractive and useful to departments. Others would be described as being built on "speculation", meaning that they would be completed and offered in the hope that a customer would find interest in it at a reasonable price. In any event it has been observed that more and more manufacturers are now offering pumpers that would be built with limited options and available within a short time, namely six to eight months, depending on the brand. Most have new model names while at least one uses an existing model that can be modified to meet different budgets. We have made an attempt this month to introduce some new models, as well as name others that have been around for a while. It is not our intention to put one manufacturer or dealer against another. We are only naming what is out there, and you the reader can decide which brand you would like to know more about. Each has many specs and claims that are available. There is actually too much for this column to hold so we refer you to the respective manufacturer websites. The Spartan ER, S-180 built on a Metro Star chassis was the only one that this column had come across so far, and that is in service at the Jacobstown Fire Company in North Hanover Township (Burlington County). This pumper appeared in the March, 2019 column. The "180" indicated the number of days in six months. So here we go: within the other members of REV Group are Ferrara (the Invader), KME (the X-Series) and E-ONE (The AFT Series). Seagrave has the Fastrack and Rosenbauer has the Rapid Response Quick Delivery Pumper Series. HME has the Silver Fox Series, some of which are vehicles already built or in production and can be modified for 30 day delivery. Many of Pierce's Florida Saber Model products do offer quick delivery, but there is no other specific quick delivery series. However if a department is in the "Build My Pierce" program and their requirements coincide with it, then the pumper would be completed by as little as 6-7 months. Sutphen Corporation has no quick delivery model per se, but offers demos for timely delivery. I just reiterate that the quick delivery concept we write about at this time is not about demos, but there is a fine between them and all manufacturers mentioned here have them of not only pumpers but mini-pumpers, aerials, rescues, etc. The sure way of getting any questions the reader may have is to log onto the respective websites. In the photos this month are two apparatus from Laureldale in Hamilton Township (Atlantic County). One is a Pierce pumper and the other a Kenworth/U.S. Tanker elliptical tanker. The name, U.S .Tanker, has been retired now that it is part of Spartan ER. Edison's second Spartan ER/LTC platform is also shown. Now both of the truck companies have platforms. Two Pierce quints are featured, one in Bordentown (Burlington County) and the other in Monroe Township (Middlesex County). An AEV Type III ambulance for McCabe Ambulance Service in Bayonne (Hudson County) is next, and finally the second generation of Hightstown's E-ONE 1, 137-foot rear-mount aerial. Hightstown still stands as the only fire department owning the highest aerial in the state. The original story as I heard it (whether true or not) was that they purchased the first 135-foot ladder, a 1989, in order to be able to reach the roof of a certain building from the street.

In dealer news, Absolute Fire Protection has received an order from Pine Beach (Ocean County) for an E-ONE mini-pumper on a Ford F-550 chassis. It will have a Hale DSD 1250-GPM pump and a 300-gallon water tank.

Firefighter One has delivered three Ferrara apparatus to the Mt. Laurel Fire Department in Burlington County. One is a pumper on a Cinder chassis. It has an extended aluminum body, Hale Qmax 150-2000 GPM pump, 750-gallon water and two 20-gallon foam tanks, a Hale Smart Foam 5.0 system and a Class 1 Ultra View Smartfoam controller. The other two are HD-77 aerial quints on Inferno chassis. They also have extruded aluminum bodies and the same pump and foam tank capacities and foam system. They have 500-gallon water tanks.

Fire & Safety Services has made the following Pierce deliveries: in Bergen County, an Enforcer heavy duty rescue with non-walk-in body to Closter and an Enforcer pumper to Franklin Lakes. The Wayside FC in Tinton Falls (Monmouth County) received an Impel pumper, the Rio Grande FC in Middle Township (Cape May County) received an Enforcer PUC pumper. The Readington FC in Readington Township (Hunterdon County) received a Velocity 100-foot mid-mount platform, Union Township (Union County) received a stock Arrow XT pumper and the NJ Transit Police (Essex County) received two light duty rescues on Ford F-550 chassis.